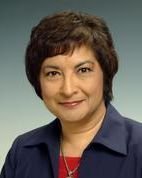 As the person in charge of ordering food for the Dallas school system, Dora Rivas certainly knew that the fruits and vegetables provided to her students came from farms.
She just didn't know which farms.
Or, more specifically, where those farms were located.
Those questions came up almost three years ago when her team applied for a federal Farm to School grant to help pay for locally-grown produce to be delivered to schools.
What's happened since has changed everything from the way kids are learning to what they are eating. Educators have happily learned some lessons, too. The result is a better, healthier school district, as well as recognition from their peers in the form of awards and invitations to share their best practices.
I recently spent a day with Rivas at a Dallas school, and came away so impressed. I'm happy to share with you the steps they are taking to ensure the next generation is a healthier one.
In 2010, the Healthy, Hunger-Free Kids Act authorized the U.S. Department of Agriculture to free up money and support so that schools could stock their cafeterias with foods grown close to home.
From the start, Rivas and her staff were interested in the USDA's Farm to School Grant Program. About three years ago, they began filling out the application.
One of the first things they had to do was take stock of their situation. That is, they had to figure out how much of their produce was grown locally, regionally and from longer distances.
They found that only 5 percent was locally and regionally grown.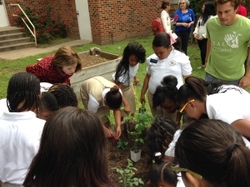 Cultivating crops is seasonal, of course. So another layer of their planning process was assembling a calendar. Figuring out when each of the locally (or regionally) grown fruits and vegetables were in season proved to be a vital piece of the puzzle.
"Being in Texas, we're obviously not going to find pineapple or bananas," Rivas said. "But we could identify other items that were more local and maximize their exposure to the students."
The real fun came in maximizing their uses.
Let's take lettuce as an example. Knowing that a variety of greens could be produced from greenhouse farmers nearby year round, and that school gardens would be growing these items in the cooler winter months in Dallas, they could...
Build menus to include dark green leafy romaine lettuce, spinach and other varieties year round.
Encourage science and math teachers to build lesson plans around the growth patterns.
Help schools that grew their own gardens to be ready to harvest greens to taste and share.
Arrange for farmers to visit the campus closest to them, giving students insight into where their food was coming from and letting them meet some of the people providing it. Students also learn about water conservation and modern agricultural practices.
With so much focus on a single product, it only made sense that DISD eventually went a step further and formally declared a "Harvest of the Month."
Yet another bonus has been the collection of partners involved in putting it together. Rivas credits the Texas A&M AgriLife Extension Service, North Texas Food Bank, GROW North Texas and REAL School Gardens among those who've brought their ideas to life.
"We had no idea of all the things we could do until we started connecting the dots and collecting all these different partners," Rivas said. "Putting all these great people together and brainstorming with them has generated really great synergy. That has really been part of what's been so rewarding."
Rivas is aware of how simple it sounds to buy local, seasonal produce. But it's not as simple for DISD, the second-largest system in Texas and 14th-largest in the country. It provides about 130,000 lunches and 90,000 breakfasts at 224 schools each school day.
Rivas and her team have enjoyed sprucing up their menus.
Some of the changes are simple, such as avoiding the obvious choice of apples and bananas, instead going with something more regional and seasonal -- such as peaches and watermelons. These, Rivas proudly notes, "can be picked the day before and delivered to our distributor, and then to us and directly to our kids."
Other changes might've been considered risky in the past because they were more out of the norm -- things like black-eyed peas, kale and red potatoes.
Peas are among the veggies that have moved up in the rotation. It's helped that they found a pea farmer with thousands of acres just outside of Dallas.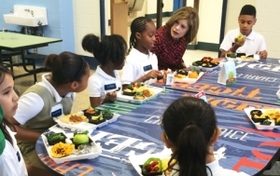 Best of all are the fruits and veggies the kids themselves grow in their school gardens. It seems only logical that hands-on learning is more fun for kids, especially when it means teachers are actually encouraging them to play in the dirt. The fact they are learning science and math concepts comes across as a bonus.
"We feel like children remember and are more excited about trying new foods when they actually experience it," Rivas said. "School gardens are a great way to introduce them to new foods."
Sometimes they bring in experts -- registered dietitians and chefs -- to then take those foods and create fabulous dishes. Teachers have noted a growing interest in creating recipes and preparing food. Many of those recipes are sent home; sometimes, parents are invited to the culinary demonstrations.
The indirect education of the parents is yet another benefit of the entire process.
Kids want their parents to buy the fruits and vegetables they've tasted or learned about at school, or maybe even bring home recipes they want to try. Parents who may also be unfamiliar about, say, butternut squash or beets, now learn about it from their children and may be given some simple ways of adding it to their menu.
"Now that their children are exposed to it, they think, "Oh, this is now more familiar to me. I'm going to gamble on purchasing and trying it out,'" Rivas said.
In December, DISD received a $100,000 Farm to School grant to sustain and expand what it's doing. The American Heart Association is currently urging federal legislators to support the Farm To School Act of 2015, recommending an increase of funding from $5 million to $15 million.
In Dallas, simply filling out the Farm to School grant application was like tipping over the first domino in a long, fun series.
So many additional dominoes have tumbled -- some expected, some not, nearly all for the better. Consider this statistic: During the 2013-14 school year, DISD increased the amount of produce that was locally and regionally grown by 30 percent over the previous year, and Rivas' team expects that to continue to increase as they build more relationships with local growers.
"It's definitely been an investment of time and effort on our part, but a very rewarding one," Rivas said. "Sometimes, seeing is believing. And now that we've all been working together on the Farm to School project, it seems we're all seeing how this benefits each of us."

Related