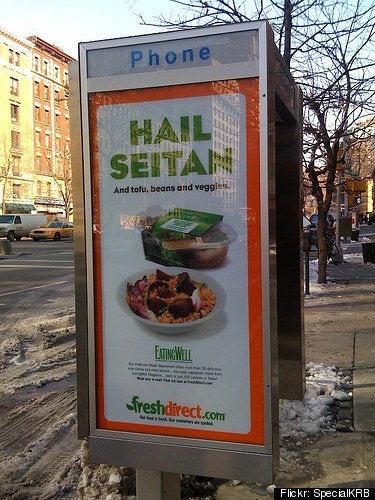 FreshDirect is jumping state lines.
The online grocer announced today that they would start delivering to Greenwich, CT and double its presence in Westchester County.
Aside from delivering to parts of all five boroughs (only Riverdale?), the company also reaches areas of New Jersey. With four Connecticut communities added to the roster, it seems that they are trying to corner the suburbanite market, or at least the lazy former city folk who miss not having to drive for groceries.
Full press release below:

LONG ISLAND CITY, NY (April 5, 2010) - Beginning today, leading online grocer FreshDirect, will add four new communities in the Greenwich, CT area to its roster and double its presence in Westchester County, NY to 21 communities. Already a mainstay in New York City's five boroughs and several counties in New Jersey, the company's entry into Connecticut expands its highly successful fresh food and grocery home delivery service to include the tri-state region.

"FreshDirect has grown consistently since we launched in the New York City eight years ago and we're excited to begin serving new neighborhoods in Connecticut and Westchester County," said Rick Braddock, Chief Executive Officer, FreshDirect. "Our core mission is to change our customers' lives by giving them a superior on-line shopping experience and this is another significant milestone as we look to saturate the tri-state area and beyond."

For the first time, FreshDirect will now be available to residents in Old Greenwich, Cos Cob and Riverside in the Greenwich area. The service will also reach 21 communities in Westchester including Ardsley, Bronxville, Dobbs Ferry, Eastchester, Harrison, Hartsdale, Hastings-on-Hudson, Irvington, Larchmont, Mamaroneck, Mount Vernon, New Rochelle, Pelham, Port Chester, Purchase, Rye, Scarsdale, Tuckahoe, West Harrison, White Plains, and Yonkers.

"Ninety percent of our New York City customers say they would reorder from FreshDirect and this is a testament to our reputation for excellent service, and the freshest, highest quality food," said Monica Woo, Chief Marketing and Strategy Officer of FreshDirect. "Many of our current customers in Westchester are former New York City residents who are familiar with us and we hope to build on that success as we magnify our neighborhood presence."

FreshDirect has revolutionized the online grocery business and set a new standard for fresh food supply, offering customers unparalleled quality, product customization and value pricing from its state-of-the-art kitchen and facility in Long Island City.

Home Delivery of the Freshest Prepared-to-Order Food at Everyday Low Prices

Only FreshDirect offers a wide selection of the freshest and highest quality produce, meats, fish, dairy items, sourced direct from the farms and fisheries and delivered straight to the customer's door. By eliminating the middleman, FreshDirect passes savings directly to customers. Also, orders are prepared just hours before delivery.

Daily Quality Ratings by Produce and Seafood Experts

FreshDirect's food experts examine all vegetables, fruit and seafood every morning. Over 90% of FreshDirect customers use the daily 5-star Quality Ratings to help them find what's best and in-season. It's like hand-picking every produce and seafood in the store, without the hassle.

FreshDirect offers 2 to 4 times more fresh fruit, vegetables, antibiotic-free chicken, organic and local produce, as well as top-grade fresh meat, sustainable seafood, artisanal cheese and deli items than supermarkets or other on-line grocers. All meats, seafood, fresh deli items are all cut-to order, just hours before delivery. Artisanal coffee from around the world is ground fresh to customer's specifications. More than 200 choices of breads and pastries are baked on-premise.

In addition, FreshDirect offers a broad selection of brand-name staples, and gourmet and artisanal foods. Suburban consumers can leave behind time-wasting trips to specialty stores when FreshDirect delivers straight to your door.

Save Money Every Day, Every Week

In addition to everyday great prices, FreshDirect offers daily and weekly deals on fresh foods and brand-name staples. Customers can save as much as 50%. To serve families, FreshDirect offers "Buy Big" selection of family packs and bulk purchases at club store prices. With FreshDirect's online Budget Tracker, customers can keep track of spending while shopping and the "Quick Shop" tool keeps track of every item bought, making shopping quicker from previous orders and eliminating wasteful impulse spending.

Meals Prepared Fresh Daily Delivered to Your Home or Office

FreshDirect offers over 600 choices of ready-to-heat and serve whole meals or side dishes --- prepared fresh daily --- and delivered to the customers' homes or offices. Families can enjoy restaurant quality weeknight dinners such as fresh rotisserie chicken made with antibiotic-free chicken, chef-prepared pizzas, family-size lasagnas, soups and more. All freshly prepared meals are certified by FreshDirect's on-staff nutritionist to make eating right easy.

4-Minute Meals Prepared Fresh Daily

Only FreshDirect offers 85 choices of 4-Minute Meals prepared fresh daily on premises from exclusive recipes by renowned chefs from the finest restaurants in New York Tri-state area, and by FreshDirect's master chefs. FreshDirect customers and their family members can enjoy indulgent whole meals by Terrance Brennan of Michelin-starred Picholine and Artisanal or award-winning new Indian cuisine by Chef Floyd Cardoz of Tabla - part of Danny Meyer's Union Square Hospitality Group. Customers can also indulge in classic comfort Italian cuisine of Presto Italiano by Chef Tina Bourbeau.

Also, sample 25 chef-prepared meals for only 500 calories from the kitchens of Smart and Simple and Eating Well, for healthy, nutritious eating. Each 4-Minute Meal uses innovative packaging that preserves the exquisite taste of fresh herbs and ingredients and locks-in the taste and juiciness of top-graded meat and fresh vegetables. The special packaging contains no BPA (bisphenal A) for safe heating in the microwave.

Feeding Your Family Right Has Never Been So Easy

FreshDirect's easy-to-use website offers tools and information to make shopping smart and easy. Only FreshDirect offers "Your Favorites" tool and keeps track and display the customers' favorite items and frequently purchased products, so that customers don't forget something important, as well as shop easy from the "Your Favorites" list, with just one-click. Customers can use FreshDirect's exclusive "Nutritional Sort" tool to compare the nutritional context of every item sold. FreshDirect's registered nutritionist provides tips, information and recipes to help our customers and families to eat right.

Choose from thousands of "One-Click Recipes," and get the free recipes---plus all the ingredients---in one quick click.

New IPhone App

To make grocery shopping even easier and faster, FreshDirect recently launched the only full-service grocery shopping iPhone App, which is free to all FreshDirect customers. The FreshDirect iPhone app is a complete on-the-go grocery store that delivers our full product selection and smart features.

For a complete list of offerings and Westchester/Fairfield communities served by FreshDirect please visit www.freshdirect.com.
REAL LIFE. REAL NEWS. REAL VOICES.
Help us tell more of the stories that matter from voices that too often remain unheard.