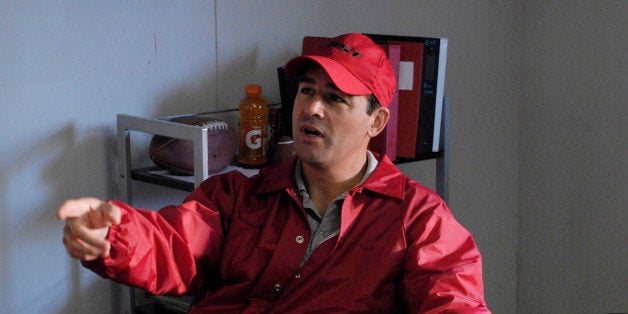 Clear eyes, full hearts, can lose: According to director Peter Berg, dreams of a movie based on the "Friday Night Lights" television series (which itself was based on a film adaptation of Buzz Bissinger's popular book) have been dashed.
"There's not gonna be a movie," Berg told Collider.com in a recent interview. "We talked about it, some people thought it was a good idea, some didn't; I've come to believe it's probably not a good idea and I seriously doubt it's gonna happen."
Berg's new comments echo what series star Kyle Chandler has been saying for over a year. Back in December of 2012, Chandler told MTV that he wasn't interested in seeing the life of Coach Taylor played out on the big screen.
"My general attitude about 'Friday Night Lights' is, it was a great movie ... and it was a great TV show -- I've never had more fun doing anything," Chandler said. "I still like watching the show again, because it was so creative, the process. But they ended it at exactly the right time, in exactly the right way as well."
"'Friday Night Lights' was a great movie, and the TV show. After five shots at it, five seasons, as it went on, it got smaller and smaller and smaller, and it almost got canceled. We were up against 'American Idol' the first year and it got moved," Chandler said. "[Producers] Jason Katims and Pete Berg and those guys kept it alive, kept the material so fresh, and ended the thing so perfectly. I think that's a tribute to those guys. I like the ending of the show as much as I like the whole thing in the sense that it was just done so classy, it was just done so well. Hats off to those guys."
Chandler wasn't the only cast member to put the kibosh on an "FNL" film. Back in September of this year, star Taylor Kitsch, who played Tim Riggins on the series, said the feature wasn't likely. "We're all too old and weathered," he joked.
As recently as this past November, co-star Scott Porter also expressed some unease about going forward with a "Friday Night Lights" movie.
"I think there's a little bit of trepidation for all of us as to taking one more step because I feel like we all did such special and great work on the show that we just don't want to sully it," he told Parade.
Despite all the negativity, many fans were still hopeful of a "Friday Night Lights" film, especially after comments that series star Connie Britton made in August.
"You know, there's been a lot of talk about a lot of things," she said. "And some people are really excited about it, and other people aren't. I love the idea. I think it would be a great idea. But my former ... husband ... Coach Eric Taylor [doesn't]."
REAL LIFE. REAL NEWS. REAL VOICES.
Help us tell more of the stories that matter from voices that too often remain unheard.
BEFORE YOU GO
PHOTO GALLERY
TV Reunions We Want To See