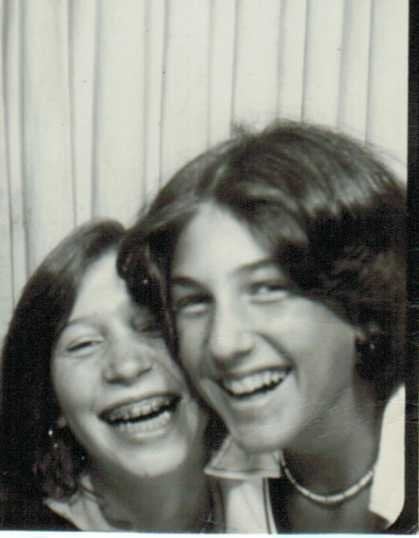 My childhood friend Ellen and I were 13 years old when we first concocted our let's-celebrate-our-friendship-every-ten-years scheme. At the time, it seemed as if a decade amounted to some magical, far-off date when we'd reunite after many years with no contact.
We were pre-pubescent teenagers then, swirling around the dance floor and getting high on the hora at my bat mitzvah party (or maybe it was just too much sugar from the dessert trolley) when we declared that we'd meet ten years later to the day to celebrate. Our anniversary wouldn't mark a wedding date or how many years had passed since our initial meeting, but simply what we hoped would be a long-lasting friendship.
As live-for-the-moment eighth graders, Ellen and I were unable to fathom that life could one day turn fragile. How could we know then that celebrating the importance of every day would trump our grand idea of once per decade? That we'd eventually be grown-up enough to face the complexities of having children, taking care of aging parents, going through divorce and battling illness? And how could we foresee -- with life and its countless opportunities still ahead of us -- that we'd never lose touch?
In the years following my bat mitzvah, as Ellen and I morphed from pimply, bike-riding girls to cooler, curvier young women, we often had the good fortune of catching colds and staying home from school on the same schedule. For hours at a time, we'd watch shows like I Love Lucy -- she from her sick bed and me from mine -- just breathing (or sneezing) into the phone until a commercial came on, when we'd launch into a recap of Lucy and Ethel's antics. When not watching TV "together," we'd pass the time reciting the alphabet backwards, memorizing the lyrics of Joni Mitchell's "My Analyst Told Me" and harmonizing to John Denver's "Today (While the Blossoms Still Cling to the Vines)." Those sick days passed by very quickly.
With high school graduation and our impending separation approaching, Ellen and I decided to commemorate our future anniversary by taking out an ad in the back of our high school yearbook. The quarter page square consists of a black and white photo of the two of us; Ellen with her Bee Gees-style shoulder length curls and me with my feathered Farrah Fawcett coif. Sophisticated 17-year-olds now, we wore subtle makeup and dressed in sweaters, slacks and high-heeled boots.
I remember how cool I felt driving to the city along the Hudson River, miles from our haven of suburban safety. Once in the Twin Tower's lobby, we asked a passerby to snap our photo in front of a "Windows on the World" sign, the restaurant we'd designated as the official destination of our celebration. The text beneath the yearbook ad simply reads: "October 22, 1987."
During college and the years soon after, Ellen and I lived in different cities (she in Boulder, Colorado, Washington, D.C. and then Orlando; I in New Orleans, Philadelphia and eventually Manhattan). And just like during the summers when we were separated by sleepaway camp, we continued to write each other lengthy letters full of life's mundane bits of information. Details about mutual friends, love interests, family members, travels, my hyperactive dog and favorite new songs were part of each and every exchange.
By the time our long-awaited anniversary arrived at age 23, Ellen and I had both been out of college for just over a year. I was living in Manhattan, making $14,000 a year as an assistant fashion editor at Mademoiselle magazine. Ellen was making at least triple my salary as a mortgage broker in D.C.. She took time off from work to come to New York for our special reunion.
Over dinner and candlelight on the 107th floor of the Twin Towers' north building, we realized the commitment we'd made ten years prior. Now, as grown-up working women dressed in skirts and heels, we sipped wine and ate fine food -- a big step up from the slices of Sicilian washed down with Tab that were our staple in high school. We reminisced about neighborhood kickball games, the time we got stuck on a ski mountain chair lift and the long hours we spent on the phone during our middle school years.
Resolving, then and there, that ten years was too long to wait for another anniversary, we modified our reunion rendezvous to every five years. On Oct. 22, 1992, we went back to the Twin Towers, this time to the 106th floor and its more casual wine bar and eatery, Cellar in the Sky. It would be our last time in the World Trade Center -- as fate would have it, we decided to change our location with each subsequent reunion so we could try new places.
In 1997, we savored braised short ribs and sautéed spinach at the Harrison in Tribeca. More recently, we enjoyed beet salad and sautéed flounder at Market Table. Every five years, we'd choose another New York City restaurant-of-the-moment, all a comfortable ride from her apartment on the Upper East Side and, in recent years, my home in Westchester.
In between our anniversaries, Ellen and I got together occasionally in the city, oftentimes with another of our high school friends, Betsy, who lives in Brooklyn. Together, we'd hold one another up during life's more challenging stretches -- my father's fatal illness, Betsy's divorce and Ellen's battles with cancer. Ellen and my anniversary date still felt sacred, but somehow, life got in the way and we missed a celebration or two.
Early last year, Ellen and I made a proclamation that excuses would no longer fly and we'd celebrate our anniversary every single year. So on October 22, 2011, Ellen and I marked our thirty-fourth anniversary. It fell on a Saturday, and we celebrated our friendship -- and lives -- by strolling a couple of blocks from my house to a local park, a picture-perfect strip of manicured green with paved pathways and gigantic rock formations that hug the shoreline of the Long Island Sound.
At 47, I was sporting long, straight hair -- longer than I had when we were 13. Ellen's thick curls were gone, and she was donning what we called a "chemo shmata," which covered her recently-shaved head. Unable to eat because of a tumor lodged in her throat, Ellen and I chose a wooden bench looking out over the water as the location for last year's celebration. We reminisced and focused on good times, though it was difficult under the circumstances -- Ellen was fighting for her life for the third time. In the last 17 years, she had survived breast cancer, myelodysplastic syndrome (a consequence of the breast cancer treatment) and was now facing esophageal cancer.
Since her diagnosis nearly a year earlier, Ellen had been coming up from Manhattan every weekend to stay at her parents' house, a ten-minute drive from mine. I got to see her almost every weekend, and that is the only silver lining in this story. Just like when we were kids, we created new traditions -- strolls through the park, reading side by side on my couch, trips to Starbucks for a Frappuccino. Puréed soups and frozen desserts were all that Ellen could eat until her chemo and radiation regimen was over. Until her surgery was behind her. Until her body had healed.
Along with our new rituals, Ellen and I still harked back to our old ones. We'd taken again to reciting Joni Mitchell lyrics and singing our John Denver harmonies with gusto. We talked about the books we were reading, but I couldn't keep up with Ellen's speed. On hiatus from work, she read insatiably.
The epitome of a survivor, Ellen marched on, engaging wholeheartedly in the trials and tribulations of my three kids, who then ranged in age from 11 to 18. Unable to have children of her own -- another result of her first cancer treatments -- Ellen embraced mine, as well as those of her other close friends and her own nieces and nephew. She was interested in everything my kids did, and listened to my family drama as if all were simply status quo.
After Ellen's surgery and the removal of the tumor and part of her esophagus, Ellen fought to regain her strength. She went home from the hospital, only to wind up back again with complications. She developed infections and her lungs were compromised. After weeks of struggling, she was no longer able to breathe on her own.
When I visited Ellen a few days before she died, I sang our song, "Today," softly in her ear. It wasn't the same without her harmony; her voice was so much better than mine.
This year on October 22nd, it will be the 35th anniversary of my bat mitzvah -- and the day Ellen and I dreamt up our once-per-decade celebration. Previously full of anticipation and excitement, the date has taken on new meaning. For this friendship was, and continues to be, worth celebrating every single day.
PHOTO GALLERY
PHOTOS: Life With Ellen
Calling all HuffPost superfans!
Sign up for membership to become a founding member and help shape HuffPost's next chapter