Florida State University president John Thrasher announced Monday the school will pay $950,000 to settle a former student's lawsuit alleging that FSU was "deliberately indifferent" to her claim that star quarterback Jameis Winston raped her.
Erica Kinsman said in her federal lawsuit that FSU didn't take her case seriously when she identified Winston as her alleged attacker after she was sexually assaulted in December 2012. Her lawyers have said the school violated the law to protect its prized football program.
The payment is the largest settlement, according to USA Today, in a Title IX case, a federal law which prohibits gender discrimination in education.
"With all the economic demands we face, at some point it doesn't make sense to continue even though we are convinced we would have prevailed," Thrasher said in a statement.
An admission of wrongdoing, however, was not included in the settlement and Thrasher insisted that FSU would have prevailed if the case had gone to trial:
Although we regret we will never be able to tell our full story in court, it is apparent that a trial many months from now would have left FSU fighting over the past rather than looking toward its very bright future. We have decided to instead move forward even though we have full faith that the ultimate outcome of a trial would have been consistent with the previous law enforcement investigations and retired Supreme Court Justice Major Harding's findings in the student conduct hearing.
Even after the rape allegations became public knowledge, almost a year after Kinsman went to police, Winston continued to play for FSU, which was having a historic season. He went on to win the Heisman Trophy as the best college football player in 2013 and he led the Florida State Seminoles to the national title. The Tampa Bay Buccaneers selected Winston with the first pick in the NFL draft last year.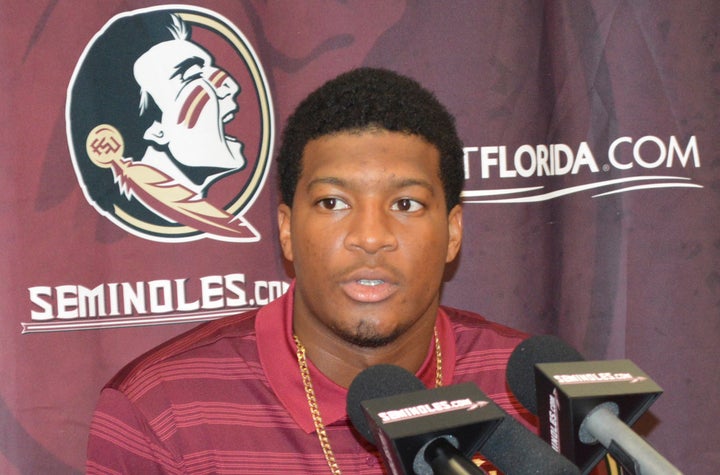 As Winston starred on the field, Kinsman suffered harassment around campus. She ultimately withdrew from FSU.
While Thrasher's statement claimed $700,000 of the settlement is going to Kinsman's attorneys, that is not accurate. Though a copy of the settlement, reviewed by The Huffington Post, states that number, immediately after it says that does not necessarily reflect the actual divvying up of the settlement amount. It goes on to say that the actual division of the settlement will be exclusively decided by Kinsman and her attorneys.
Kinsman's lawyer, John Clune, declined to say exactly how much will go to the attorneys, citing attorney-client privilege. However, Clune told HuffPost that Thrasher's "impression of the attorney fees is massively overstated," and the university administration knows it.
An FSU spokeswoman said: "This is a non-issue."
According to Thrasher's statement, FSU has committed to a five-year program to create awareness around and prevent sexual assault.
"I will always be disappointed that I had to leave the school I dreamed of attending since I was little," Kinsman said in a statement. "I am happy that FSU has committed to continue making changes in order to ensure a safer environment for all students."
Officials with FSU and local law enforcement have claimed they took then-freshman Kinsman's complaint seriously, but egregious flaws in the investigations were uncovered by The New York Times.
Tallahassee police launched an investigation on Dec. 7, 2012, after Kinsman reported that she had been sexually assaulted when she was intoxicated and taken from a bar to an off-campus apartment by a man unknown to her. On Jan. 10, 2013, she told police Winston was the rapist after recognizing him in a class. A DNA sample Winston provided to authorities matched semen that the police collected from Kinsman's underwear.
The Times investigation, however, found that the detective handling the case didn't write a report for two months. Police also lost valuable evidence, including a video recorded by a witness showing some of the alleged assault.
Officials with FSU's athletic department learned in January 2013 that Winston was named as a suspect, but concluded it was a consensual encounter after speaking to two other players who were present. It was only in January 2014, after the Seminoles' championship season, that the university attempted to question Winston.
The state's attorney declined to file charges against Winston in December 2013 and a student misconduct hearing -- during which he declined to answer questions -- said that he and Kinsman consented to sex, and cleared him of any wrongdoing.
The federal Department of Education will continue a separate investigation it opened in 2014 into whether the university properly handled the Winston case and whether alleged misconduct created a sexually hostile environment.
This story has been updated with new information about the settlement amount going to the attorneys, after Kinsman's lawyer refuted the figure provided by FSU.
Popular in the Community