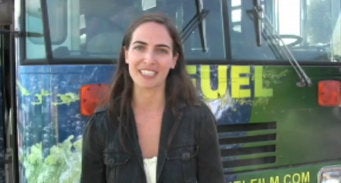 Did you know that the diesel engine was originally invented to run on vegetable oil? Or that ethanol was the preferred fuel for Henry Ford's Model T? (That is, until John D. Rockefeller of Standard Oil conveniently supported a little amendment to the Constitution known as Prohibition, which effectively outlawed the sale of alcohol-based fuels along with gin martinis.)
Unbelievably, I didn't. Learning about these two forgotten pieces of history blew my mind when I first watched the film Fuel, which won the Best Documentary Audience Award at the 2008 Sundance Film Festival. But the movie, which took filmmaker and environmentalist Josh Tickell 11 years to complete, isn't only about the history of oil, the substance that has come to dominate nearly every function of modern life; it's also about the real sustainable energy solutions that are within our reach. This is a film that will change the world, if only people see it.
It's with this goal in mind that Tickell, one of the leaders in the US biofuels movement, and his fiance/producer Rebecca Harrell have decided to take their Veggie Van Organization on a cross-country tour to promote Fuel, as well as make available a free 35-minute educational version of the film to every school in the US. The tour, which launches today in San Francisco, includes a caravan of green fuel vehicles, like a biodiesel/solar-powered bus that's been converted into a mobile educational lab for students, and the Algaeus (get it?), the world's first algae-fueled, 150 mpg, plug-in-electric hybrid vehicle.
I met with Tickell and Harrell Monday in Los Angeles as they and the rest of the Fuel team raced to add the finishing touches to the Veggie Van fleet. Take a look:
Josh Tickell will be vlogging from the Veggie Van for HuffPost Green during his cross-country trip.
Popular in the Community