Who among us doesn't have a junk drawer filled with mysterious, miscellaneous, marginally useful knick-knacks? (A survey found that 80 percent of Americans report having at least one junk drawer, though the average household actually has three.)
Maybe yours is filled with old keys, office supplies and coupons for the pizza place down the street. Or maybe, you've got a super organized junk shelf, like the couple in this cute comic: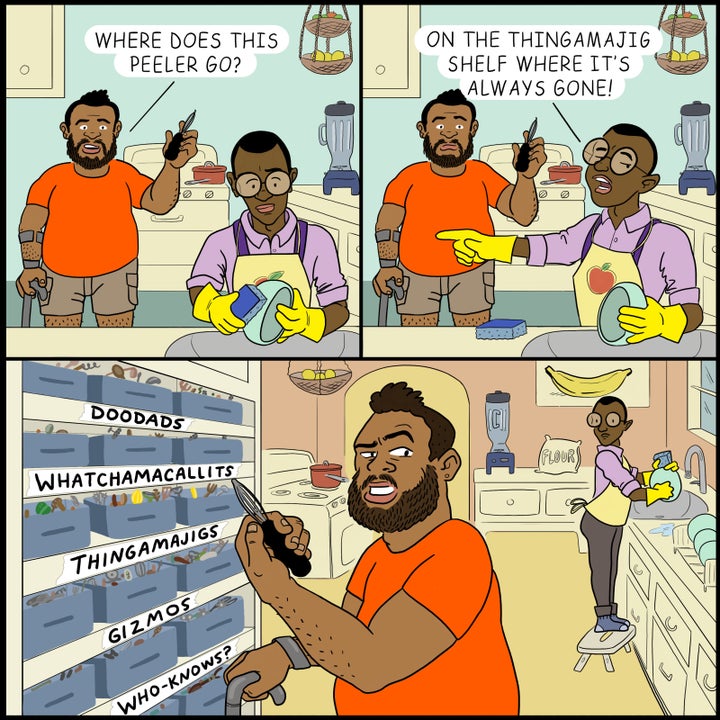 The comic was produced by Sarah Zucker and Bronwyn Lundberg, a Los Angeles-based married couple and the creative force behind YoMeryl. (Lundberg illustrates and animates their work, Zucker serves as the writer and director.)
They do, in fact, have a "thingamajig drawer" in their home filled with vegetable peelers, lemon squeezers and graters of every variety.
"We think it's funny how people always have a system for their kitchen, but it might not be apparent to anyone outside their own brain," Zucker told HuffPost.
Both partners abide by their kitchen system, but Lundberg is the master organizer in the marriage.
"Bron is definitely more organized and tidy than myself and I'm eternally grateful for that," Zucker said.
"Well, yes, I am more particular about how things get organized," Lundberg said. "But Sarah is always able to help me find more important things like my phone."
Balance and a few thingamajig drawers: All you need for a successful relationship.
Head to YoMeryl's Tumblr page for more of their work.
Love Illustrated is a HuffPost comic series that captures the realities of modern love. HuffPost has partnered with Tumblr's Creatrs, a collective of their most talented artists, to create this original illustrated series. Tumblr is also owned by Oath, HuffPost's parent company.
Popular in the Community