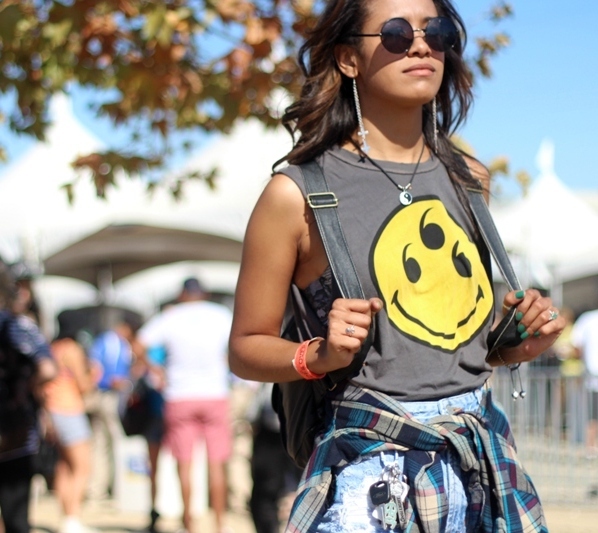 With 90's-era shoegaze and alt-rock pioneers like My Bloody Valentine and The Breeders laying down speaker-melting sets on stages named after feisty Sex and the City characters, FYF Fest 2013, celebrating its 10th anniversary, managed to conjure the grunged-out spirit of the '90s, while faithfully holding out against the molly-marketed electronic dance music scene of Coachella and EDC.
Like Nirvana's obliteration of hair metal in the early-'90s, Sean Carlson's FYF is proving that lo-fi artistry, fueled by songwriting and flannel-shirted adventurism, can create an atmosphere that is genuinely independent of the excess and glitter covered fairgrounds of EDM festivals. For that reason, it would be trite to refer to FYF as a "mini-Coachella," both in terms of sound and overall aesthetic, as two days of festival watching under the hot sun prove that FYF has more of a laid-back, grassy grunge look than other notable 'high-fashion' music festivals that seem more focused on flashy fashion, than practical music festival threads.
The lineup and overall vibe created by the bookers of FYF lead to a very specific look. While still on the cutting-edge of fashion, FYF crowds abandoned the traditional festival style of sheer dresses and sexed-up flower girl outfits, for a more subtle plaid shirt-tied-around-waist and Doc Martens approach -- what the MTV-generation looked like before The Jersey Shore.
Roaming the L.A. State Historic Park for two days, I managed to track down the styles and trends that separate FYF attendees from the body painted variety at EDM festivals that have more floral arrangements than a celebrity wedding. Speaking of celebrities: it seemed as though being conveniently located in their backyard wasn't enough to bring the likes of Kristen Stewart and Katy Perry out to the show. No notable celebrity sightings or A-list fashion updates at FYF provide even more of reason why this festival is nothing like Coachella -- a complete departure from the flock of hipster celebrities that invade the Indio fairgrounds for VIP parties and backstage antics.
Overall, the street style of FYF was a clear departure from other festivals I've attended this year. The modern hippie style, which has become ubiquitous on the festival circuit, was almost nonexistent at FYF; where the grunge rock look, basic denim, and a Pacific Northwest simplicity was on full display between the appropriately named 'Miranda' and 'Carrie' stages.
At one point, it became apparent that nearly everyone was sporting plaid, in some form or another, with the specific trend towards oversized '90s-grunge shirts designed for wearing around the waist. Matching the shirt-tied-around-waist with vintage tees was definitely a key element of fairground fashion; which led to several festival goers adorning red plaid with the classic D.A.R.E. shirt that every thirty-something knows all too well.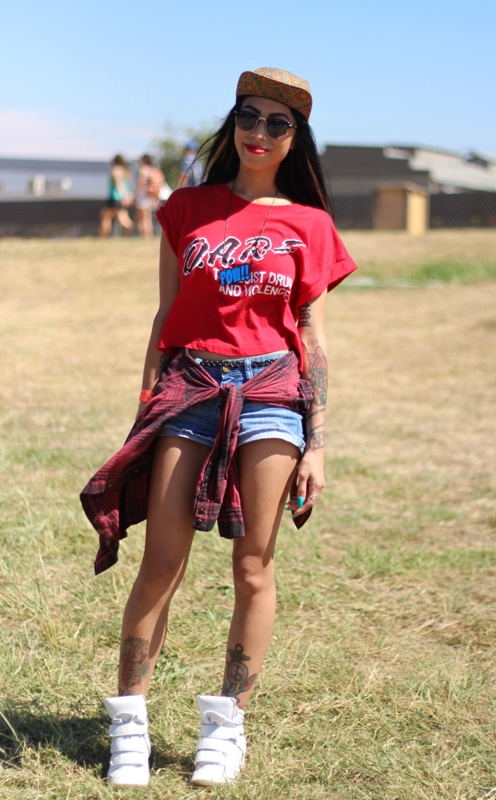 Fanny packs, which seemed to provide a practical and fashionable purpose, took FYF back to a time when awkward 'Merica' themed fanny packs were adorned by everyone from Van Halen to professional wrestlers like Hulk Hogan. However, FYF fanny packs were mostly stylized in the trendy comic-book style that seems to be everywhere these days; providing a rich display of colors in the blur of the massive crowds that flooded downtown L.A.
Eyewear trends at FYF ranged from colorful cat-eye sunglasses, vintage Ray-Ban Wayfarers, to eccentric-looking Christian Rot-inspired shades made famous by Kurt Cobain in countless photo shoots. But unlike some of the custom pieces seen at Coachella, FYF crowds mostly wore sunglasses they wouldn't regret losing during an intense No Age mosh pit, or the noisy mayhem you'd expect during a loud My Bloody Valentine set.
Another '90s-era fashion trend brought back to life at FYF were basic denim overalls, which seem to be making a major comeback with revamped styles that fit the body better. Denim overalls, the farmer's best friend, were an ironic twist since the two beer gardens were covered with haystacks and wooden tables -- looking more like a barnyard, than a musical festival drinking area.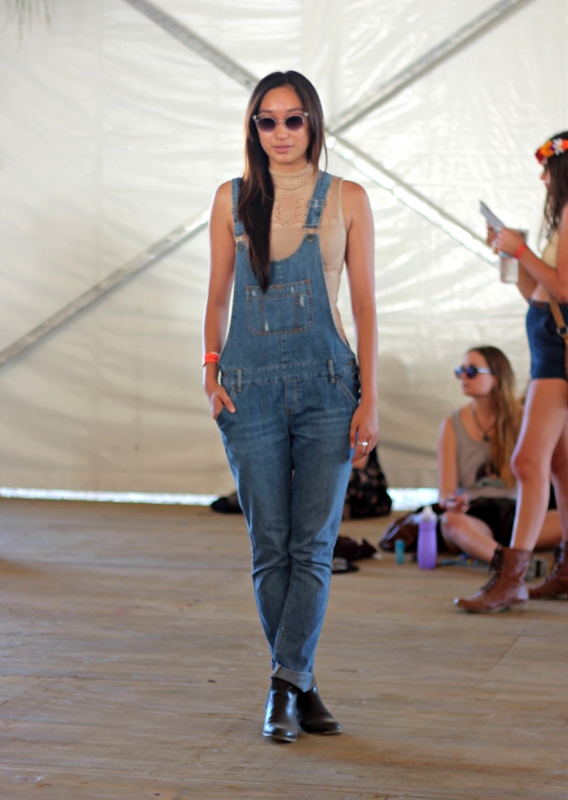 So after two sun-soaked days of being on the field scouting the various looks at FYF, I've picked a few of the most fashionable festival-goers from FYF Fest 2013 here, exclusively for The Huffington Post.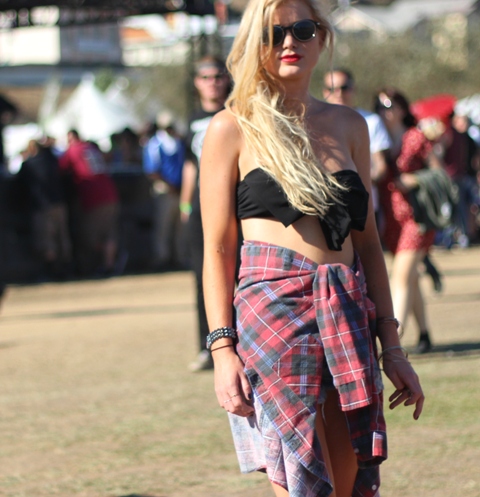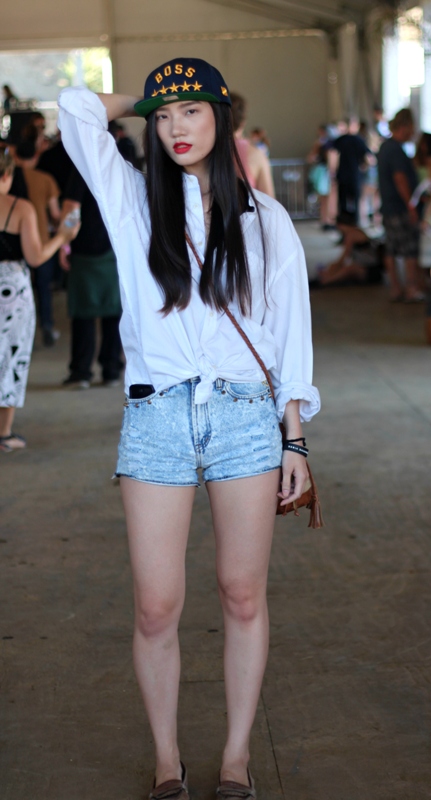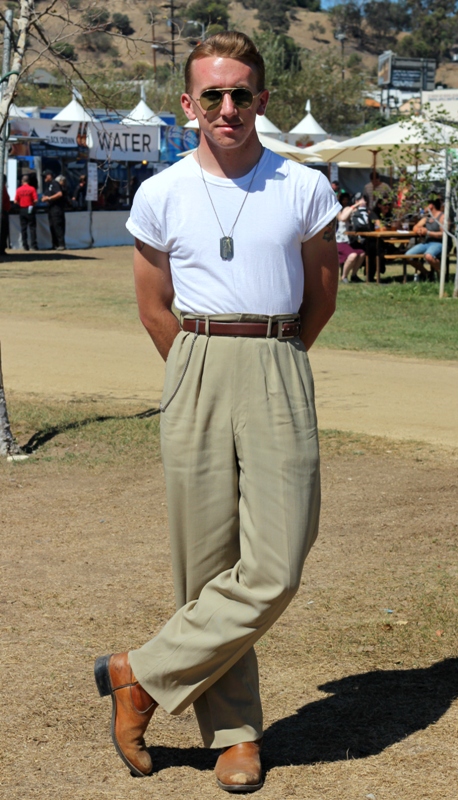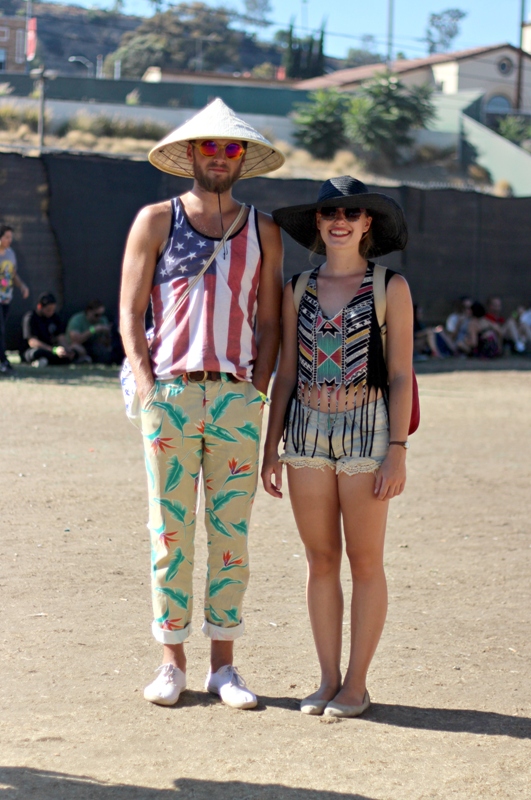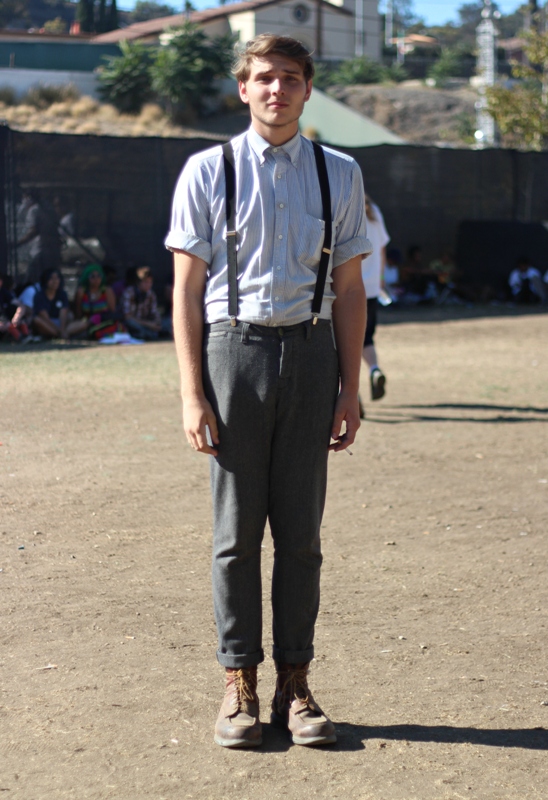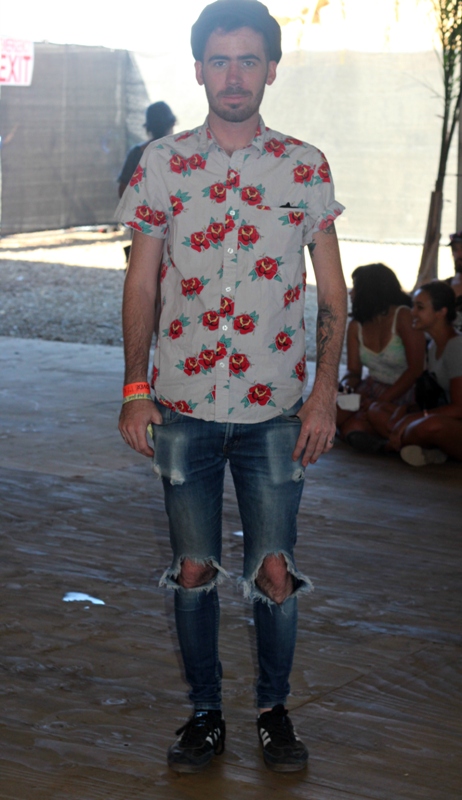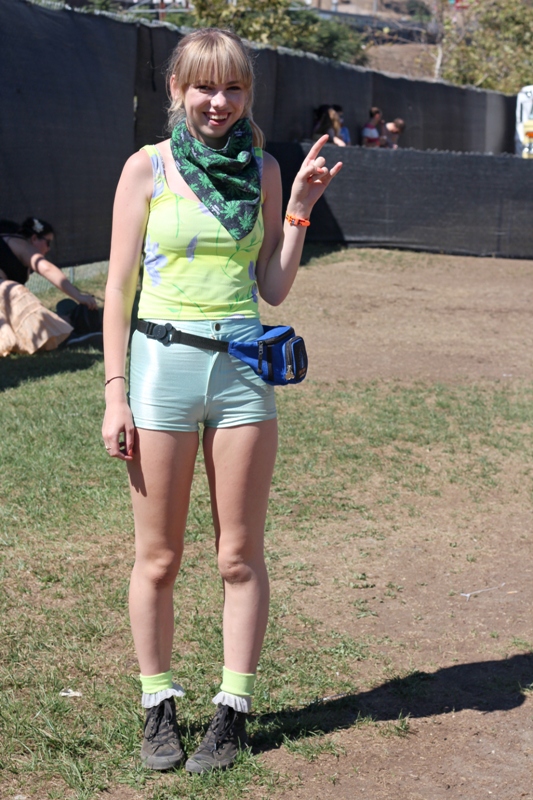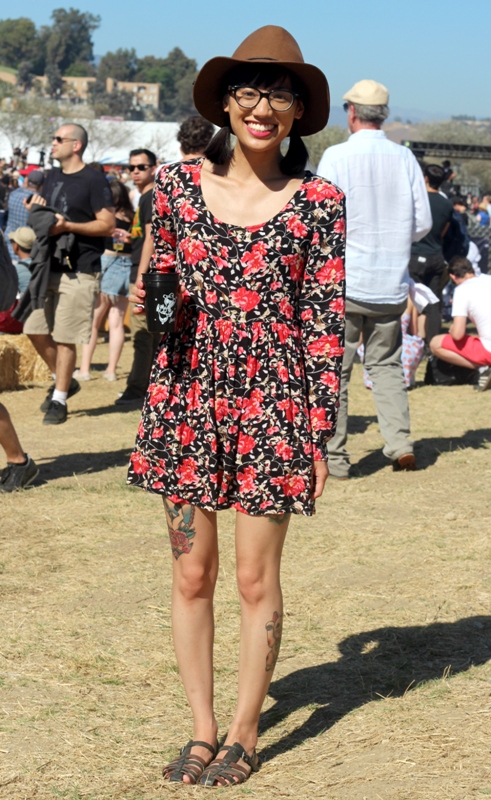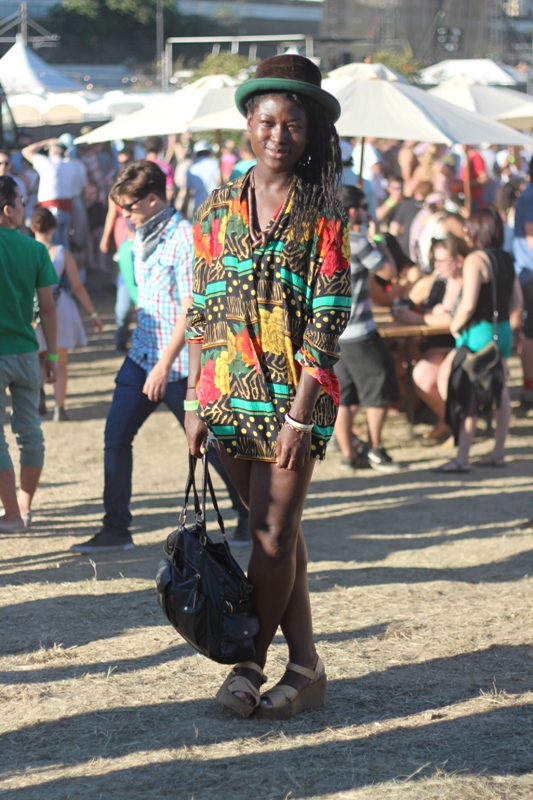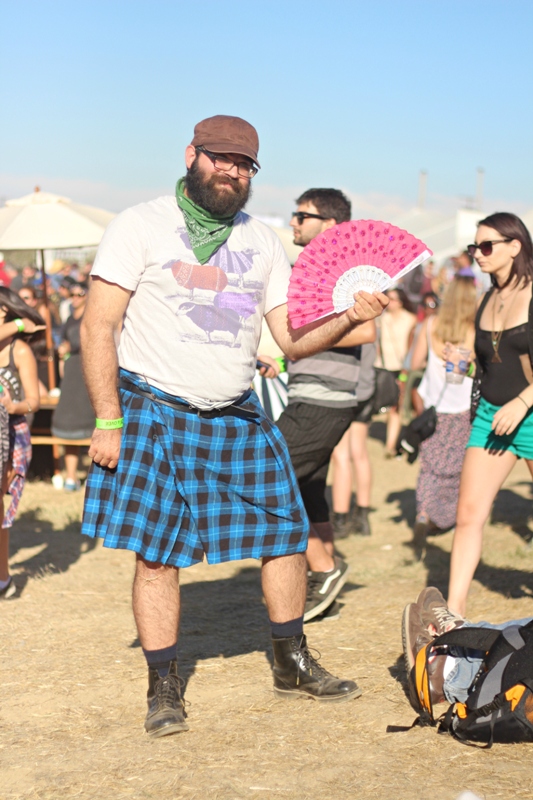 REAL LIFE. REAL NEWS. REAL VOICES.
Help us tell more of the stories that matter from voices that too often remain unheard.