What has George Zimmerman been doing since he was acquitted of the murder of 17-year-old Trayvon Martin? The ex-neighborhood watchman has bizarrely begun expressing himself through painting, and is selling his original artwork on eBay.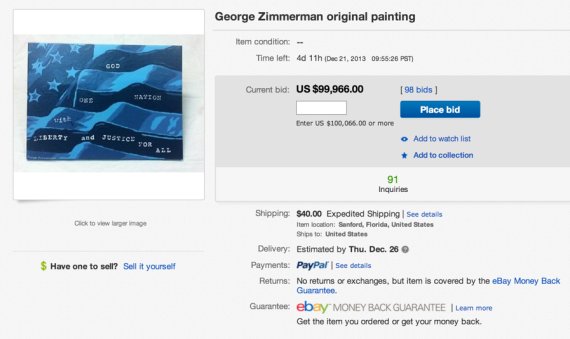 Under the account name TheRealGeorgeZ, Zimmerman uploaded a 18 by 24 inch canvas to the online marketplace on December 16. The painting depicts a rippling, blue American flag with the text "God, One Nation, With Liberty And Justice For All."
The piece is accompanied by a message from Zimmerman:
"First hand painted artwork by me, George Zimmerman. Everyone has been asking what I have been doing with myself. I found a creative, way to express myself, my emotions and the symbols that represent my experiences. My art work allows me to reflect, providing a therapeutic outlet and allows me to remain indoors :-) I hope you enjoy owning this piece as much as I enjoyed creating it. Your friend, George Zimmerman."
The eBay site also contains a curious Q&A section, where Zimmerman responds to potential buyers on the site.
Q: Just wanted to tell you we all love you and stand behind you. You have so many people on your side I hope you know that!

A: Thank you so much for the words of kindness and support. I do know how many great Americans are still here, I run into at least 3-5 a day that go out of their way to tell me the same. Your Friend, GZ @therealGeorgeZ
The auction is slated to close on Thursday, December 26. Last month Zimmerman was arrested on charges of domestic assault, after his girlfriend accused him of pointing a gun at her during an argument.
Popular in the Community