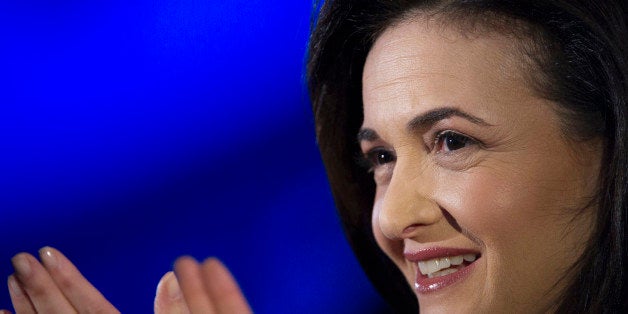 Midlife, for many women, is a time to get in touch with our inner strengths. The more experience we get in the worlds of work, family and the community, the more our self-image gains in confidence and clarity. However, it's not always easy to embrace the image of the self-confident midlife woman. We still carry in our heads the negative connotations attached to various "B" words such as "bossy" and the other B-word that rhymes with witch.
Recently, Sheryl Sandberg launched the "Ban Bossy" campaign to help girls and women develop their leadership skills by ridding themselves of the B-word mental shackles. This movement is more than empty rhetoric. Sound psychological research supports her assertion that we can build leadership skills in women by counteracting the social stereotypes they start to incorporate at an early age.
Part of the message we need to send to girls is that being a good leader doesn't mean you even have to be bossy in the traditional sense. In 2008, UCLA psychologist Michael Hoyt and Arizona State psychologist Clara Kennedy tested a leadership training program on a small group of public high school teen girls living in New York City. Prior to the intervention, the teenagers believed that it was in fact bad to be a leader, because it meant you had to dominate others. The intervention consisted of a 6-week curriculum that provided rigorous coursework, mentoring, and programs in which they designed and led their own activism programs in the community.
Hoyt and Kennedy's approach of combining didactic and experiential learning helped the teen girls broaden their definition of leadership to one that is inclusive and cooperative. The girls began to see how they could become change agents in their own communities, and in this way improve the conditions around them in their own environments as well as strengthen their own abilities to inspire and motivate others.
Educators from around the world are, similarly, developing leadership training programs for young girls (e.g. Archard, 2013; Beaman et al., 2012; and Posner, et al., 2009). Sandberg is partnering with the Girls Scouts, which seems like a natural alliance and, indeed several studies on leadership development were with Girl Scout troops from around the U.S. (e.g. Benjamin, 2006; Butler, 2008: and Connolly, 2010). All of these programs help young girls embrace the concept of being leaders by teaching them that leadership can be a positive social quality. Once girls reshape their image of leadership, they are then able to integrate this into their own personal sense of identity.
We who are in midlife are in a position to help the girls we know develop their leadership identities through mentoring. University of Virginia educator Angela Henneberger and her collaborators conducted an experimental study in which 7th graders were mentored by college students through a series of social activities, homework assignments, and discussions about motivation. Typically, over the course of a year, girls at this vulnerable age of the transition to adolescence show a decline in key indicators of mental health including self-esteem. The mentored girls showed no such decline.
Sandberg's campaign, to the extent it takes advantage of these empirical studies, may go a long way to helping young women define themselves in new and more fulfilling ways. By spreading this message along with providing hand-on mentorship, we can serve as positive role models while, at the same time, providing valuable concrete help and support. In the process we can help them, and ourselves, ban all those "B" words and accept the "L" word, becoming strong and confident leaders.
Archard, N. (2013). Preparing adolescent girls for school and post-school leadership: Recommendations to school educators from educational staff, female students, and women leaders. International Journal Of Adolescence And Youth, 18(3), 158-175. doi:10.1080/02673843.2012.666799
Beaman, L., Duflo, E., Pande, R., & Topalova, P. (2012). Female leadership raises aspirations and educational attainment for girls: A policy experiment in India. Science, 335(6068), 582-586. doi:10.1126/science.1212382
Benjamin, B. (2006). What to give the girl who has everything: Creating leaders in an affluent suburban adolescent girl scout troop. Dissertation Abstracts International Section A, 67,
Butler, M. M. (2008). Latinas taking the lead: The impact of a leadership intervention on the leadership behaviors and self-esteem of Latina girl scouts. Dissertation Abstracts International Section A, 69,
Connolly, I. (2010). Uninvested leadership: A quantitative analysis of new troop leader perceptions in relation to turnover intentions in the girl scouts of Southwest Texas. Dissertation Abstracts International Section A, 70,
Henneberger, A. K., Deutsch, N. L., Lawrence, E. C., & Sovik-Johnston, A. (2013). The Young Women Leaders Program: A mentoring program targeted toward adolescent girls. School Mental Health, 5(3), 132-143. doi:10.1007/s12310-012-9093-x
Hoyt, M. A., & Kennedy, C. L. (2008). Leadership and adolescent girls: A qualitative study of leadership development. American Journal of Community Psychology, 42, 203-219. doi: 10.1007/s10464-008-9206-8
Posner, J. J., Kayastha, P. P., Davis, D. D., Limoges, J. J., O'Donnell, C. C., & Yue, K. K. (2009). Development of leadership self-efficacy and collective efficacy: Adolescent girls across castes as peer educators in Nepal. Global Public Health: An International Journal For Research, Policy And Practice, 4(3), 284-302. doi:10.1080/17441690902783157
Calling all HuffPost superfans!
Sign up for membership to become a founding member and help shape HuffPost's next chapter