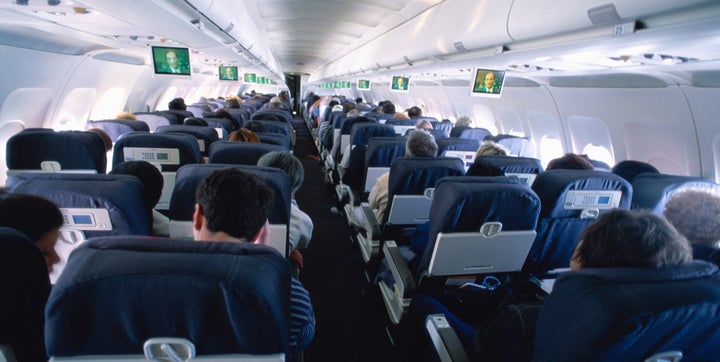 A study from budget airline easyJet claims to pinpoint the perfect airplane seat: 7F. Their reasoning? It sells the best. But these results conflict with an earlier survey from Skyscanner that claimed 6A was the best according to a poll of travelers and a consideration of "lucky numbers."
Ticket sales and lucky numbers are great, but neither of these methods seems entirely sound to us. So which seat on the plane is the BEST, and how do you pick it?
Here's what flight attendants and experts have to say:
For SAFETY, pick an aisle seat in the rear, behind the "trailing edge of the wing."
For A SMOOTH RIDE, pick a seat over the wing.
Your first line of defense against a bumpy ride is always a larger aircraft that flies at higher altitudes. But for an even smoother ride, your best bet is a seat over the wings. According to Dr. Quay Snyder, president, CEO and co-founder of Aviation Medicine Advisory Service, the front and rear of the plane tend to bounce more than a seat over the wings.
For A QUIET RIDE, pick a seat toward the front of the cabin.
To avoid loud engine noise, pick a seat as far up front as you can get. While you may overhear flight attendants chatting, you've put significant distance between yourself and the roaring engines. If you can't snag a first row seat, go for an aisle seat instead; window seats are several decibels louder than aisle seats.
For SLEEPING, pick a window seat on the left side of the plane, near the middle of the aircraft.
For STORAGE, pick a seat in the rear.
Almost all airlines (United is one notable exceptions) follow a back-to-front loading procedure, so if you're in a rear seat you'll get first dibs on overhead bin space.
For A QUICK EXIT, pick a seat on the left side of the plane, in the front.
For LEGROOM, pick an aisle seat in the exit row.
For KIDS, pick a seat in the bulkhead.
The bathroom is nearby since you're in the front of the plane, and some bulkheads have bassinets for babies. Plus, no seats in front of you means there's a 50 percent decrease in the amount of bystanders shooting you death glares.
If you don't get the seat you want, pack a few sweet treats.
"While charm and chocolates may not guarantee a seat change, it certainly can't hurt," former flight attendant Beth Blair writes on BBC.com. "While you're at it, bring another sweet treat for the seatmates on either side of you. You never can tell when the battle for the armrest will get ugly."
Here's hoping these tips have you flying in style in no time.
A previous version of this story appeared in June 2014.
Related