Eyes wide and mouths agape, my boyfriend and I -- both simpletons at heart and Bostonians at the moment -- took in the absolute stateliness of the opulent room we would call home for the weekend.
Deemed the "English Tudor" suite at The Chanler historic hotel, located along Newport's historic Cliff Walk, the scene was what dreams are made of. A six-foot jacuzzi behind oak cabinetry stood in the distance of the lush, four-poster king bed, which was only topped in grandeur by the wood-paneled wall opposite it, complete with a beautiful fireplace and a built-in television, which welcomed us with what I remember to be pleasant Opera pieces upon arrival. Sparkling wine in hand, compliments upon checkin, we dropped our bags and made a toast to the weekend to come. We had entered a whole new world, set in a time long past.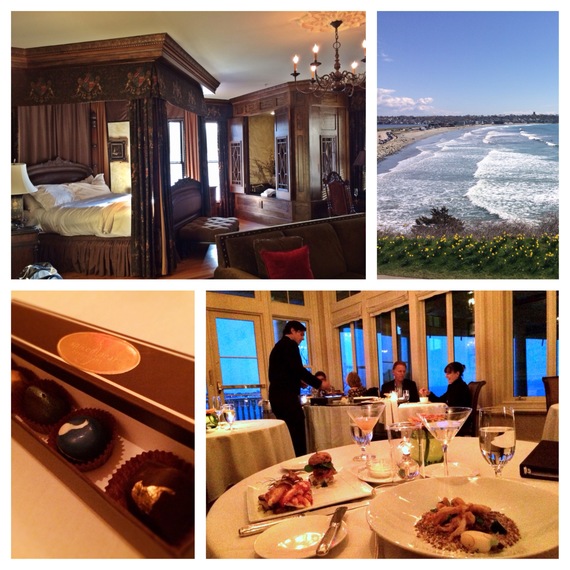 Scenes at The Chanler at Cliff Walk
Newport, Rhode Island is known for its gilded opulence. Fancy footings and posh pastimes, this Northeastern summer escape gained its reputation in the mid-1800s when it was hip to have a mansion in the region, overlooking the stunning Atlantic Ocean, with its sparkling waves and sea of sails. Presidents Eisenhower and Kennedy even had their "Summer White Houses" in Newport, carrying on the tradition of Newport's high society, which fancied summer cottages the size of today's outlet malls.
Newport seems to be the pinnacle of the American dream; Except, instead of owning a two-story house protected by a white picket fence and complete with Sunday barbecues and lawn games, the stars of this tale owned massive mansions corralled off by ten-foot, wrought-iron gates and invited their friends over for polo and lawn tennis matches -- that is, when they weren't throwing evening soirees and dinner banquets. Mind you, this was only in the summertime, when it was trendy to take up residence on the coast, catch a few rays, and escape the busy city life, whatever city the occupants may have traveled from.
Newport feels halfway like a field trip to the past and halfway like being a part of a museum of what once existed. Its mansions stay intact, though mostly open for public tourism, giving the town a stately appearance. But its people are warm and welcoming, making up for what could be a stuffy stay. Our evening began on a Friday at Spiced Pear, The Chanler's dining room, where our waiter had us warmed up with a couple of signature pear cocktails in no time. Without a doubt, the Spiced Pear Martini, made with Absolute Pears vodka, Amaretto Disaroono, pear nectar, cinnamon, and lemon juice, is a must-have. Keeping it girly, I also tried the French Pear Martini (St. Germain elderflower liqueur, Absolut Pears, and Champagne), which is worth a go, but doesn't hold a match to the Spiced Pear Martini.
One of the highlights of the evening was the venue's Friday night jazz, by local legend Dick Lupino and his band. The band's jazz standards had the Baby Boomer crowd hopping, one particularly jolly couple dancing cheek to cheek, Pinots in hand. Tunes of yore in our heads and warmth in our hearts and tummies, my boyfriend and I retired to our room, in preparation for what would be the ultimate Saturday in Newport.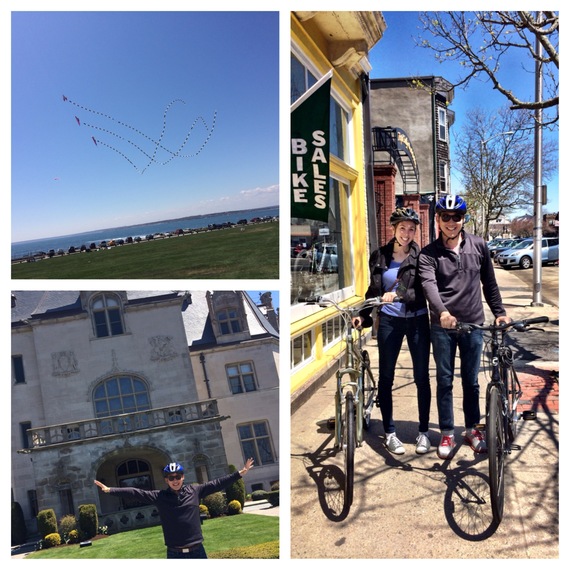 Enjoying Newport by bike
A trip to Newport wouldn't be complete without the ocean and the Cliff Walk, the 3.5-mile walk along the Atlantic Ocean that takes visitors past 64 private properties, including the regal mansions of the gilded age. A short jaunt on the Cliff Walk outside of The Chanler, though, is nicely supplemented with a full-on bike ride around the southern tip of Aquidneck Island, on which Newport is located.
Renting bikes at Newport Bicycle on Broadway is a definite win for those looking for some outdoor adventure. The family-owned shop stocks rental bikes for everyone, from the cushy-seated cruiser to a light-weight sports model. It's also located near plenty of tasty food options, including Salvation Cafe, which features a deliciously eggy -- and boozy -- Sunday brunch menu worth checking out.
Biking around the island, one must stop at Brenton Point State Park, where packs of kites take flight, some of which are powered by expert flyers willing to pull out some stunts to excite the crowd. Moving along the coast, bikers encounter historic Fort Adams -- for those traveling during peak season in Newport (mid-May to mid-October), the fortress is open for tours, either guided or self-guided. We, unfortunately, were a bit early and found ourselves peeking through its gates, tall and unwieldy, unable to take a stroll inside.
The local highlight of the bike tour, though, is catching glimpses of -- and visiting, if one so chooses -- the Newport Mansions. The Breakers, Chateau-sur-Mer, Rosecliff -- they're all exquisite. Even Newport's own Salve Regina University sits amidst the grandiose scenes, housed in mansions, the main building of which resembles the stately residence of Bruce Wayne (AKA Batman), my boyfriend told me ecstatically before requesting a selfie. Imagine attending philosophy classes in the Batcave or having lunch out back while peering out across the Atlantic -- such a college life seems magical at best, potentially distracting at worst.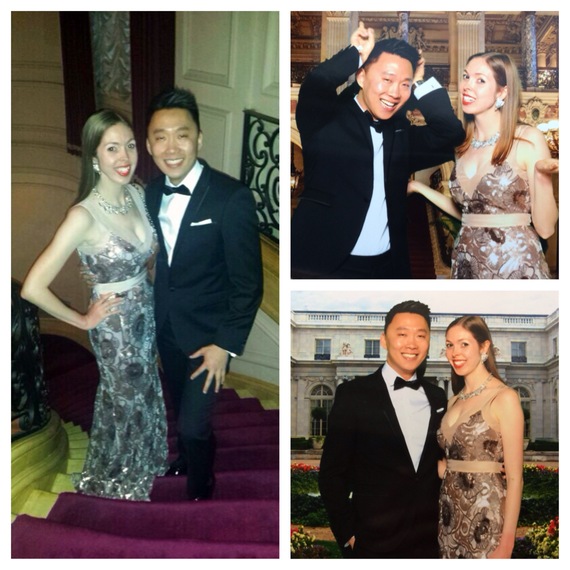 Newport: Banquets or bust.
If you can time it right, a weekend in Newport is perfectly capped off with a gala or evening out at one of Newport's famous mansions. For my beau and me, that took the shape of the MIT Sloan School of Management's Spring Gala at the Rosecliff Mansion, which we also happened to stop by during our bike tour. Having been the set for a number of films, including The Great Gatsby (1974), Rosecliff is a representative property of Newport's posh past, encapsulating the atmosphere of swanky socials that the mansion's halls saw in the Roaring '20s and Jazz Age.
Rising to the occasion, my date had a fresh tailored suit whipped up, and I took to the Internet to find the perfect evening gown. Trying out online gown rental service Rent the Runway for the time, I found a full-length, gold-sequined Badgley Mischka gown that fit the ticket and topped it off with a statement necklace and Art Deco-style earrings by Ben-Amun. Ladies -- should you ever find yourself at a Newport mansion party, don't rely on the frocks in your closet to make you feel stunning. Nothing less than sequins and sparkles will do for such glitzy fanfare, and Rent the Runway is the place to find a fitting dream dress, for a fraction of retail prices.
Sparkling mansions, ocean views, gentry sports, fancy dinners; Newport definitely comes on strong with its aristocratic air. The best part of visiting Rhode Island's famous summer retreat, though, is ogling at its splendid sites alongside the one you love. There's something quite charming and whimsical about dinner alongside the Atlantic and getting lost among Victorian houses and perfectly carved shrubbery. Something dreamy about jovial kites above fresh cut lawns and a gentleman in a bowtie. Something fanciful about six pillows on your bed and marble floors to pitter-patter across. Something nostalgic about strapping on a bike helmet and cruising with your favorite sidekick. Something sensual about fresh-caught lobster and hand-painted chocolates. And something romantic about feeling like you're in a whole new world -- old or new -- just the two of you, if only for a moment here and there.
Newport is a chance to travel back in time and share extravagant experiences, and it's doubly adventurous and fancy-free, this reporter has found, with your sweetheart.
All images courtesy of Erica Swallow