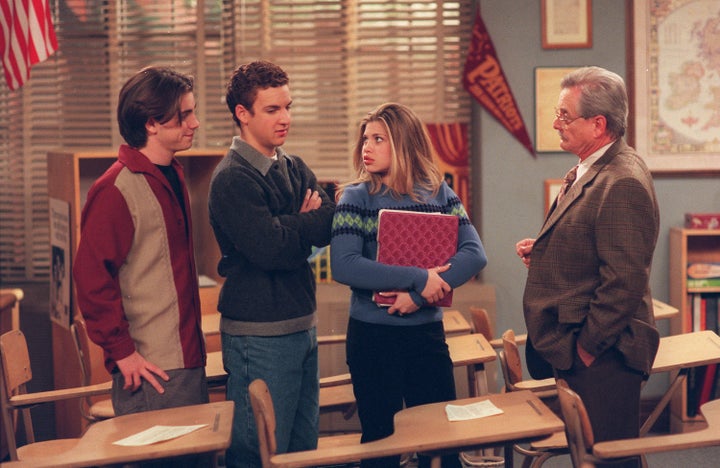 The ATX Television festival played host to a "Boy Meets World" reunion on June 7, with stars Ben Savage (Cory Matthews), Rider Strong (Shawn Hunter), Matthew Lawrence (Jack Hunter), Maitland Ward (Rachel McGuire), Betsy Randle (Amy Matthews), Lily Nicksay (young Morgan Matthews), Trina McGee (Angela Moore) and creator Michael Jacobs in attendance to reminisce about the series and drop hints about the upcoming "Girl Meets World" follow-up series.
During a press conference after the reunion panel, Jacobs and Savage shared more information on what fans can expect from the sequel series, which will follow Cory and Topanga's (Danielle Fishel) daughter Riley (Rowan Blanchard) in her own coming-of-age story.
One reporter wondered how heavily the new series would lean on its predecessor in terms of references or in-jokes, but Jacobs insisted that "'Girl' is gonna be its own show -- I think that's really important ... I think it's really necessary for the audience to understand that if you do a reunion show, and that's the tone and tenor of the piece, you get to spend this lovely hour with us, and we'll be as charming and entertaining as we possibly can be and hopefully you'll go out and you'll say, 'that was great with them.' Now come back tomorrow; now come back the next day; [you say] 'well, they're sort of older and we don't like 'em as much the third time.'"
He continued, "My feeling is that the premise of the show is about these two girls having a friendship, going off into the world we now know -- 'Girl Meets World' will be unique from 'Boy Meets World' in that way. However, it is the child of an original program, and there is no way that I'm not going to include everybody who wants to be included on this piece, because they're the genesis of the piece. For me, we may build a new house, but we're building it on ground, and that ground was 'Boy.'"
Savage happily discussed what prompted him to return to the role of Cory Matthews, telling reporters, "The most interesting tweets we've gotten are like, 'I watched "Boy Meets World" with my dad and I'm so excited to watch "Girl Meets World" with my daughter.' And I just think it's so wonderful to see how it crossed generations. That's why we're really excited about it."
Still, he admitted that he'd heard from many original fans who are worried that the new show could "hurt the legacy of 'Boy Meets World,'" given their childhood memories of the series. "I think that it's important to stress that we're not doing 'Boy Meets World,' we're doing 'Girl Meets World,'" he pointed out. "This generation grew up with 'Boy Meets World' and it means something very special to them as it means something special to us. And we want to try and do something for the next generation, and we want to give them the show that they can grow up with and have their own memories with, and so that's what we're doing."
As for what Cory Matthews is like 13 years later, Savage said: "We're still figuring it out. I think the writers and the show have done a wonderful job of staying true to who we are as people. What's Cory like now? I guess he's what Ben is like now. It's all been worked out -- we're taking it one step at a time, we're being very cautious, very careful to honor the old show, trying to work within this new dynamic in this new time we're all living in."
One thing he didn't need to be cautious about was rediscovering that old rapport when he reunited with co-star Fishel. "I think that, with everyone you see before you [on the panel], we're a family and we've spent so much time together and we know each other's cues so well that it was very easy working with Danielle again," Savage said. "We picked up exactly where we left off 13 years ago, so it was really nice."
Just because the characters are older, though, don't expect them to be wiser. "'Girl Meets World' has got to be about the friendship of these two children as couched by somebody who has been through it and is still confused," Jacobs said. "If they're great parents, I got no show. If they're learning in that generation, Ben continues to learn, so does Danielle -- together, they have always been better than separately. That will continue. However, Ben and Danielle, their challenges of what's going on today and how children have to be raised and protected today … those are some pretty extreme challenges."
While Cory and Topanga will be figuring things out together, don't expect the same happy ending for Shawn and Angela. "Nothing good happens to Shawn, that's all I can tell you," Jacobs laughed. "Rider reacting to the hurdles that keep growing is what I think is compelling about Shawn. Rider once said something -- and I really take to heart everything that these people say -– he said, 'I keep Shawn in the cellar, and every once in a while, I'll go down and I'll visit him.' And I thought to myself, 'boy, even Rider keeps Shawn in the cellar,' so I think nothing good is ever gonna happen for Shawn."
Both Savage and Jacobs think that TV is long overdue for another show like the original series, and hope that "Girl" will fulfill that need.
"I do think that people are, not just nostalgic, but are eager to watch a type of show like 'Boy Meets World,' and I don't think there are a lot of shows like that on TV anymore," Savage observed. "And in spite of how much things have changed in the world, people still want a show that they can relate to and that's comforting and that can make them laugh and that's fun and that they can learn from. So I think that that's what we've found right now and what we're working really hard to make sure that we pull off."
Jacobs did caution viewers that the world has changed significantly since "Boy Meets World" went off the air, and so the storytelling in "Girl" has to adapt to the times accordingly. "It is simply, in the writing of it and the conception of it, not the same world. Not close. What kids know, what I personally believe enters very little into how the world works, because I look around and I'm astonished every day at what comes out of the four big screens: the television screen, the telephone screen, the movie screen and the computer screen," he said. "What kids have to understand in those forming heads, it's too much, it's just too much. To compete on a playground in an elementary school, what they need to know, what they feel they need to know has to be addressed, it has to be written to. The actuality is, it's a challenge for me and for my writing staff to simply document reality and to do it in an entertaining way that I can slip in a lesson without it being thought of as a lesson ... That dynamic alone makes the new show worth watching for me."
Do you plan to watch "Girl Meets World"?
PHOTO GALLERY
"Boy Meets World" Cast Then and Now
Calling all HuffPost superfans!
Sign up for membership to become a founding member and help shape HuffPost's next chapter
BEFORE YOU GO