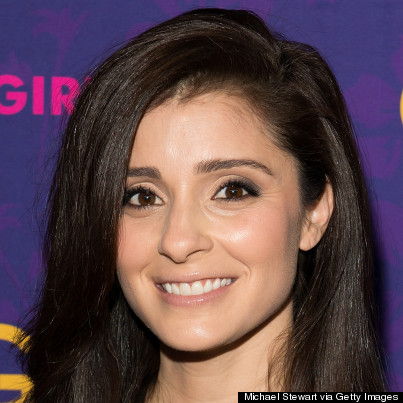 Shiri Appleby has been very busy lately. On top of appearing in HBO's Girls as Adam's Girlfriend, Natalia, Appleby is also in the midst of filming a pilot for Lifetime (Unreal), and directing a one act play in Los Angeles.
Appleby says about directing:
I've been acting since I was a child so to move the pieces around and watch a piece evolve from the outside has given me a ton of perspective and insight into the process, as well as clarity about the role of the actor in any given situation.
When she's not working, she is balancing it all with being a parent to her daughter, Natalie.
"When I am not working, I spend all my time with my daughter and when I am working I try to let myself have the space to be an individual." Appleby says, explaining how she keeps a healthy balance between work life and motherhood.
...I tell myself that if I'm not with her, I might as well make the most of the time and do my very best. Being a woman who is trying to parent, be in a relationship and manage a career is still a work in progress, but it's working for me at the current time, and I am enjoying it more than I ever thought possible -- quite frankly, I've never been so fulfilled.
She is most commonly recognized today from her role on the hit HBO series Girls, which is premiering its third season on Sunday, January 12th. Appleby, who had a great time working on the set, will be making an appearance this season. When asked what her favorite part about working on Girls was, she replied,
My favorite part about being on the set of Girls was how much conversation and care went into each moment that ends up on screen. Lena (Dunham) and Jenni Konner have created a truly creative environment, which is why I think they are able to produce television that is so daring, fresh and real. I feel lucky to have been cast in that show in that they gave me the opportunity to show myself, the audience and the industry that I am capable of going dark, of portraying awkward, uncomfortable moments in life. As an actor, whatever type of role you become known for is usually what people want you to do again, which can stagnate your creativity. It takes being cast by important filmmakers in varying roles to explore the diversity of your talent. I was surprised by how much I enjoyed getting down and dirty and crawling out of the box I had been in professionally for so long, and yes, Natalia makes an appearance in season 3.
In addition to enjoying her time on set, she noticed there was a difference between working on Network Television and working on an HBO series.
It is as basic as what footage the directors have to shoot. On network television, most directors wouldn't be as risky as to not properly cover each scene with the standard master, two shoot, singles and tight close-ups. Maybe they would add a steady shot, and one fancy move to get in, or out of the scene but other than that, they shoot what is expected of them, word for word, because network television pays significant money and they want to be asked back to the party -- and quite frankly, I don't blame them. While I was shooting Girls, one scene as scripted wasn't working, and Lena and Jenni had the creative freedom to completely improv the scene without a bunch of phone calls or complete chaos on set. It is invaluable that the creator and executive producer is directing/writing/starring in each episode of their show. Usually on network television, the creator and/or executive producer is in his/her office -- which could be in another state or country -- breaking stories, dealing with politics and keeping the machine moving so they rarely appear on set. I believe most of the scripts for the Girls season are broken, arched out and partially written before they start shooting, so everyone who is making the show can be an active participant in how the show gets made...
Even after being an established actress (having been on hit shows like ER and Chicago Fire and recently staring as the lead character in the Lifetime movie Kristin's Christmas Past, Appleby is still hoping to reach an important goal.
"In film, my dream scenario would be to have Nicole Holofcener as a director."
Holofcener has directed both a few episodes of the hit HBO show's Sex Feet Under and Sex And The City.
"She has a wonderful style that is so simple and clean, and each one of her films so beautifully expresses the plight of a woman. I would do everything possible to be in her next film -- she's it for me!"
Appleby (36) is still recognized today from her portrayal of Liz Parker from the hit show Roswell. The show aired from 1999 to 2002 and had a huge cult following. Fans of the WB show even sent in bottles of Tabasco sauce to help persuade the station from cancelling the show when it wasn't doing well. Fans of Roswell will be happy to hear that she still runs into the other actors from time to time.
"I ran into Majandra (Delfino, who played Maria) the other day. Colin (Hanks, who played Alex) and I run in a similar circle, so I see him from time to time. It was so many years ago and I am so proud of what each of them has done with their careers and lives."
Even more importantly, she would be up for doing a Roswell movie.
I would LOVE the idea of doing a Roswell movie. The idea has been mentioned from fans for years. When the Veronica Mars Kickstarter campaign happened last year, I looked into what it would take for Roswell movie to happen, and what I found out is that there are a lot of bigger players than me that would need to get interested to make something like that happen. I wouldn't say it's impossible but...
As a huge fan of Roswell myself, this is music to my ears. So just one question. Who should we start sending the Tabasco sauce to?
Popular in the Community