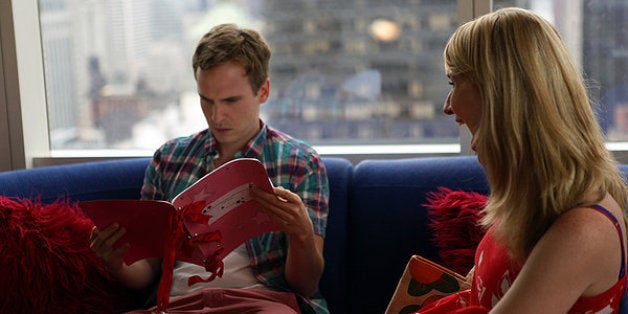 I'm not a prude. But some things can still surprise me. The other day I was walking home from a lunch date when I noticed something strange happening at the intersection of Church and 16th Streets. A young boy, under his mother's watchful eye, was urinating against the glass wall of the MUNI kiosk.
After walking down 16th Street for one more block, I turned the corner and saw a middle-aged woman squatting on the front steps of the Basilica Parish of Mission Dolores with her pants down around her ankles as she proceeded to urinate in broad daylight. A male friend appeared to be standing by, patiently waiting for her to finish.
Is the neighborhood going to ruin? Numerous friends have noticed how, in recent years, street fairs and celebrations in the Castro District have been overrun by thrill-seeking suburban straights. Some come looking to party, others come hoping to provoke violence. Some arrive in high heels, others are packing heat.
Friends who live close by report increasing numbers of young women who like to party hard at bars in San Francisco's Castro and Mission Districts before vomiting, urinating, and defecating in driveways and into planter boxes. As one exits the 16th Street BART station on weekend nights, it's not unusual to see gaggles of drunk women staggering across the street in search of a taxi or their next drink.
I wonder how these women would react if busloads of drunk gay men traveled to Daly City, Walnut Creek, and other suburbs and proceeded to piss, puke, and shit all over their driveways and lawns.
Would they howl at the undignified antics of men's bowels?
Would the smell of fresh vomit help them get in touch with their gag reflex?
Would they be transformed into "bladder but wiser girls"?
Bad behavior fueled by a toxic combination of narcissism, neediness, and alcoholism lie at the core of Halley Feiffer and Ryan Spahn's new movie, He's Way More Famous Than You. In order to fully appreciate the show-biz connections that helped lure established stars to participate in this venture, you'll want to play an updated version of Six Degrees of Kevin Bacon.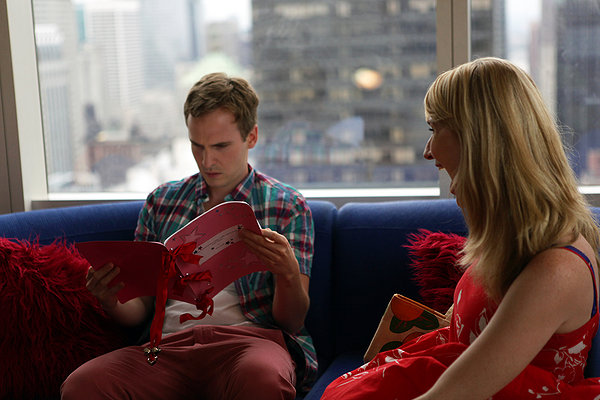 Ryan Spahn and Halley Feiffer in a scene from He's Way More Famous Than You
Halley Feiffer is the daughter of the famous playwright and cartoonist, Jules Feiffer.
Halley Feiffer had a small role in 2005''s The Squid and the Whale, in which Jesse Eisenberg garnered rave reviews for his portrayal of 16-year-old Walt Berkman.
Halley Feiffer made her Broadway debut in a production of John Guare's play, The House of Blue Leaves, that starred Ben Stiller.
Halley Feiffer was also a guest star on Ugly Betty, where she got to work with Michael Urie.
Michael Urie's boss on Ugly Betty (the evil Wilhelmina Slater) was played by Vanessa L. Williams.
Michael Urie's partner in real life is Ryan Spahn.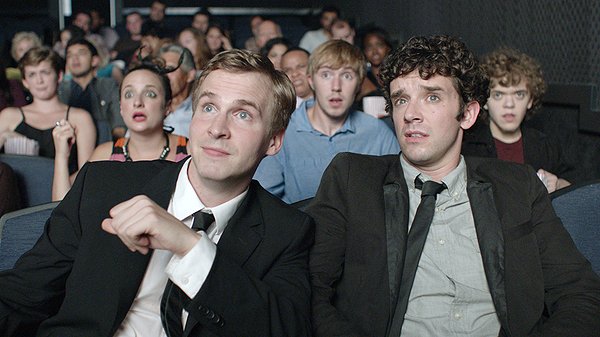 Ryan Spahn and Michael Urie in He's Way More Famous Than You
Add in cameo appearances by Natasha Lyonne, Mamie Gummer, Austin Pendleton, Ralph Macchio, and Daryl Roth and you might think there would be an easy plot to build based on the concept that, following their appearances in The Squid and the Whale, Jesse Eisenberg's acting career exploded while Halley Feiffer's fizzled. But you would be wrong. Oh, so very, very wrong.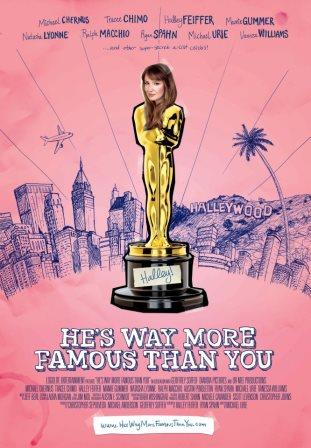 Poster art for He's Way More Famous Than You
While Feiffer & Spahn's script is filled with show-business in-jokes, the character Feiffer has created for herself is the kind of selfish and petulant alcoholic who does not endear herself to professional colleagues. Dangerously narcissistic (and with no sense of boundaries), she will stoop and squat for the slightest run-in with celebrity. Nor will she hesitate to screw over anyone who gets in her way.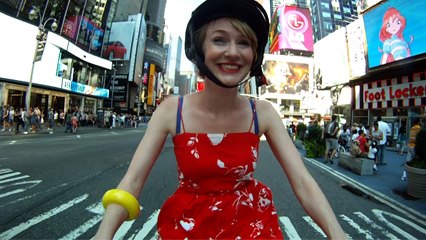 Halley Feiffer in He's Way More Famous Than You
Cuteness can only get a person so far and, in He's Way More Famous Than You, Feiffer's character is such a physical, emotional, and mental mess that it becomes difficult to sympathize with her addled state of mind or find her the least bit appealing as a character. "Dad, is it okay if we turn off your breathing machine for a few minutes while we shoot this scene?" she asks her oxygen-dependent screen father (played by Austin Pendleton).
What makes the movie interesting is the casting of Ryan Spahn as Feiffer's cohort and Michael Urie as "the gay guy from Ugly Betty" who gets dragged into directing Feiffer's vanity project. While there are plenty of laughs to be had, most of them leave a distinctly vinegary taste in the viewer's mouth. It's no wonder that characters based on (and played by) Ben Stiller, Jesse Eisenberg, and Mamie Gummer all want to run from Feiffer the minute they catch sight of her. Here's the trailer:
From Muzzy Van Hossmere to Mame Dennis, the Roaring Twenties was a decade famous for its party girls. Here's Carol Channing singing "Jazz Baby" in a scene from Thoroughly Modern Millie.
When the San Francisco Silent Film Festival recently presented the restored "Hitchcock Nine," the audience in the Castro Theatre instantly fell in love Betty Balfour's portrayal of a ditsy heiress who thinks nothing of commandeering the plane that belongs to her father's bank and having it drop her into the ocean close enough to the steamship on which her boyfriend (Jean Bradin) is traveling to France that she can be rescued and quickly change into a fashionable flapper's dress before heading straight to the nearest shipboard party.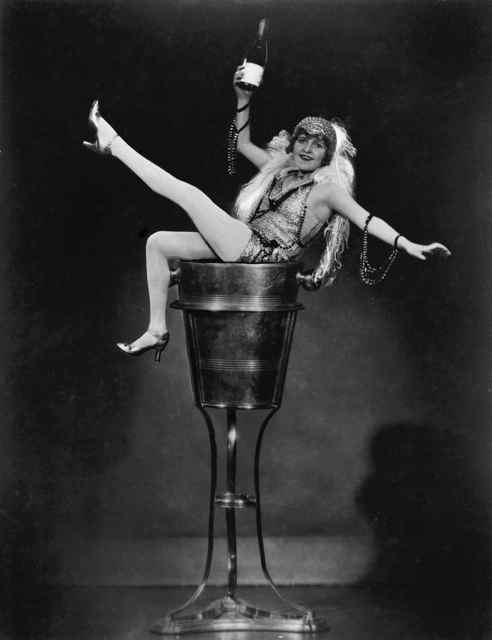 Betty Balfour in Alfred Hitchcock's Champagne
Betty's joyride comes to a crashing halt shortly after her arrival in Paris when she receives a telegram from her father (Gordon Harker) informing her that the family's wealth has been lost in the stock market. When her seemingly golddigger boyfriend abandons her, Betty sells her jewelry and moves into a smaller apartment with her father (who has recently arrived in Paris).
After taking a job as a waitress in an upscale Parisian restaurant, Betty is surprised to encounter a mysterious man (Ferdinand von Alten) whom she had met while crossing the Atlantic Ocean. He gives her a note, suggesting that she feel free to call him if she ever needs help. When her boyfriend shows up at the restaurant, they argue and Betty starts acting out in order to provoke him.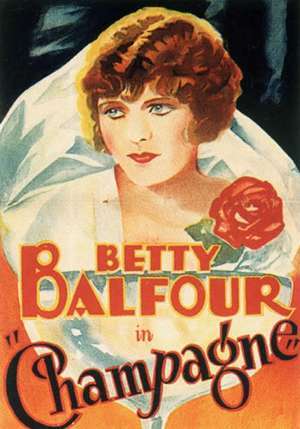 Poster art for 1928's Champagne
Soon after being fired from her restaurant job, Betty reaches out to the mystery man and suggests that she accompany him back to New York. Once at sea, she runs into her boyfriend and has another argument with him. Ultimately, her father intervenes and explains that the whole thing was a plot to make his daughter appreciate the value of money (they might have lived happily ever after if the real stock market hadn't crashed the year following the movie's premiere).
In 1928's Champagne, Hitchcock does a wonderful job of using lengthy closeups to let a conflicted character's internal acting tell a hidden part of the story. He can be seen experimenting with certain techniques (like shooting a scene through the distorted bottom of a champagne glass).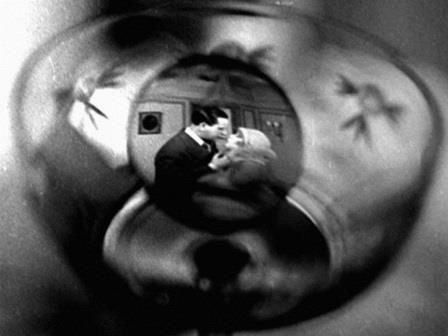 But Hitchcock also demonstrates a grand gift for comedy, as in the scene where his actors pretend to be coping with seasickness while trying to navigate the grand staircase on a storm-tossed ocean liner.
The screening at the Castro Theatre was accompanied by Judith Rosenberg on piano. Needless to say, a good time was had by all.
Calling all HuffPost superfans!
Sign up for membership to become a founding member and help shape HuffPost's next chapter