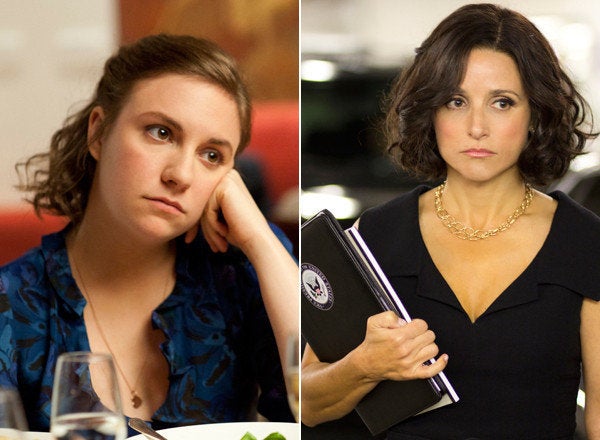 "Girls" and "Veep" have been renewed by HBO. The cable network has given second season pick-ups to both shows, with 10 episodes each.
"Girls," which was created, produced, directed, written by and stars Lena Dunham, follows four girls -- Hannah (Dunham), Marnie (Allison Williams), Jessa (Jemima Kirke) and Shoshanna (Zosia Mamet) -- struggling to find their way in New York City. Judd Apatow and Jenni Konner serve as executive producers alongside 25-year-old Dunham. According to HBO, its gross audience to date is 3.8 million viewers.
"We wanted it," he said. "That's the point of it, really. It's supposed to be a comedy about women in New York who are really smart, but their lives are a mess. They know they should be doing great things, but they don't know what it is, and they have kind of a feeling of self-entitlement about it. That's the joke of the show."
"Veep" hails from "In The Loop" co-writer Armando Iannucci and stars "Seinfeld's" Julia Louis-Dreyfus as Vice President Selina Meyer with Tony Hale and Anna Chlumsky in supporting roles. "Veep's" gross audience to date is 3.7 million viewers. But critics haven't fallen in love with the series. HuffPost TV's Maureen Ryan said "Veep" "simply isn't particularly fresh or funny, and most of its jokes are telegraphed from a long way away."
What do you think these shows could improve in their respective Season 2's? Will you tune in? Let us know in the comments below.
"Girls" airs Sundays at 10:30 p.m. ET and "Veep" airs Sundays at 10 p.m. ET on HBO.
Related
Popular in the Community