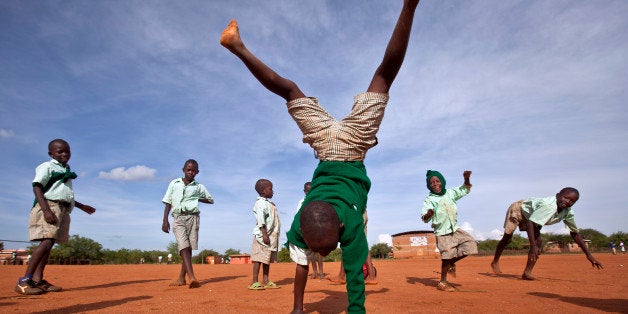 * OECD countries' foreign aid stable in 2014 after 2013 record
* Bilateral aid to least-developed nations down 16 percent
* Survey expects aid to poorest nations to recover in coming years (Recasts and adds details)
LONDON, April 8 (Thomson Reuters Foundation) - Development aid from rich countries remained at record highs in 2014 but flows to the world's poorest countries continued to fall, the Organization for Economic Co-operation and Development (OECD) said on Wednesday.
The Paris-based international think-tank said development assistance stood at $135.2 billion last year after hitting an all-time high of $135.1 billion in 2013.
But official development assistance to the poorest countries extended its recent drop and fell by eight percent, fueled by a 16 percent decrease in bilateral aid exacerbated by high debt relief for Myanmar.
Of the 28 members of the OECD's Development Assistance Committee (DAC), 13 increased their overseas aid last year while 15 cut it back.
OECD Secretary-General Angel Gurría, however, said it was encouraging that development aid remained at a historic high when donor nations were emerging from a severe economic crisis.
"Our challenge ... this year will be to find ways to get more of this aid to the countries that need it most and to ensure we are getting as much as we can out of every dollar spent," he said in a statement.
The largest donor countries by volume in 2014 were the United States, which spent $32.7 billion, followed by Britain, Germany, France and Japan.
Bilateral aid to the African continent fell by 5 percent to $28 billion of which $25 billion went to sub-Saharan Africa.
"Alarm bells should be ringing at this shocking drop in aid going to the least developed countries," said Adrian Lovett, Europe executive director of development advocacy ONE Campaign.
"DAC's new figures show a $6.7 billion drop in aid to the least developed countries. That means that in 2014, aid to the very poorest countries was cut by $128 million every week - enough to vaccinate 6 million children."
Bilateral aid is given directly to countries by donor countries and equals two-thirds of the OECD's official development assistance (ODA). These funds make up more than two thirds of external financing for the world's poorest countries.
Anti-poverty charity Oxfam criticized rich countries for failing to meet their commitments to the world's poorest people.
"Aid saves lives. What we're seeing is shameful indifference on the part of many of the world's richest nations. Their leaders are breaking with impunity the solemn promise they made to help Make Poverty History," said Max Lawson, Oxfam's head of global policy and campaigns.
"France should be particularly ashamed with aid falling for the fourth consecutive year."
Only five European Union states have met a target set under the 2015 U.N. Millennium Development Goals to spend 0.7 percent of income on aid. These are Denmark, Luxembourg, Norway, Sweden and Britain.
"The EU's aid promise to poor countries has been another victim of austerity," said Zuzana Sladkova, a spokeswoman for CONCORD, the European NGO confederation for Relief and Development.
"The figures are a huge blow to the credibility of the EU and its member states during a critical year when several major negotiations regarding the future of development and climate finance are taking place."
The United Arab Emirates again reported the highest spending on an income level in the 34-member OECD even though it reduced its aid rate to 1.17 percent of Gross Domestic Product (GDP) from 1.34 percent. The drop was due to lower lending to Egypt.
A survey of donor spending plans through 2018 indicated aid to the poorest countries should recover over the next few years after several years of declines which member countries have decided to reverse, the OECD said.
"Official development assistance remains crucial for the poorest countries and we must reverse the trend of declining aid to the least developed countries," DAC chairman Eric Solheim said in a statement. (Reporting By Magdalena Mis; Editing by Tim Pearce)
To take action on pressing poverty and food aid issues, check out the Global Citizen's widget below.
Calling all HuffPost superfans!
Sign up for membership to become a founding member and help shape HuffPost's next chapter