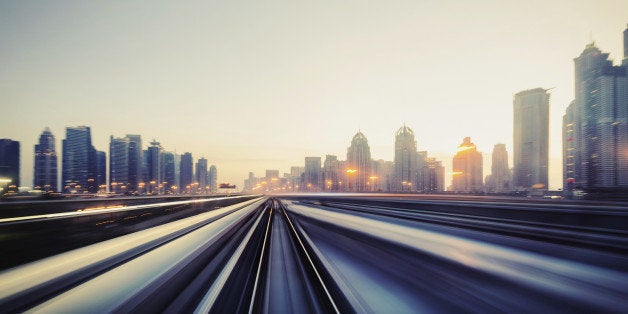 We need innovative solutions for our planet's increasingly crowded cities -- and we need them fast. Around the globe, one million people -- the equivalent of an entire medium-sized city -- move to urban centers every week. This pace of urbanization is picking up, putting relentless pressure on transport systems, infrastructure and services, and health and medical facilities. Cities desperately need concrete examples of innovative projects and innovative tools and services that reach the millions of newcomers and existing city-dwellers alike to enable cities to drive economic, social and environmental progress.
Finding those innovations is behind the New Cities Foundation's decision to launch the Global Urban Innovators initiative: each year, we identify and work alongside ten of the world's most promising startups and social enterprises that use technology to address specific urban challenges, and help them scale. The Global Urban Innovators Class of 2016 -- announced Monday, April 11 -- range from the world's first civic crowdfunding platform in London to a leading app for auto-rickshaws in Chandigarth, India and from an incentive-based recycling program using SMS in Lagos to a marketplace for pop-up businesses to connect in San Francisco.
The Foundation, a leading global non-profit institution with offices in Montreal, New York, Paris, Zurich and Hong Kong, recognizes that technology has the distinct advantage of being able to scale rapidly and adapt quickly to different local contexts. With the fast pace of urban growth, cities are in great need of doing more with less; building better, more affordable infrastructure; being more inclusive by responding to the needs of aging, disabled or low-income communities; and encouraging a vibrant and active cultural life.
Being chosen as a Global Urban Innovator can be a huge boost for an urban tech start-up. Each Innovator receives mentorship and personalized access to the Foundation's broad global network of industry and public sector players. Through those connections and with the international exposure gained through the Foundation's international events and media channels, these startups can scale and grow. We believe that urban innovation thrives only when it is supported by an ecosystem of actors working together to create an environment conducive to entrepreneurship at the urban level.
We look for companies that have demonstrable urban applications, leverage the power of technology, show the potential to scale up, and are less than 5 years old. The startups and social enterprises selected as this year's NCF Global Urban Innovators may hail from different countries and work in vastly different fields, but a common thread binds them: they are all bottom-up projects that grew out of local needs in their home cities, but whose solutions can apply in cities anywhere around the globe. These ambitious startups are already looking to expand beyond their borders to help cities adapt to the forces of urban growth.
These exciting startups will showcase their innovations at the New Cities Summit in Montréal, Canada (June 21-23, 2016), the Foundation's celebrated flagship event, convening urban innovation leaders from around the world. Not only does the New Cities Foundation celebrate and recognize their already impressive accomplishments, but we also aim to give them the support they need to continue shaping a better urban future for all.
Calling all HuffPost superfans!
Sign up for membership to become a founding member and help shape HuffPost's next chapter