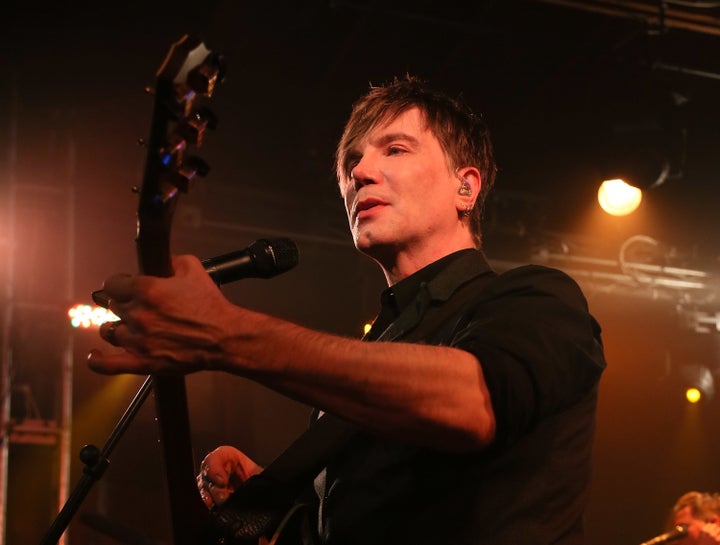 Some 30 years ago, members of the Goo Goo Dolls were driving around in a van, playing for, oh … roughly 10 people. Four albums in, they had failed to snag a hit song. All of that changed in 1995 with the release of their fifth album, "A Boy Named Goo" when the band's third single, "Name," took off.
"Then, boom! All of a sudden, you have this enormous hit song … Everything went crazy," frontman John Rzeznik told The Huffington Post.
The track topped the rock charts and reached No. 5 on the Billboard 100, eventually driving more people to the then "underground" band's gigs.
"During the touring cycle -- after 'Name' came out -- that was the only song people knew by us," Rzeznik said. "So these shows started getting really big. We would leave that song to the very end, because when we played it in the middle of the set everyone would leave right after that song. Nobody knew us, expect for that song."
Soon, nearly everyone knew the pop-rock band's name. "Iris," "Slide," "Black Balloon" and other hits followed over the next two decades. The group's latest single, "So Alive," surfaced in April and appears on the Goo Goo Dolls' 11th studio album, "Boxes," released this week.
"I guess the single is getting a good response. I try not to look," Rzeznik said, admitting that he can get a little "neurotic" about these things. The song is a personal one for the 50-year-old singer, who says he's in a great place right now.
"I made some really, really good decisions and some changes over the last 18 months," he said. "About three months into getting sober for the 50th time, I realized that I had no coping skills because every time I felt something that was uncomfortable, I would just drown it. So sitting there were all these immature, childish, out-of-control emotions and needs that have never been really addressed or taken care of and put aside so that I could actually grow up. They were staring me right in the face. I couldn't take a drink or take a pill to make it go away. And it scared the shit out of me. I kind of flipped out from it ... That's what the song is all about. Being alive is painful. Feeling things is painful."
The rest of the album, too, is a personal one for Rzeznik, who tried something he has rarely done with Goo Goo Dolls music: team up with other songwriters. The singer-guitarist, along with Goo Goo Dolls bassist Robby Takac, co-wrote much of "Boxes" alongside Gregg Wattenberg, Derek Fuhrmann and Drew Pearson (who has worked with Phillip Phillips and OneRepublic).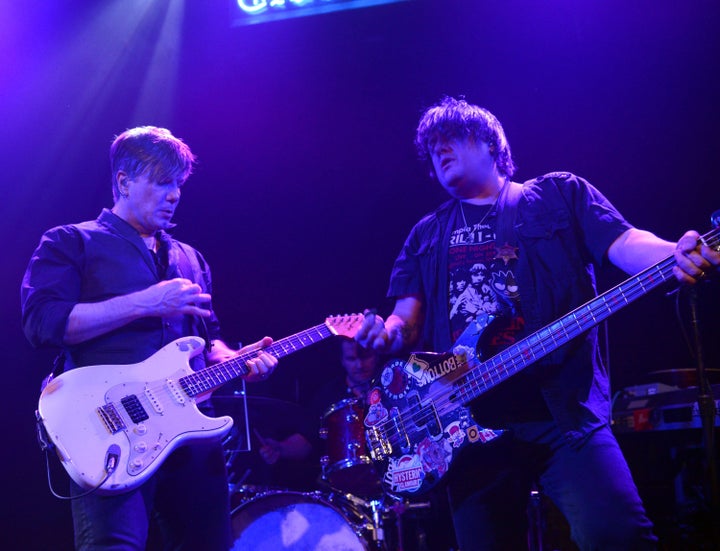 "The majority of the writing I've done over the last 25 years, or however long I've been writing songs in earnest, has been on my own. I just got sick of it," Rzeznik said. "I didn't want to do it anymore. I felt isolated and depressed … I needed some influences. I needed someone to sit with and throw ideas back and forth. I started to feel like I was in an echo chamber. So I made a couple of phone calls, and it was so much fun. This was as deep as I have ever gotten."
It's a good thing Rzeznik stepped out of his comfort zone, because if he hadn't, there may not have been any new Goo Goo Dolls music, at least for a while. Plus, Takac has played a large role in the group's longevity. Rzeznik credits his longtime friend and bandmate for helping to keep the Goo Goo Dolls together for so many years.
"I'm ready to quit every day … like, 'I'm done.' And he's like, 'Nah, you're not done. Just give it another day.' ... He and I appreciate each other a lot more than we did. And we finally manned up and made all the hard decisions that we had to make to continue doing this. There was a point on the last touring cycle on the 'Magnetic' record where we were just in complete freakin' chaos … Little did I know that I was one of the causes of the chaos."
The chaos, Rzeznik, hopes is in the past. He got married a couple of years ago and is readying a move to New York after spending many years in Los Angeles. In addition to Takac, the Buffalo, New York, native keeps good people around him in his personal life as well.
"Whenever I feel like having a drink, I call my wife or I call a friend. In my phone, I have a list of this stuff called 'the greatest hits.' And I'll call them and I'll be like, 'Hey, can you just tell me some of my greatest hits?' And they'll run down an unbelievable list of ridiculous shit I did when I was drinking and don't remember," he said. "And I'll be like, 'All right, that's cool. I don't ever want to have another drink again.'"
A clean and sober Rzeznik will spend much of his time this year on the road, touring with Collective Soul and Tribe Society from July through September.
"I'm so grateful that people still want to come and see us and that our tours still do really well and that people still relate to things and sing along," said Rzeznik, "That's a pretty amazing feeling when you sing a song and everyone sings along with you."
Rzeznik hopes that fans will sing along to the songs on "Boxes," too.
"I just think that I took a big risk ... I opened my mind to a lot of different influences and wanted to put those together on an album and I hope everybody's cool with it," he said. "And if not, what can I say? Next!"
Popular in the Community