I remember Jill Clayburgh in An Unmarried Woman.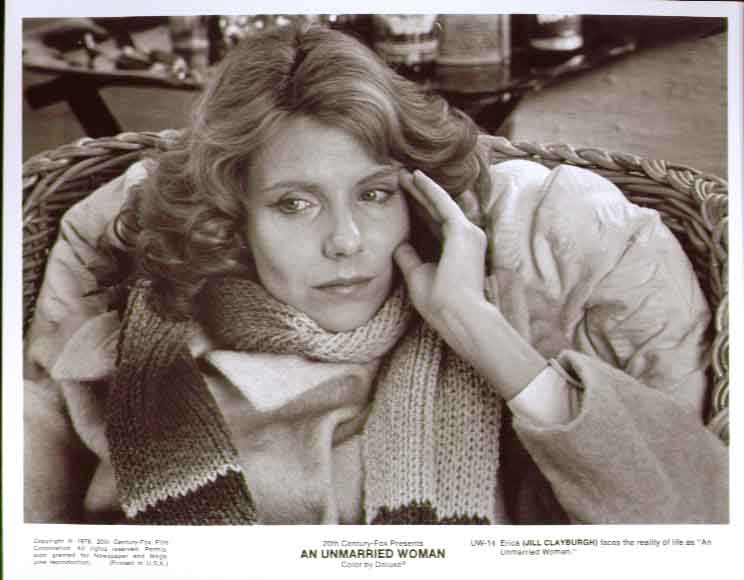 As Erica Benton -- a New York woman coping with life after divorce -- she conveyed a calm, even serene intelligence uncommon in American movies. Naturalistic and sensual, Jill Clayburgh appeared to be both brighter, and more striking, than our own friends and family and at the same time, exactly like them. That's how she managed to be so effective as Erica Benton, who, in Paul Mazursky's essential film of 1978, conveyed the experience of divorce quite plainly, in modern and very real terms. It's that rare case of a polemical film free of polemic.
Part of what made -- and continues to make -- Mazursky and Clayburgh's interpretation of the experience so resonant is that it didn't read as an interpretation. They didn't have an angle. They didn't cop to "dramatizing" the situation with clearly defined, movie-made conflicts and resolutions. Nor did they get wrapped up in ideas or values. They just gave it to you. As the film's tagline says, "She laughs, she cries, she feels angry, she feels lonely, she feels guilty, she makes breakfast, she makes love, she makes do, she is strong, she is weak, she is brave, she is scared, she is... an unmarried woman." That's it. The only thing Mazursky wants is for us to feel.
Perhaps that's what makes the loss of Jill Clayburgh so personal. Remembering the film is not like remembering a movie, but like looking back on a conversation with someone you used to see a lot of. Someone you saw through a difficult time (God, that was a while ago! I wonder how she is? I keep forgetting to drop off the coat she left at my apartment.) Were Jill Clayburgh a movie star, or a conventional beauty of the kind we see too much of today, she would not have had that effect, and An Unmarried Woman would feel more like something we saw than something that happened to us.
A few years ago, I had a chance to speak with Ms. Clayburgh about the film, namely about how she and Mazursky managed to evince that feeling of happening to us. "I don't know," she said. "Think of the women and the way they dressed. I mean, you know, when you think of women getting together now in film, and I won't say what, but they're all dressed to the nines. Who the hell are they dressed for? They're all so chic! We all looked good, but we weren't done up. We were just... wonderfully... in our own characters." That's what lent the movie, and Clayburgh's performance, the force of the zeitgeist. Wading in truthfulness, trusting integrity of observation, they happened to catch a wave. "There was something about Erica that was so interesting because she didn't ask for any of this," she added. "Feminism was in the air, but it hadn't trickled down. It was a bit rarified. That makes Erica very vulnerable and kind of... I don't know... like someone you know. You know?"
I know. I know her and I miss her.
Popular in the Community