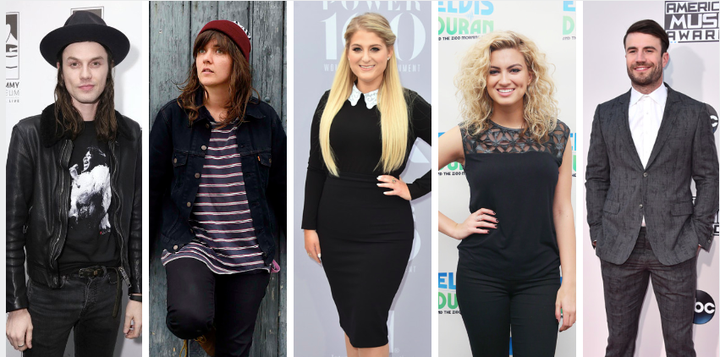 Mariah Carey, Christina Aguilera, Adele, John Legend, Amy Winehouse, The Beatles. These are just a few names off the list of esteemed performers who've taken home the Grammy for Best New Artist. 
To be fair, Hootie & The Blowfish did too, so who knows how much influence these award shows have anyways. 
None of this year's hopefuls will most likely come close to a legacy like The Beatles, but the five artists nominated -- Tori Kelly, Courtney Barnett, Sam Hunt, Meghan Trainor and James Bay -- represent some of the most promising voices in the industry today. 
Come Feb. 15, only one artist will take home a Grammy while the others ... will most likely have successful careers, as well. 
Tori Kelly 
We take great pleasure every time Simon Cowell is wrong, so when this "American Idol" reject started dominating the charts with the irresistibly catchy "Nobody Love" last spring, we turned up the volume and sang in our showers for a week. 
Tori Kelly's career has been one with multiple starts. After her record deal fell through at age 12, Kelly took her shot at "American Idol" glory in Season 9, but was eliminated before the Top 24. The California native kept on grinding, however, racking up millions of views on her YouTube channel -- watch her breathtaking cover of Frank Ocean's "Thinkin Bout You now -- releasing her first EP "Handmade Songs" in 2012 and scoring the attention from the reason Justin Bieber exists, manager Scooter Braun. 
The 23-year-old's debut album "Unbreakable Smile" was released this summer and has been spitting out singles like "Hollow" featuring Big Sean, securing her a spot on the Billboard 100. Some of our personal favorites off the album are her stripped-down duet with Ed Sheeran "I Was Made For Loving You" and the anthem Fifth Harmony wishes they were singing, "Expensive."
Courtney Barnett
One way to ensure yourself a fan base? Dress up as a sad clown on stilts in the music video for your lead single, #so #alt. A singer-songwriter with a humorous, deadpan delivery, Courtney Barnett is one of the few independent artists to be recognized in this category. You usually have to be a big hitter for the Grammys to take notice so early in your career. 
Hailing from Melbourne, Australia, Barnett has been cultivating supporters after a series of EPs with the most adorable names including, "The Double EP: A Sea of Split Peas" and "A Pair of Pears (with Shadows)." In March 2015, the 28-year-old released her first studio album "Sometimes I Sit and Think, and Sometimes I Just Sit" (same, Courtney) to heaping amounts of critical acclaim. 
Rolling Stone named Barnett's debut the sixth best album of 2015, describing her as a "singer-songwriter who marries the observational wit of Jerry Seinfeld, the word-ninja flow of Bob Dylan circa '65 and the guitar poetry of Stephen Malkmus."
Our favorite lyric off the album? "I come up here for perception and clarity. I like to imagine I'm playing SimCity."
Sam Hunt
Usually we would take a hard pass on a country singer who sort of raps and rocks an undercut, but Sam Hunt totally pulls it off, making him worthy of some kind of award. Is it a Grammy? The jury's still out. 
The former college quarterback -- he's so hot it's unfair -- first grabbed our attention for his songwriting credits on country hits like Kenny Chesney's "Come Over" and Keith Urban's "Cop Car." After scoring a deal with MCA Nashville in 2014, Hunt released an EP with songs far more impressive than its embarrassing title, "X2C" or "ex to see." The lead single off the EP and his debut album "Montevallo,""Leave the Night On," reached No. 30 on the Billboard Hot 100 and No. 1 on both the Hot Country Songs and Country Airplay charts.
"Montevallo" went on to churn out singles like "Take Your Time" and "House Party," setting the 31-year-old Georgia native on a path toward superstardom. Hunt's sound not only pleases the country crowd, but has also proved to be popular in more mainstream markets. 
And he takes his mom to award shows.
Meghan Trainor
Underground indie artist Meghan Trainor ... just kidding, we couldn't even finish that sentence. 
If you've been near a radio, TV set or a 12-year-old in in 2015, you've probably heard one of Trainor's infectious retro pop hits like "All About That Bass" and "Dear Future Husband." The sometimes empowering, but often problematic Trainor has carved out a niche for herself in the industry, writing all of her own songs and throwing it back to a '50s era, doo-wop-inspired sound. 
For those confused about why the 22-year-old is being honored at the 2016 ceremony after scoring two nominations in the Record and Song of the Year categories at last year's Grammys, Trainor's full debut album "Title" was released in January 2015 making her eligible for Best New Artist.
The first single off her second album, called "No," is set to be released March 4, so if Trainor wins big on Grammy night, expect the budget for the music video to triple and include some alien sub plot à la Ariana Grande's "Break Free."
James Bay
This British singer-songwriter has quietly been making a name for himself across the pond since 2013, but over the past year he's developed a huge following in the U.S. thanks to his debut album "Chaos and the Calm." If you haven't heard of him before imagine the love child of Ed Sheeran and Hozier with some killer cheekbones and a trademark fedora thrown in for good measure. 
Bay first caught the attention of music execs after a video of his open mic performance was uploaded on YouTube. Within a week, the now 25-year-old scored himself a record deal and was selling out venues across the U.K. a year later. 
"Let It Go," (no he didn't consult on "Frozen") the first single off of his 2014 EP, made its mark on the Top 10 iTunes singer-songwriter chart, helping him land a choice gig performing at the Burberry Fashion Week show that September. His whispery voice and impressive guitar skills are featured in full force on his debut album, which spawned the certified platinum single "Hold Back The River."
Who will win? Watch the Grammy Awards on Feb. 15 at 8 p.m. EST on CBS. 
CORRECTION: A previous version of this article misrepresented Tori Kelly as being only white. She has a multiracial background. Her father is Jamaican and Puerto Rican and her mother is Irish and German. 
PHOTO GALLERY
Grammys 2015 After-Party Outfits

REAL LIFE. REAL NEWS. REAL VOICES.
Help us tell more of the stories that matter from voices that too often remain unheard.