What is the essence of American music, and can it be captured in one book?
That's the question facing publishing legend Bob Guccione, Jr. and one he's in the midst of answering. It was raised because a milestone is upon the music industry next year as Broadcast Music, Inc (BMI) turns 75 and releases 75 Years of American Music as a coffee table book.
BMI is in the business of music: music rights management, artist advocacy and is one of the organizations that seeks to protect the value of the music of it's 600,000 artists and 8.5 million works (ASCAP and SESAC being the other major U.S. companies).
"American Music is in its late adolescence," the founder and former publisher of Spin and Gear magazines told me recently in an interview for my show. "It is different from most other music, that adolescence is one thing that sets it apart. British Music, African Music, Indian, Asian...these are cultural types of music, steeped in a long history and tradition. American Music still very much has a younger voice, a point of view," he went on. "Look at Springsteen's Born In The USA or American Idiot by Green Day. There are still many voices in American Music and even though it's history is not as long, because we as a culture are not that old, it certainly is as rich as any other," the publishing legend concluded.
And the history that BMI celebrates is a rich one, indeed. Sitting with V.P and GM of BMI Barbara Cane one morning for tea and hearing her stories of the music, of her musical life (her father is music industry legend Marvin Cane) and her association with BMI (she worked as a summer employee in high school for BMI), well, that alone could fill volumes. But BMI's history, and it's battle with ASCAP even pre-Cane may intrigue and amaze some and it happened at a time much like today: after the Great Depression (or Recession, take your pick).
In the 1930s ASCAP dominated the publishing/music rights management and radio was becoming the upstart that would threaten record sales. Live acts and artists were already losing revenue because of the Depression. Without getting in to the minutia of how music is payed for when it comes to all public performance, let's just say in 1939 ASCAP was about to take radio to the cleaners. So, the National Association of Broadcasters started BMI as a lower cost alternative to ASCAP, thus creating competition in the field of music licensing, publishing and performance rights. In 1941, most of radio didn't renew with ASCAP and only played BMI artists. The Department of Justice got involved in the feud and new rules for both BMI and ASCAP emerged.
To compete with the established ASCAP, BMI decided to take another route and go after artists that others were ignoring, particularly Jazz, Blues, R&B, and Gospel, you know, Black performers. In fact, part of it's proud 75 year legacy is that it was the first agency to rep Black artists in this way. But it didn't stop there. Country, Rock 'n Roll, Folk, Latin, Classical, the company went after these genres aggressively making it one of the most diverse in the business.
It's from that heritage that Guccione, Jr. will pull as writer, editor, art director and overall guru for 75 Years of American Music for its April release as part of BMI's year-long 75th Celebration.
And he can't wait. His passion for music started early and at a very young age he started Spin with the help of his father, Penthouse founder the late Bob Guccione. Two years in, dad pulled out, and a rift was born. Or, was it?
"Look, it's so long ago now, but my dad wasn't getting what he wanted out of it, so he decided to pull out of it. It was a business venture after all. But yes, I was devastated, it was crushing at the time," Guccione, Jr. recalled. "But people of my generation kept telling me how important the magazine was to them, so I decided to man-up, find another investor and bring it back."
That he did. He would later sell the magazine and start a men's magazine entitled Gear (which he would later sell as well). There he generated controversy when he printed photos of a 17-year-old Jessica Biel that were revealing.
"Today, those wouldn't be a blip," he laughed. "But then, they were edgey. Look, society progresses as it should. Years back Madonna was banned from MTV for Justify My Love, now, that's tame. That's why I'm in love with doing this book. Music has evolved and changed so much. And globally. America sparked Rock and Roll, but the Brits ran with it and then reinvaded America with a new brand of our music. The evolution of Rap, the deep American roots of Country, music has been and is the soundtrack to the American Experience and that is always changing, evolving and thus so is its music," he finished.
Guccione, Jr., still uses hard copies because of the "textile feel" it has and cant' wait to get his hands on some actual photographs from the last 75 years. "There's the soul of it, outside of the music, right The photography?" he questioned out loud. "Music photography today lacks a little of the connection we used to feel. Everything seems posed, contrived, staged. Remember the great candid shots of Dylan? Of the Stones? Those moments when we feel we are seeing a real piece of them, of the people behind the music, good photography should capture the moment and the heart and soul of it, and I can't wait to pick through the shots.
"The power of music is so universal and the stories behind the music so remarkable," Guccione, Jr. continued. "Bringing them to life in this book, trying to capture the magic that is our connection to music, to these artists and the writers, it's one of the most exciting things I've done in my career," he added.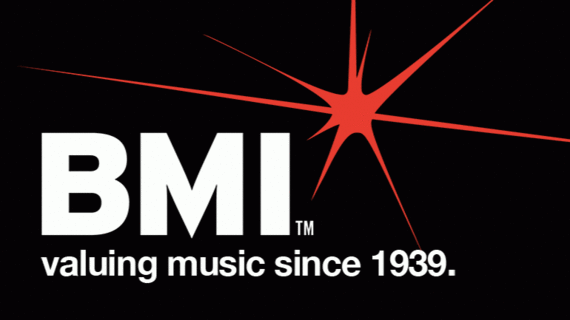 BMI CEO Mike O'Neill agreed:
We are fortunate to have had a long history representing the world's preeminent musical talent. Now is the perfect opportunity to showcase their incredible stories and contributions through the lens of the BMI narrative. We look forward to celebrating this anniversary throughout 2014 with a multitude of initiatives that salute BMI's history and the diverse history of those we represent.
According to Silvia Davi, head of Strategic Communications and Marketing for BMI, the book will be presented at the annual invitation-only BMI NAB dinner to be held in April during the National Association of Broadcasters convention. It will also be released in April 2014 in hardcover to select retail outlets, and will be simultaneously distributed as an e-book.
BMI plans other special events throughout the year to celebrate their 75th. Given its history, it, perhaps more than any other organization of its type, has the broadest cross-section of American music when it comes to its catalogues, writers and compositions from which to choose. To find out more and see some of the events on BMI TV go to BMI's website.
Be sure to listen to the Karel-Cast daily as part of TheKDW.com Network in iTunes or at the website. Follow Karel on twitter @thekdw_karel
The Karel App is available in all platforms at iTunes, GooglePlay, Kindle and more. Tune in bi-monthly to the web series "Life In Segments"
REAL LIFE. REAL NEWS. REAL VOICES.
Help us tell more of the stories that matter from voices that too often remain unheard.