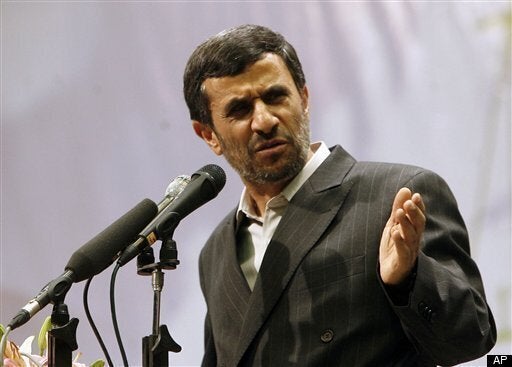 Last night, with the translation assistance of Leila Zand, director of the Iran program at the Fellowship of Reconcilation, I interviewed Habib Ahmadzadeh on the dispute over the Iranian election results from June 12. Perhaps you've heard of Habib Ahmadzadeh. He wrote the original short script for the Iranian movie Night Bus and wrote the short story "Eagle Feather," both drawing on his experiences as a soldier in the Iran-Iraq war.
Like many Iranians, including many Iranians who didn't vote for Ahmadinejad and don't support Ahmadinejad, but whose voices have been largely absent from Western media, even progressive media, Habib is deeply skeptical of opposition claims that the Presidential election on June 12 was "stolen," and has demanded that the opposition provide specific evidence of its claims.
I have been reaching out to Iranians who have or can get specific information about what happened on June 12-13. That path led me to Habib.
Although Habib lives in Tehran, his hometown is in Abadan, and he has many connections there. He thought it would be easier to get a picture of a smaller province like Abadan, as an example, than a larger province. So ahead of our interview, he reached out to people in Abadan.
Habib talked to Mousavi's campaign manager in Abadan, Seyed Reza Tabatabaie. There were 142 ballot boxes in Abadan; Mousavi had 127 observers.
Mousavi's campaign manager in Abadan said: yeah there was a big fraud. Habib asked, was your number the same as the Interior Ministry? Yeah, he said, it was almost the same. But there was a big fraud.
Habib pressed him: what was the fraud? Be specific. No, Mousavi's guy said, before the election, they gave this guy money, they gave that guy money...
I asked Habib: do we know which were the 15 ballot boxes in Abadan that Mousavi's people didn't observe?
Habib answered: this is exactly what we are pressuring Mousavi to say: specifically where, which ballot box.
Habib notes that the ballots are counted in the polling place. So if there was a representative of Mousavi -- or Karroubi -- in the polling place, that representative should have reported what the tally was in the polling place to the local Mousavi or Karroubi campaign manager. (The opposition claims their reporting system was disrupted by the government's blocking of SMS messages. But Habib says: they could call on the phone, and it's now been more than two weeks.) The government has published the ballot box tallies on the web. If the Mousavi or Karroubi campaigns would say specifically where the problem is, Habib says, we could check it against the official tally.
Habib says he is sending letters to the Mousavi people: why don't you tell us your numbers?
If, on the other hand, as has been claimed without specifics, Mousavi and Karroubi observers were excluded from observing particular polling places, we should be able to match those polling places against the official tally as well, both to observe whether the tallies in those polling places appear particularly anomalous, and whether in the aggregate any discrepancies in such polling places could have affected the result.
Habib himself voted in Tehran. I asked Habib if he saw Mousavi's representative in his polling place. Yes, Habib says -- Mousavi's representative was wearing a nametag clearly identifying him.
I asked Habib: opposition supporters are saying that the government took ballot boxes after voting without counting them in the polling place.
Which ballot boxes? Habib demanded. Again: let them say which ballot boxes they are complaining about, and let us check them against the official tally.
I asked Habib: opposition supporters are saying some ballot boxes arrived with votes already in them.
Habib pointed out, and Leila confirmed this, that this year the ballot boxes were plastic: anyone could see if they arrived with ballots already in them. Again, the question is: which ballot boxes are they complaining about?
Habib says: if we are talking about 11 million vote fraud (the gap between Ahmadinejad and Mousavi in the official tally), that needs a lot of people, even people to prepare food and shelter for all these people. How come we haven't heard about one such person?
Habib notes that he himself didn't vote for Ahmadinejad, he is just trying to get at the truth.
Habib notes that Ahmadinejad made many trips in the last four years in the small provinces. I have a friend, Habib says, who went to the provinces of Kurdistan. There were many people who don't know Mr. Khamenei, but they wanted to vote for Ahmadinejad because he came to their village. Tehran is not Iran, Habib notes.
Mousavi just appeared in public in the last two months. He was out of sight for 20 years.
Mousavi supporters say high turnout was because of Mousavi. But many poor people came out to vote in support of Ahmadinejad's attacks on Rafsanjani, Habib says.
Habib says: I spent my youth on the war front with Iraq. I was badly injured. I love my country. If I think either side is lying I would publicize it. I contacted both campaigns. I have not heard back from either one.
Habib says: My problem with Mousavi and Karroubi is that they claim fraud but they won't provide any details. My problem with Ahmadinejad is the violence afterwards. Both sides were not ready, Habib says. If Mousavi were ready he would have controlled his supporters and there would not have been riots. If the government were ready it would have controlled its forces and there would not have been police violence.
It makes me mad, Habib says, that the opposition says the government is bringing Hizbullah to beat people and the government says the Americans are doing a velvet revolution. We don't believe in ourselves. Only Lebanese can beat us up. Only Americans can do a revolution.
The most important thing right now, Habib says, is to pressure Mousavi to say specifically which ballot boxes he has a problem with.
So, let me second Habib's appeal. If the opposition or its foreign supporters have evidence that the election was "stolen," let them present it for all to see. Which ballot box do you dispute?
Calling all HuffPost superfans!
Sign up for membership to become a founding member and help shape HuffPost's next chapter