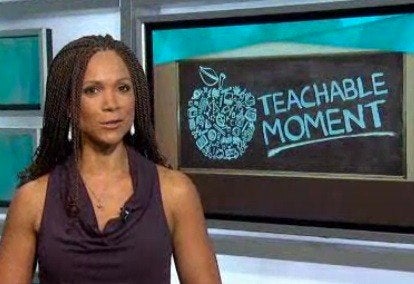 As an African American woman who grew up in a predominantly white community, I have
always had to explain my hair. When Melissa Harris-Perry recently did a segment on her show
on the Politics of Black Hair, I wanted to share it with all of my friends. Her teachable moment
beautifully summarized all of the hair issues that I have struggled to explain since the age of
8. Yet, even more than explaining hair issues, the panel of women -- actress Nicole Ari Parker,
natural hair blogger Nikki Walton, Professor Anthea Butler, and cultural critic Joan Morgan --
connected the larger matters that are rooted in hair.
All of these powerful women of color on Harris-Perry's panel sported natural hairstyles. Each
woman had a different look, but they all seemed to advocate chemical-free hair. Nikki Walton,
founder of CurlyNikki.com, addressed the question of whether natural hair was a political
statement. Expecting her answer one way, I found myself surprised and intrigued by her
response. She said that anything that anyone does could be seen as political, but it does
not mean that it is. I like that answer. On her website, a community and resource for women
of color looking to go natural, there is an ongoing discussion about curly or straight. It's not
a battle, but more about a personal choice. If you want to go straight, how can you do it in
the healthiest way? CurlyNikki.com has some suggestions for you. As a woman who got
her first relaxer at the age of 15 and has had one every 6-8 weeks since, I appreciate the
lack of judgement. I love having straight hair; I can't imagine myself with a head full of curls.
Yet, I have recently decided to explore straightening my hair without the chemicals. Thanks
CurlyNikki.com for the idea and encouragement!
While it's controversial, I can say that straight hair links me to my roots, my childhood, and
my mother. My mother was my first hair stylist. Like so many African American girls, the
experience of our mothers doing our hair in the kitchen is one of our first memories. Actress
Nicole Ari Parker talked about the power in those mother-daughter hair sessions. When
she does her daughter's hair, she is mindful to tell her daughter that she's beautiful and that
she's lucky to have her hair. She builds up her daughter's self-esteem during that time,
like my mother did with me. Sure, like most mother-daughter relationships, our weekly hair
appointments were battles at times, but mostly it was my mother's secret teaching time. She
would impart her wisdom about being a woman, being a good friend, and being myself. When
those weekly hair appointments moved out of our kitchen and into the salon, I loved them
even more - I felt like a woman, even though I was only 13. Watching my mother interact with
the other women taught me new lessons, including how to celebrate the differences between
women and how we need to support each other.
Six years ago I lost my mother, my friend, my first hair stylist. Even now, my memories of
her are tied to hair. Cancer is an awful disease that strips a person of so many aspects of
themselves. Confronted with the horrible side effects of chemotherapy, my mother, like so
many, lost her hair. Yet, she never lost her spirit. My mother had an unwavering faith, kind
heart, and a fighting spirit. She never lost who she was. I admired that about her and realized,
while watching her fight like hell, that through all the lessons she taught me over hair at the
kitchen table, with a hot comb in one hand and a blow dryer in the other, that she had instilled in
me that same fighting spirit.
As fate would have it, in our search for a topic for our final graduate school project in 2006,
my friends and classmates, Nileah Bell and Mary Nyingi, stumbled upon an opportunity to
create a play about the hair stories that have chronicled our lives and the generations before.
Throughout our conversations we began to realize that we are not alone, that we are part of a
community made up of millions of women of color who were raised to know and understand our
roots at the hands of our mothers and grandmothers. We knew we had to share our stories with
others, to contribute to a conversation that is bigger than ourselves. We aptly named it, The Hair
Chronicles. The feedback we've received and the inspiration for others to share their stories
has propelled us forward. Six years later after many late-night discussions, tons of spontaneous
laughter and deeply-rooted tears shed, we are excited about the opening of our play at the
Capital Fringe Festival premiering on Saturday, July 14 through Sunday, July 22. If you'd like
to hear our stories, share yours and meet like-minded people, and if you're in the DC area, we'd
love to meet you.
Popular in the Community