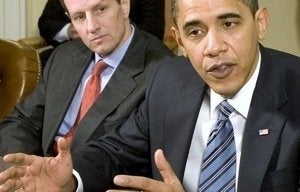 This story was updated at 8:00 p.m. ET to include two comments from a Treasury Department official.
The Obama administration has revised its latest monthly report on its signature foreclosure-prevention plan, deleting a heavily-criticized performance metric used to measure whether assisted homeowners are re-defaulting on their taxpayer-financed mortgages.
The Treasury Department claims that Fannie Mae, which administers its Home Affordable Modification Program, screwed up. As a consequence, the public can no longer tell whether homeowners with HAMP modifications, which limits monthly payments to 31 percent of income, are being placed in sustainable mortgages. A voicemail message left on the cellphone of a Fannie Mae spokesman seeking comment was not returned.
The report on the Home Affordable Modification Program -- an effort promised to lower mortgage payments for three to four million Americans -- details the number of homeowners who have signed up for trial modifications, how many have received five-year mods, the number of homeowners bounced from the program, also known as HAMP, and the amount of money the affected homeowners are saving, among other metrics.
However, one key detail -- the pace at which HAMP homeowners are falling behind on their new lower monthly payments and re-defaulting -- had been missing until last week, when the administration unveiled it in its report on the program's progress through June.
The rate was remarkably low, which raised eyebrows among some housing analysts. While about 42 percent of homeowners in mortgages modified prior to HAMP had fallen at least 60 days delinquent six months after their mortgages were altered, the administration reported that just under six percent of HAMP homeowners were at least 60 days late six months after their mortgages were modified, according to data maintained by federal bank regulators and the Treasury Department. Six months is considered to be a key metric for judging homeowners' ability to keep up with payments.
Herbert M. Allison Jr., Treasury's assistant secretary for financial stability, highlighted the rate on a conference call with reporters last week, praising it as "very low."
In an otherwise bleak report on the state of the program -- more homeowners have been bounced from HAMP than have received permanent relief -- the re-default rate was seen as overwhelmingly positive.
But economists and Wall Street analysts weren't impressed. In a Wednesday note to clients, Sandeep Bordia and Jasraj Vaidya of Barclays Capital wrote that the data was "misleading." Celia Chen, an economist and specialist in housing for Moody's Economy.com, said in an interview that the incredibly low re-default rate "just doesn't sound right to me."
The problem they identified had to do with how Treasury was calculating the rate. In the report, Treasury stated that a "HAMP permanent modification is canceled for nonpayment if it is more than 90 days delinquent." To the Barclays Capital analysts, it appeared that Treasury was thus not including those homeowners with five-year modifications who were kicked out of the program. More than 8,600 homeowners have been bounced from HAMP.
The Barclays analysts said the move made the re-default rate look "too low" and "fail[s] to capture the full magnitude of re-defaults from these modifications."
"Subsequent to releasing the report, Treasury received inquiries regarding the calculation methodology used in this table," spokesman Mark Paustenbach said Tuesday. "These inquiries were related to the treatment of modifications that are cancelled from HAMP and ultimately become ineligible for TARP incentives after 90 days delinquency.
"In an effort to review and better explain the methodology, we learned from our program administrator, Fannie Mae, that not all cancelled loans were included in the underlying information provided to Treasury," Paustenbach continued. "The error caused inconsistent reporting of permanent modifications during the snapshots reported. These omissions have impacted our previous analysis... with respect to the performance of HAMP permanent modifications."
A Treasury official added that the agency had approved a methodology that included cancelled modifications, but Fannie Mae's coding error led to those mods not being included in their calculation of re-default rates. The official added that Treasury will release the revised data when it's confident in its accuracy.
Some dated figures are available, though. Through March, federal bank regulators report that about 7.7 percent of HAMP homeowners were 60 or more days delinquent on their modified mortgages three months after the modified mortgage took effect. Overall, 11.3 percent of modifications completed during the last three months of 2009 were at least 60 days late after three months, according to the June 23 report by the Office of the Comptroller of the Currency and the Office of Thrift Supervision.
Mortgages modified during the fourth quarter of 2009 have exhibited lower re-default rates, bank regulators note. By comparison, homeowners with reworked loans during the fourth quarter of 2008 were falling at least 60 days behind on their payments after three months at a 29.9 percent clip.
Regulators attribute the lower re-default rates to the significantly lower payments newly-modified loans require, according to their June 23 report. Experts say HAMP played a large role in the change.
In place of the now-deleted table, in a revised report posted Monday to their FinancialStability.gov Web site, Treasury said:
"Since the Making Home Affordable report was posted on July 20th, Fannie Mae, which administers the program, has reported to Treasury an issue in its implementation of the delinquency statistic methodology used to report performance of permanent modifications. Fannie Mae is now revising the data, and Treasury has retained a third-party consultant to provide additional review and validation. Upon completion of that independent review, a revised table will be provided."
Meanwhile, last month analysts at Fitch Ratings projected that as many as 75 percent of HAMP modifications will ultimately result in re-default -- despite the lower monthly payments. In their note last week, the Barclays analysts said they're sticking to their original re-default projection of about 60 percent.
*************************
Related
Popular in the Community