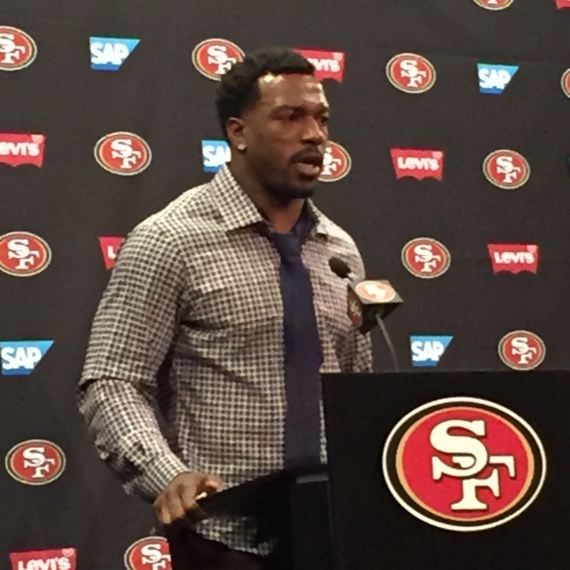 His last words after the final game of the season weren't "I'm thinking about retirement." The day the 49ers cleaned out their lockers, Willis again stated that he had about five or six good years left in him and would be back better and stronger. Yet, we the media, sit here today awaiting his arrival for his final press conference as a professional football player.
"Pat to me is what embodies winning with class," 49ers owner Jed York said. "Everything that he does on the field, everything he does off the field and even the way he's going about his retirement. He's done a unbelievable job setting himself up to be successful in the future just as he has with his football career."
After eight years, the seven-time Pro Bowler decided to retire at the mere age of 30. Wiping tears from his face while York and general manager Trent Baalke spoke about their memories of Willis and the legacy he leaves behind. New head coach Jim Tomsula got choked up talking about what Willis meant to the team and organization. It came as a shock to many, that one of the best defensive players to don a 49ers uniform called it quits.
"Here I am today, not as a perfect man but an honest man," said Willis. "I have no regrets. I gave this game everything I had. I know I no longer have it in these feet to go out there and give you guys that 'wow'. It's my health first."
A spiritual man stood before us quoting scriptures from the bible while fighting through his tears. He spoke of his future in a fatidic way, his journey as an athlete has ended but not as a human being. Willis also talked about the joys after football, being able to go fishing when he wants, spend time with his family and simply take the time to give back as he enjoys doing the most.
"I'm saying to myself, 'man', I'd love nothing more than to win a Super Bowl, I would love nothing more than to bring number 6 back here," he explained. "I would love nothing more than to lace up them cleats and not worry, 'are my feet going to be all right today just to practice so I don't look old at 30?"
Willis thanked everyone all the way down to the janitors that keep Levi's Stadium clean as well as Candlestick Park, where the 49ers journey began. He acknowledged that his feet have gave up on him at an early age, but there are no regrets from what he's accomplished in his eight-year career. Everything he did he gave it 100 percent from his rookie year to his final year.

"I've had the most amazing eight years of football in my entire life being part of this historic organization," said Willis. "In my head, I'm already a Hall of Famer, I am leaving this with closure. I'm happy today, more happy today than the day I was drafted. I get to retire happy!"
Calling all HuffPost superfans!
Sign up for membership to become a founding member and help shape HuffPost's next chapter