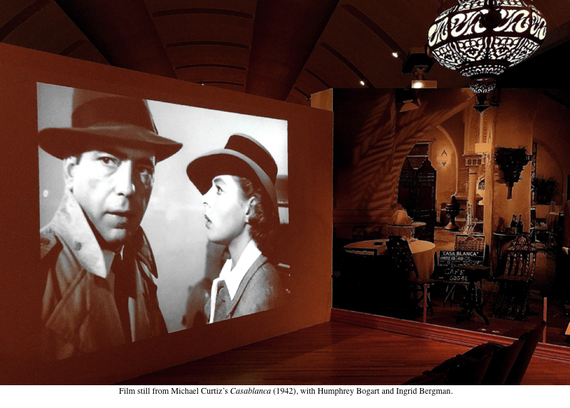 Now that the year is almost over, it feels like a good time to say, "Thank you for the memories, 2015." And I'm talking, of course, about good Art Memories. Skirball Cultural Center had a very engaging exhibition, Light & Noir: Exiles and Émigrés in Hollywood, with a focus on the experience of German-speaking exiles and émigrés -- many of them Jews who fled Nazi Europe and ended up here in Southern California, where Hollywood became their home away from home. Visitors could enter into recreations of iconic movie sets -- among them, Rick's Café in Casablanca (1942), a film directed by Hungarian-born Michael Curtiz.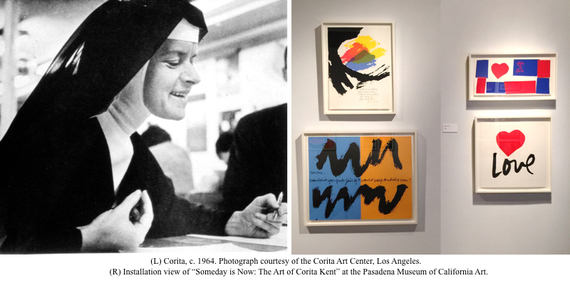 Pasadena Museum of California Art had an exhibition about a very special woman who was an artist and who was a nun. Yes, I am talking about the one and only Sister Corita Kent (1918 - 1986). This beautifully installed exhibition gave a very tangible impression of Sister Corita's prolific career as a "designer, teacher, feminist, civil-rights and anti-war activist." Looking at her art, I swear I could hear the beat of music, the marching steps of a political rally, and the crowds chanting "Make love, not war! Oh yes! Make love, not war!"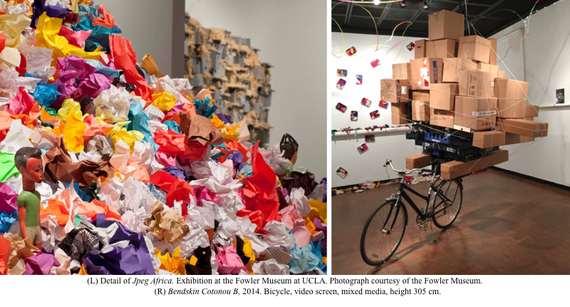 Just a few days before the opening of an exhibition at UCLA's Fowler Museum featuring works by high profile Cameroon artist, Pascale Marthine Tayou, disaster hit and chaos ensued. To their collective horror, the artist and the museum found out that the container holding all of Tayou's artworks wouldn't arrive in time for the exhibition opening. Astonishingly, neither the artist nor the museum staff took no for an answer. Off they went to local haunts to buy the most humble of materials -- miles of wire, hundreds of plastic bags, reams of colored paper, and thousands of razor blades. All that and more was installed in the most amazing and engaging way, turning the museum galleries into a theater stage. Talk about creativity and winning over disaster.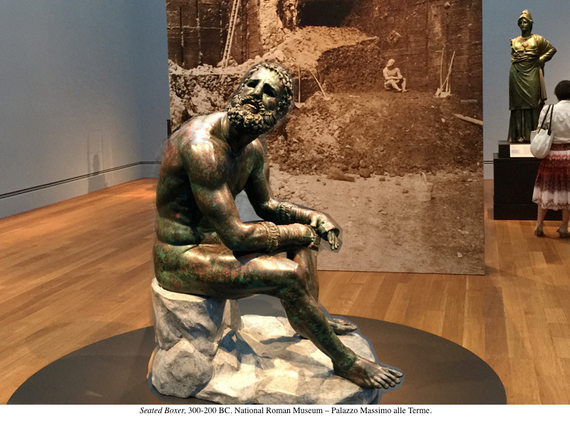 The Getty Center had a bona fide blockbuster with the exhibition, Power and Pathos: Bronze Sculpture of the Hellenistic World, incorporating 50 ancient bronze sculptures on loan from the museum collections of a dozen countries. No more than 150 life-size sculptures survived from the time of Alexander the Great, so it was truly a unique opportunity to see so many extraordinary artworks in one place. The star of the exhibition was the life-size sculpture of Seated Boxer, who just finished a fight. He's tired and sweaty. There are drops of blood on his face and body. One feels deep sympathy for his obvious physical pain and emotional exhaustion.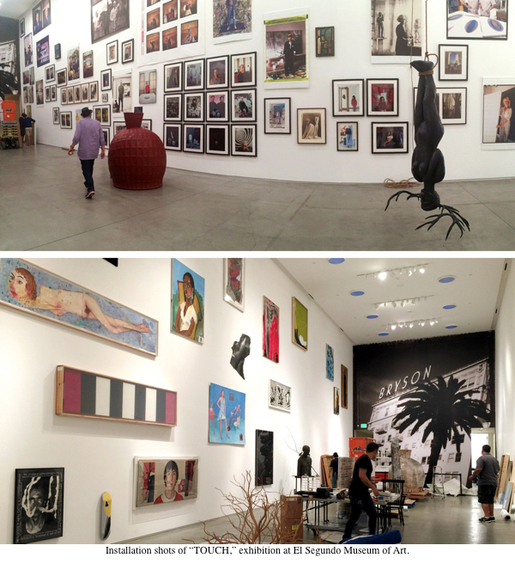 When El Segundo Museum of Art approached me with a suggestion to put together an exhibition telling an informal story about Los Angeles' art scene over the last thirty years, I said, "Why not?" Little did I know the time and sweat it would take to make it happen. It turned out to be a happy and off beat reunion of original artworks borrowed from artists, collectors, and galleries all over the city. And in addition to all of that, there are over a hundred portraits of the artists in their studios, captured by photographer Jim McHugh.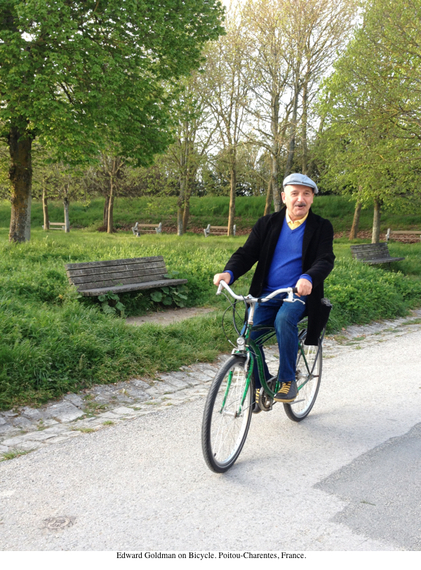 So, my friends, let's have a toast to a happy and healthy New Year. And let it be full of art adventures that make us smile.
To learn about Edward's Fine Art of Art Collecting Classes, please visit his website. You can also read The New York Times article about his classes here, or an Artillery Magazine article about Edward and his classes here.
Edward Goldman is an art critic and the host of Art Talk, a program on art and culture for NPR affiliate KCRW 89.9 FM. To listen to the complete show and hear Edward's charming Russian accent, click here.
Calling all HuffPost superfans!
Sign up for membership to become a founding member and help shape HuffPost's next chapter