Here are three recipes for vegans, vegetarians, or anyone looking for something healthy to make for dinner tonight. These recipes feature tofu, tempeh, and seitan -- something for all different tastes and different diets. Even better, they are easy on the budget, good for you, and good for the planet.
Coconut Red Curry With Tofu And Vegetables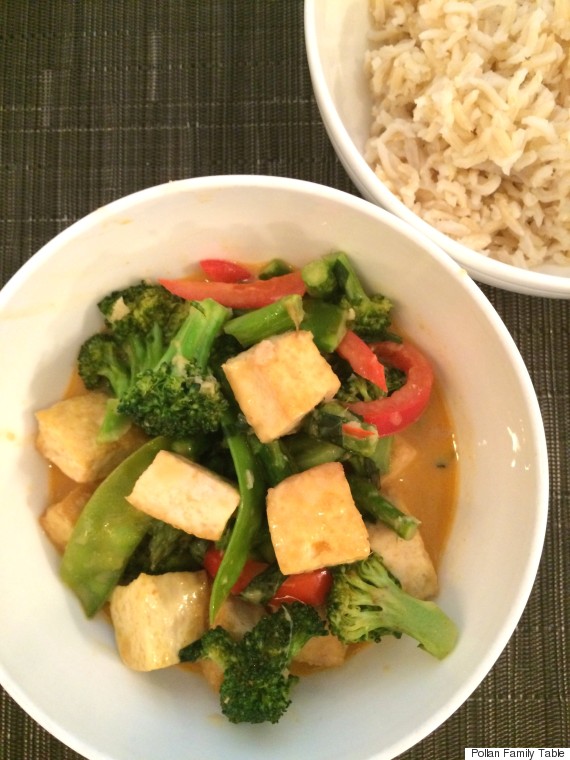 Sometimes we have a craving for a particular dish -- and this is how our Coconut Red Curry With Tofu And Vegetables came about! This is a healthy, vegan recipe featuring fresh vegetables and tofu. We love curry -- all different kinds -- and we were in the mood for a curry with coconut milk. Having eaten a lot of curry in restaurants all over the city, we felt the consistency of the tofu was important and noted that the best tofu curry had just the right texture. We like the tofu to be firm on the outside yet still moist and chewy. We pan-fried it first before we added it to our vegetables and curry sauce and we couldn't have been more pleased! We chose vegetables like asparagus and snow peas, along with broccoli and bell pepper -- they seem to go so well with the curry flavor. If these are not available you can easily make substitutions.
We were amazed at how many different brands of red curry paste there are. We settled on Thai Kitchen brand for two reasons -- we like its deep, rich flavor, and it's available in most supermarkets.
(4 servings)
One 14-ounce package extra firm organic tofu, drained
1 1/2 cups brown basmati rice, rinsed
5 tablespoons extra virgin olive oil
2 1/2 cups broccoli florets
1 cup chopped asparagus, 1-inch pieces
3 garlic cloves, minced
2 teaspoons minced fresh ginger
3/4 tablespoon red curry paste (we like Thai Kitchen brand)
One 13.5-ounce can organic, unsweetened coconut milk
1 tablespoon low-sodium soy sauce
3 teaspoons light brown sugar
1 cup sliced red bell pepper, 1/4-inch wide strips
1 cup peapods, trimmed
Kosher salt
1 tablespoon fresh lime juice
1/3 cup chiffonade fresh basil
Crushed red pepper flakes (optional)
Place the tofu on several layers of paper towels on either a plate or cutting board. Cover with more paper towels, place a plate or another cutting board on top, and rest a weight, such as a small skillet, on top of that. This will press the excess liquid from the tofu. Let the tofu drain for at least 30 minutes. Cut into 1-inch cubes.
Meanwhile, cook the rice according to the directions on the package and set aside.
Line a plate with paper towels and set aside (this is for draining the cooked tofu).
In a large nonstick skillet over medium-high heat, heat 3 tablespoons of the olive oil until shimmering. Place the tofu in the pan. Cook undisturbed until golden, 5 to 6 minutes. Flip (we like using tongs for this) and cook until golden brown on the other side, about 6 minutes more. Drain on the paper towel-lined plate and set aside.
Wipe out the skillet with paper towels and heat 1 tablespoon of olive oil over medium heat. Add the broccoli and asparagus and sauté until lightly brown, 6 to 8 minutes. Transfer the vegetables to a bowl and set aside.
Wipe the pan clean with paper towels and let it cool. Heat the remaining 1 tablespoon of olive oil over medium heat. Add the garlic and stir frequently, taking care not to burn. Add the ginger and the red curry paste and cook another minute stirring frequently.
Add the coconut milk, 1/4 cup of water, soy sauce, sugar, and stir. Add the bell pepper strips, peapods, and 1/2 teaspoon of salt.
Reduce the heat to low, and continue to cook, covered, until the pea pods are slightly tender but still crisp, 7-8 minutes.
Add the broccoli, asparagus, and tofu to the skillet with the peapods and peppers and mix. Remove the skillet from the heat and stir in the lime juice and basil. Season with salt to taste and crushed red pepper flakes if desired. Divide the rice and curry into bowls, and serve hot.
Mushroom Seitan Stroganoff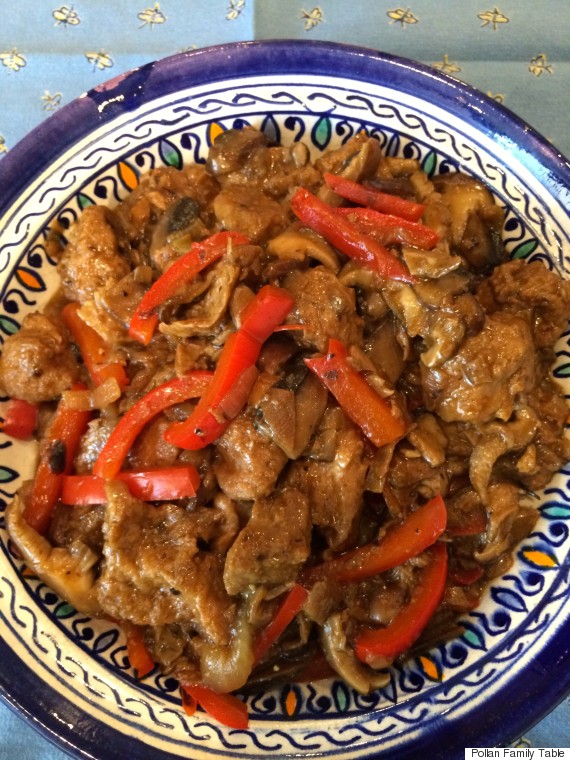 We have a lot of vegetarians in our family, and there is nothing like a hearty, satisfying, and meaty tasting dish without the meat!
Stroganoff is classically known as a beef dish, but we decided to replace the beef and use seitan instead. For centuries Asian countries have used seitan as a vegetarian meat substitute. It has a savory flavor that makes it the perfect addition for all types of dishes, and it has a wonderful chewy texture. Since we wanted this dish to be vegan, we left out the sour cream and butter typically found in stroganoff. We added arrowroot powder, which gave the sauce a thick and creamy consistency. And to achieve that deep rich, meaty flavor that our vegetarians so often crave, we added a variety of mushrooms -- dried porcini, portabella, and shitake. We were pleased with the results!
We serve this dish with rice, although grains such as quinoa or noodles would be delicious, too.
(4 servings)
1 ounce dried porcini mushrooms
2 tablespoons extra virgin olive oil
2 cups thinly sliced yellow onions
3 cups sliced shitake mushrooms
2 cups sliced portabella mushrooms, 1 1/2-inch pieces
1/4 cup dry white wine
1 1/4 cups low-sodium vegetable broth
Two 8-ounce containers cubed seitan
1 cup sliced red bell pepper, cut into 2-inch strips, 1/4 inch wide
Kosher salt
Freshly ground black pepper
1 tablespoon arrowroot powder
Place the dried porcini mushrooms in a small bowl and cover with boiling water. Let stand for 5 minutes and then drain. Set aside.
Heat the olive oil in a large skillet over high heat. When shimmering, add the onions and cook for 4 to 5 minutes, until caramelized. Turn the heat to medium, and add all the mushrooms, including the dried porcini, and cook for 5 to 6 minutes, until the mushrooms are browned.
Add the white wine and deglaze the pan. Add the vegetable broth and cook for 4 to 5 minutes, stirring occasionally. Add the seitan, red pepper, 1 1/4 teaspoons of salt and 1/4 teaspoon of pepper, and simmer for another 7 to 8 minutes, stirring occasionally, allowing the seitan to absorb the flavors.
Meanwhile, in a small bowl combine the arrowroot powder with 1 tablespoon of water and mix thoroughly until dissolved. Slowly add the mixture to the seitan and vegetables and stir to combine. Cook an additional 5 minutes until thickened. Serve hot.

Teriyaki Tempeh with Broccolini and Carrots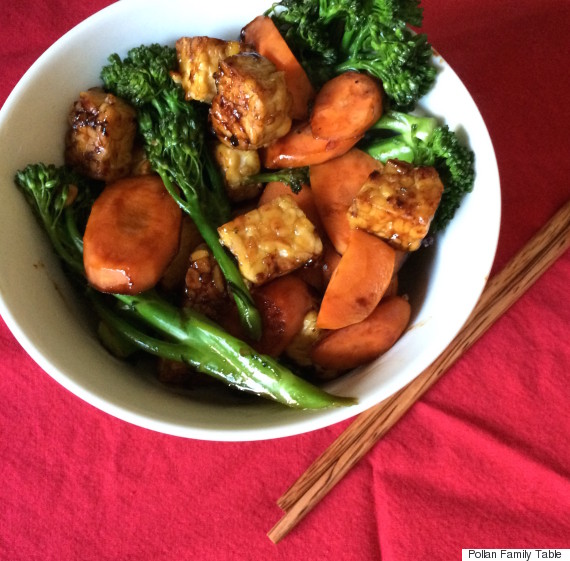 Super healthy, super quick to get on the table, and super delicious -- three great reasons to try our Teriyaki Tempeh with Broccolini and Carrots. Tempeh is a wonderful substitute for meat because it has a firm, dense texture and a wonderful, slightly nutty flavor. And tempeh is so good for you with loads of protein, fiber, and B vitamins, plus all the health benefits of being a fermented food. Our Teriyaki Tempeh is a great weeknight dinner that everyone will love.
(4 servings)
1 cup rice or quinoa
2 bunches broccolini, ends trimmed, sliced in half lengthwise
2 carrots, sliced diagonally in 1/2-inch thick slices
1 tablespoon peanut, grapeseed, or extra virgin olive oil
Two 8-ounce packages plain tempeh, cut into 1-inch pieces
1/4 cup Terrific Teriyaki Sauce*, or more to taste (see recipe below), or your favorite store-bought
Cook the rice or quinoa according to the directions on the package and set aside.
Meanwhile, in a medium saucepan steam the broccolini and carrots until crisp-tender, about 3 minutes. Drain them in a colander and set aside.
Heat a large nonstick skillet over medium-high heat. Add the oil and heat until shimmering. Place the tempeh cubes in the pan and cook undisturbed until browned, 3 to 4 minutes. Flip (we like using tongs for this) and cook on the other side, 3 to 4 minutes more.

Add the steamed vegetables to the skillet and, using a wooden spoon, gently mix with the tempeh cubes. Add three tablespoons of the teriyaki sauce and stir well to coat. Add additional teriyaki sauce as desired. Continue to cook and stir until hot, 3 to 4 minutes.
Put 1/2 cup of the cooked grains in the bottom of each of 4 serving bowls. Top each bowl with tempeh and vegetables and serve hot.
1 teaspoon sesame seeds (optional)
1 teaspoon cornstarch
1/2 cup low-sodium soy sauce
2 tablespoons mirin
2 tablespoons brown sugar
1 teaspoon minced garlic
1 teaspoon grated fresh ginger
1 teaspoon sesame oil
If using sesame seeds, cook them in a small dry skillet over medium heat, shaking the pan occasionally, until they begin to darken and give off a toasty aroma, 2 to 3 minutes. Set aside.
In a small bowl mix the cornstarch with 2 teaspoons of warm water. Set aside.
In a small saucepan combine the soy sauce, mirin, brown sugar, garlic, ginger, and 1/3 cup of water. Place over medium-high heat and stir occasionally until it comes to a low boil. Reduce the heat to medium and add the dissolved cornstarch. Continue stirring until the sauce thickens, about 5 minutes. Remove from the heat and add the sesame oil and the sesame seeds (if desired).
REAL LIFE. REAL NEWS. REAL VOICES.
Help us tell more of the stories that matter from voices that too often remain unheard.