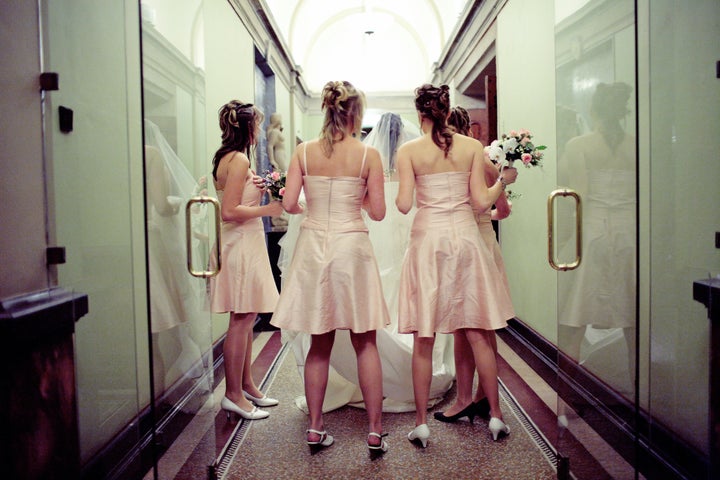 The rules of wedding etiquette are constantly changing, making it difficult for modern brides, grooms and guests to find up-to-date and correct information. That's why we launched #MannersMondays, a series in which we ask our followers on Twitter and Facebook to submit their most burning etiquette-related questions. Then, with the help of our team of etiquette experts, we get you the right answers to your biggest Big Day dilemmas. Check out this week's question below!
"I was just asked to be a bridesmaid -- yay! What are my duties? What am I responsible for?"
Congratulations! Being a member of the wedding party is quite an honor and can be lots of fun. It can also induce a bit of stress -- the showers, the parties, the presents, the dress! There is a lot to know to help set you up for a successful and enjoyable experience. First thing's first: Do your research. While I've listed a few of the major responsibilities, there is so much more to learn. Take a few minutes to check out the many resources that can offer great detail on the subject so you are well prepared for what lies ahead. Second, talk it out! Having open communication with your bride and your fellow bridesmaids can help clarify expectations and get you started on the right track.

To help you get started, here are a few of the traditional bridesmaid responsibilities:

Help with tasks leading up to, and on the day of, the wedding
Be a patient and understanding listener
Assist with wedding and bridesmaid dress selection, as appropriate
Plan to cover the cost of your dress, your shoes, and any necessary travel and accommodations. It is possible that your bride will be quite generous and offer to cover some or all of these costs
Help to plan and pay for the bridal shower and bachelorette party. Plus, don't forget to bring a gift!
Attend all wedding related festivities as appropriate, including the engagement party, bridal shower, bachelorette party, rehearsal dinner, the wedding and the post-wedding brunch
Offer a wedding gift
You can submit your wedding etiquette questions via Facebook or tweet them to us @HuffPostWedding with the hashtag #MannersMondays.