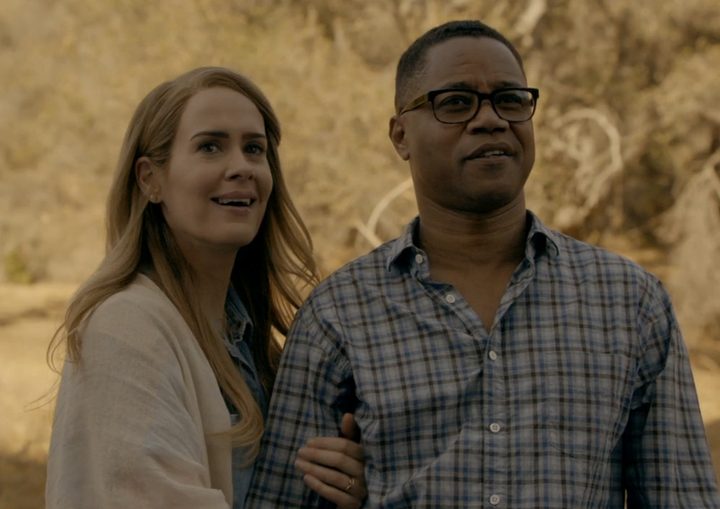 Ryan Murphy, international man of mystery co-creator of "American Horror Story," revealed crucial information last month about the plot of Season 6, stating, "You'll see starting in Episode 6, the show has a huge turn, and the thing that you think you're watching is not what you're watching."
Guess what airs Wednesday, Oct. 19, in the middle of the final presidential debate? Yep, Episode 6.
Murphy's fellow creator, Brad Falchuk, complicated things further by saying he thinks of "Roanoke" as three seasons: "It's like [Episodes] 1 through 5, 6 through 9, and 10 is its own thing."
What's going to happen? Everyone seems on board with the idea that Matt, Shelby and Lee are not telling the full story ― and may have more sinister motives than it seems. But the thing we were really watching while we thought we knew what we were watching in Episodes 1 through 5 has yet to be revealed.
Currently, all we have to go on is an 11-second preview.
Here are some theories:
Cheyenne Jackson's character reveals a secret that Matt, Shelby and Lee are hiding. (Hint: It's murder.)
Episode 6's teaser shows Jackson preparing for an on-camera confrontation with someone. He gives his crew stern instructions: "The camera never stops. No matter what anybody says. Even if I tell you to stop, you keep rolling. OK?" It's possible he is confronting Matt, who we know works at a pharmaceutical company, about the story he, Shelby and Lee told, which everyone seems to think is not entirely rooted in truth. As one Reddit user pointed out, Episodes 1 through 5 all seem to involve a suspicious amount of classic horror tropes; maybe the group just borrowed from movies they'd seen because they actually murdered Mason and Cricket themselves. As another Reddit user explained, the rest of the show could be producers' attempts to prove it, à la "The Jinx." 
Everyone shown on camera so far has been an actor.
Well, except for the few brief glimpses of Jackson's character. This idea is closely related to the one above ― that is, Matt, Shelby and Lee are murderers ― but if it's correct, then we haven't even seen the real Matt, Shelby and Lee. If they even exist at all. 
Matt, Shelby and Lee made their own deal with The Butcher, just like the Polk family.
A few Reddit users have put forth the idea that the family didn't get out of the house by themselves, rather, they were allowed to leave in exchange for bringing The Butcher sacrifices like the backwoods Polks. Matt and Shelby might have even approached the show's producers themselves in exchange for a hefty paycheck, since it looks like they're out of the savings they sunk into the Mott mansion. They may also be lying about the ghosts' rules of operation. Perhaps the time period in which they can kill isn't limited to a few days at all ― and the film crew finds out the hard way.
Matt, Shelby and Lee are being influenced by The Witch.
Besides the fact that she may have been the original Supreme, Lady Gaga's character clearly has a soft spot for Matt. If she's the most powerful entity in the woods, why would she ever let The Butcher endanger him? Maybe she's protecting him; as one Reddit user pointed out, Matt doesn't ever seem to be in danger like Shelby or Flora. Gaga might have a bigger part to play in the second part of the season. 
T-minus five days until we find out.
"American Horror Story" airs Wednesdays at 10 p.m. ET on FX.
REAL LIFE. REAL NEWS. REAL VOICES.
Help us tell more of the stories that matter from voices that too often remain unheard.
BEFORE YOU GO
PHOTO GALLERY
37 Kids Dressed As Pop Culture Icons For Halloween