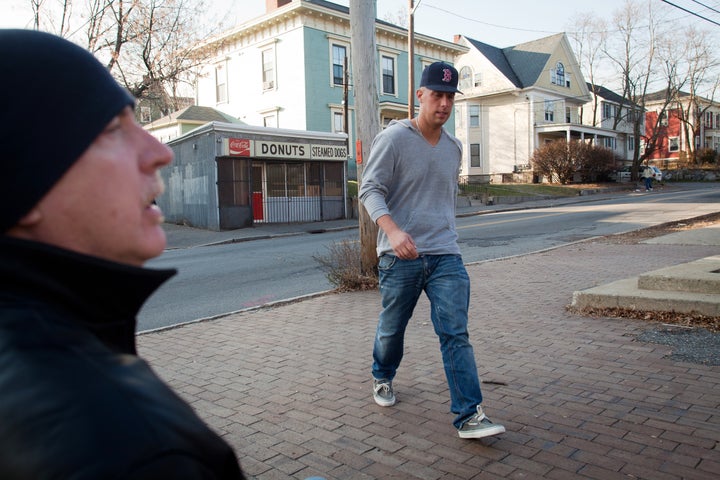 It was near sunrise as I drove my new 190D Mercedes Benz across the New Hampshire border into Massachusetts. The pain in my lower stomach was unbearable. I squeezed my sphincter muscles tight so I wouldn't crap myself. I had to hold on until the white lady, heroin, hit my heart.
I was dope sick and the street I copped heroin on was naked except for a grotesquely thin kid in his early 20s. He had a teardrop tattoo under his left eye. Maybe he was dangerous, but I didn't care. My agenda was clear. Don't give him the money. Bite the bag to make sure it's heroin. Get safely back to my car, cook the heroin and stick the needle into my vein.
I motioned him into the car. He opened the door, got in and directed me to a house in a rundown neighborhood. We didn't speak. I had a 9-inch screwdriver in the driver's side compartment. My left hand never left its yellow handle.
He exited the car, I followed. One knock and the door opened. It was a shooting gallery, wall to wall junkies. At the kitchen sink, he cooked a bag in an aluminum beer bottle cap, shot it, and handed me the same syringe with a fresh bag of heroin. His purple-crimson blood was clearly visible in the bottom of the syringe.
Without a thought of his blood being infected, I carefully poured the tiny bag of heroin into his cooker. Placed a sliver of a cigarette filter into the cooker, gathered 20cc of water into the syringe, shot it into the cooker, fired-up a match, and watched it bubble.
My stomach began to dry heave as I collected the boiling heroin into the syringe, found a vein, watched the blood register, and pulled the trigger. Perfect euphoria.
But how we got to today's heroin epidemic will shock you.
According to a recent Los Angeles Times investigative report, "Big Pharma had created a massive legal opiate addiction, which directly led to the heroin epidemic because pharmaceutical corporations' own addiction to profit arguably trumps any concern it may have had for patients."
More specifically, when Purdue Pharma began marketing the chemical cousin of heroin in 2001, they recklessly convinced the then-sitting FDA chief, Dr. Curtis Wright, that their new "wonder drug" OxyContin's 12-hour "smooth and sustained" dosing would substantially lower the addiction rate caused by legal opioid pain medication.
But their claim was not only tainted in that its duration was often hours less than promised, but Purdue knew that before the painkiller ever hit the market. Oh, and by the way, shortly after the FDA approved the 12-hour labeling of OxyContin, FDA chief, Dr. Curtis Wright, resigned and took a high-paying job with Purdue Pharma.
Of course, Purdue Pharma, armed with a favorable label, embarked on a $200 million marketing campaign, touting its drug not just for cancer patients, but for muscle aches and injuries, for broken bones and for post-surgery pain, all set in stone according to the FDA.
Ironically, it was a government agency created to protect consumers that allowed a favorable labeling that translated to the deaths of thousands of young adults.
Unfortunately, the army of opioid addicts had already been trained and organized. The Mexican cartels saw the handwriting on the wall and cut the cost of a kilo of heroin in half.
In a New York minute, heroin-filled America's streets at the remarkably cheap cost of 7 to 10 dollars a bag. Purdue had orchestrated an unquenchable market.
In 2015 the richest newcomer to the Forbes annual top-20 list of America's Richest Families entered in at a stunning $14 billion. The Sackler Family, owners of Purdue Pharma, built the 16th largest fortune by making the most popular opioid of the 21st century — OxyContin.
Today, the opioid epidemic has become America's worst health crisis ever. Accidental drug overdoses killed more people in 2015 than HIV/AIDS at its 1995 peak. Last year, opioid overdoses ended more people's lives than gun homicides and car crashes combined.