In my life, I have been lucky enough to become friends with some incredible people who don't settle, exemplify consistency and dedication into everything they do and are characteristically high achievers. Currently residing out of Baltimore, Maryland Femi Ayanbadejo is finalizing his journey through the John Hopkins MBA program and has displayed an incredible mindset for achieving throughout his multifaceted career.
I sat down with Femi to gain some insight into his journey and to be able to share some attributes he has learned with the world in terms of never settling for anything but excellence.
As an 11 year NFL veteran, holding a championship ring won with the Baltimore Ravens, I asked Femi, if he could recall a pivotal moment in his life where he established the mindset to be determined to make it into the NFL?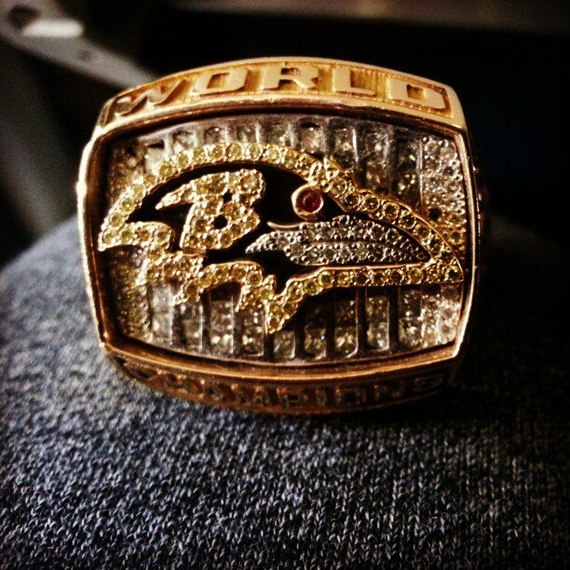 "I was born with this. I grew up in a very difficult environment in Chicago in a housing project. We had great access to good programs through Hamlin Park, really good sports access and we would be at the park from morning to night every day." Femi went on to say that this mindset was just innately in him and still is.
At ten years of age Femi along with his mother, brother and sister moved to Santa Cruz, California and that is where his roots were truly established, that is his hometown.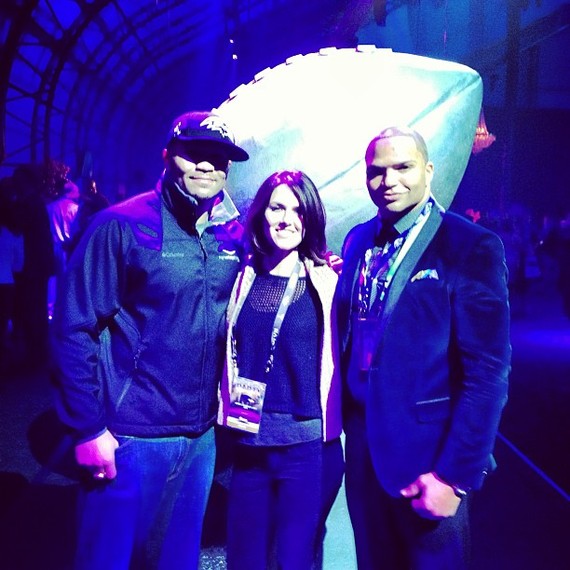 "I went from third to fifth grade. As an athlete being two or three years younger wasn't always a benefit. Being the oldest of three, I would wake up early and play until nobody else wanted to play. My mom would have to come find me sometimes."
When talking about taking risks and making changes, Femi said "I've always been strategically mapping where I want to go. I look at risk as if you navigate it properly, look at risk as an opportunity, what motivates me is - what if things go right. It's a calculated risk."
After his NFL career, Femi stepped into the entrepreneur world as a partner with a highly successful gym, High Voltage Fitness in La Jolla, California. When Femi decided to sell his business a lot of friends and colleagues were baffled by the decision. Why would one sell something so successful, in one of the most sought after parts of the country and decide to move to Baltimore to pursue an MBA at John Hopkins before even being accepted to the program?
That's where this element of risk takes to play in Femi's life. This element of always being a high achiever.
"Way too many people are way too afraid of way too many things in my opinion" stated Femi. Femi strategically maps things out- it's that calculated risk that he mentioned earlier. "I don't let risk sidetrack me. I've been watching myself evolve now through this program. It's amazing what I know now, that I didn't know, that I didn't know before I started my MBA."
"As an entrepreneur sometimes I just got lucky. Now at 41, I'm rebranding myself." This is something I admire about Femi, the humbleness he currently has even though he has been what most would view as extremely successful. Not just once, but twice.
Femi is currently graduating from John Hopkins and purposely chose this school because of the brand recognition it has globally. When talking about goals Femi said that he simply focuses on what can go right - puts his energy into accomplishing the goal versus worrying about all the things that could go wrong.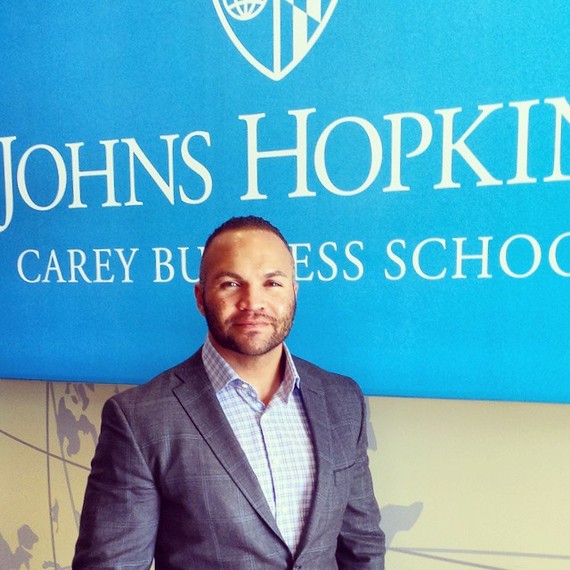 He wants to leverage his unique experience along with his MBA to really make an impact. Femi doesn't believe professional athletes get enough recognition for the work they do after their NFL career. He believes there is a lot of stigma around what athletes are about, this caricature of people that want everything but aren't necessarily willing to give everything to get it.
In terms of unique experience, it boils down to six key elements for Femi. Eleven years in the league with a Super Bowl ring, voted Team Player Rep by his teammates, a Bachelors in Psychology, being a small business owner, an advocate for Traumatic Brain Injury and how it affects players and now his MBA. Being this strong non-traditional candidate it is no doubt that Femi will make an impact in the field he chooses to pursue work in and that he has certainly proven the willingness to work for all he has achieved.
So I asked him - As a parent, what do you feel is the best way to encourage children to have hunger towards reaching their goals?
"I think because kids have a natural tendency to tune their parents out, the best thing you can do is lead by example. What you do every day, your grittiness, your determination, being a role model and not cutting corners. They are watching you grind and work your way towards a goal and putting it out there for them to see is a great teaching tool. Leading by example is very underrated when it comes to teaching kids lessons. Kids learn visually as well as auditory so that combination is key."
On the value of failure, Femi said "There's always something more to learn from failure than there is from success. Autopsy the situation and see how you made the mistake."
On the value of change and adaptability, Femi went on to say "Adaptability is really something you have to embrace. You have to figure out how can I improve myself to make myself a better fit for an opportunity? People get so caught up in a pattern and don't know how to break out of a pattern. I consciously go out of my way to break the pattern. I'm comfortable being uncomfortable."
One thing is clear, Femi Ayanbadejo is characteristically an achiever. He values change, honors risk and keeps his eye on the perch with every goal. This rebranding in his forties is a force for greatness in the business world and I look forward to watching his impact continue to unfold.
REAL LIFE. REAL NEWS. REAL VOICES.
Help us tell more of the stories that matter from voices that too often remain unheard.