After turning down Vogue during the presidential campaign for "fear of looking too feminine," Hillary Clinton has finally granted Vogue the interview they wanted. And the feature, which appears in the magazine's December issue, makes the secretary of state sound like a whole lot of fun.
Writer Jonathan van Meter reports that Clinton enjoys "Mad Men" (telling him "That's how it was!...That's why the women's-liberation movement was so shocking. It was like news from outer space"), is "a champion sleeper" ("[s]he naps on command; she is impervious to jet lag"), and does her own makeup ("holding a compact, Clinton puts on mascara, lipstick, blush, and a little powder").
The secretary of state was also asked about First Lady Michelle Obama's support for young fashion designers. She told van Meter, "[Michelle] can carry it off and she enjoys it, so more power to her."
The writer traveled with Clinton on her trip through Africa in August, and recounted one particularly entertaining evening:
In Cape Town, she threw a party for the press and drank with the best of us, talking for more than two hours, into the night, with surprising off-the-record candor about everything from her husband to her disdain for certain world leaders. She's fun. She laughs at herself. And she is full of surprisingly sharp, pointy little retorts, barbs, and comebacks.
In another juicy tidbit, the article suggests that Clinton might have the hots for handsome British foreign secretary David Miliband. Read more about that and see a slideshow of the two together HERE.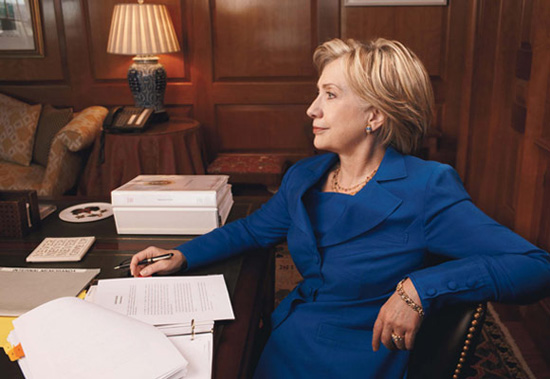 Photo by Annie Leibovitz/Vogue
Popular in the Community