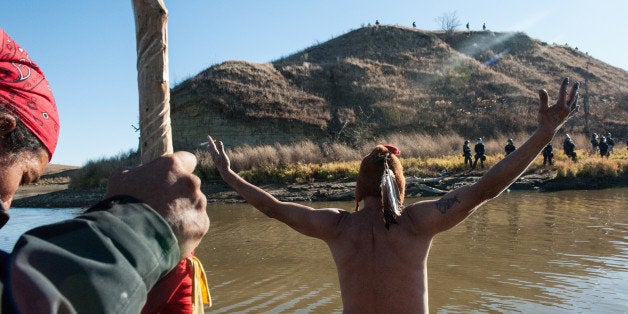 The Dakotas are hardly swing states. But Hillary Clinton could restore her momentum in the final days of the 2016 campaign by ditching Florida and Nevada for the northern prairie.
She should visit Standing Rock.
While her statement on the Dakota Access Pipeline standoff last week was decidedly noncommittal, this was to be expected: Some key labor allies have strongly backed the construction of DAPL, and, as a clear frontrunner in the presidential contest, she's had little incentive to rock the boat.
But, just a day after she released her statement, James Comey's cryptic letter to Congress upended the race. Polls have since tightened. And the movement at Standing Rock has gained traction.
While visiting the encampment could amplify progressive turnout and prevent third-party defections, the meaning of her trip could be much bigger than electoral targeting. It would not only be a welcome and meaningful surprise in an increasingly monotonous and frivolous race. It would be a rare opportunity to talk authentically about the challenges facing the next presidential administration -- and society more broadly.
Standing Rock is a historic moment because it vividly illustrates some of the key questions we need to solve: how we'll produce our energy, how we'll relate to the environment, and how we'll relate to each other.
On each of these matters, Hillary has something important to say. She could go to Standing Rock, first and foremost to listen, but also to share, in concrete terms, what she would do about issues from climate to clean water to militarized policing.
Of course, in the final days of a general election, a Democratic nominee can't just flank to the left. Crucially, a Standing Rock speech could be as much about the center and even the right.

With solar slated to hit a dollar per watt in installed costs by 2020, it's free-market forces that will make fossil fuel infrastructure like DAPL unnecessary and irrelevant in the near future. The Ferguson-and-Falluja-style armored personnel carriers we've seen at Standing Rock are as offensive to small-government libertarians as they are to civil rights activists. And there's evidence that many Trump voters -- like the rest of us -- are upset about the extreme consolidation on corporate power that DAPL epitomizes.
While many people are now accustomed to the idea of a female president, it's still a dramatic transition that's been centuries in the making. It would be poignant to see that transition coincide with another change that's been centuries delayed: the start of the nation's reconciliation with native peoples. With a high-profile visit in the closing moments of the campaign, Hillary could help make Standing Rock a pivot point in American history.
Clinton has genuine virtues as a candidate and a public servant -- especially when compared to her erratic and unqualified opponent. But, after seeing decades of compromise, people desperately want to see Hillary take a controversial stand for something right. This is her chance.
Calling all HuffPost superfans!
Sign up for membership to become a founding member and help shape HuffPost's next chapter