Fire Statistics
The following statistics from the National Fire Protection Association (NFPA) are for fires in the USA in 2009:
There were 3,010 civilian deaths from fire, 2,565 of which occurred in the home.
There were 260 civilian deaths from motor vehicle fires.
Only 105 civilian fire deaths occurred in non-residential structures.
US fire departments responded to an estimated 1,348,500 fires resulting in an estimated 12,531,000,000 in property losses and 17,050 civilian injuries
.
In general, fires cause more loss of life and property in America than all natural disasters combined! Every year, fires are responsible for more loss of life, limb, and property in the USA than either Hurricane Katrina or the destruction of the World Trade Center on 9/11! Statistically speaking, the easiest and most cost-effective way to reduce the chances that you, your home, or your family might suffer great loss in a future event, is to improve the fire safety of your home, and the fire awareness of your loved ones.
With the record-breaking heat, drought, and fire storms of the summer of 2012, followed by a horrendous start to the 2013 fire season, most of us want to do what we can to improve the chances that our home will survive a local wildfire. Creating a "defensible space" is one of the first set of tasks that a rural homeowner or renter should do.
Creating a Defensible Space
My buddy Jim Bolton, an experienced Reno fireman, tells me that when they enter a neighborhood, they take mental notes about which homes have maintained a defensible space and which have not. They don't waste their time focusing on homes without a defensible space, but spend their time defending homes where they stand a decent chance of success, while keeping a watchful eye on nearby flames. These are brave guys, risking their necks where most of us would not go, but they have wives and kids so when a vicious fire storm gets dangerously close, they simply have to leave the neighborhood and let nature take its course.
Clear dead brush from property and trim tall weeds short.
Clean rain gutters and roof valleys of all dead leaves and pine needles.
Place smoke detectors in all bedrooms, hallways, kitchens and at least one on every floor of your home.
Put fire extinguishers in kitchen, garage, and workshop areas.
Inspect and chimney sweep chimneys and woodstove pipes annually to prevent creosote buildup. Creosote is a black greasy gooey layer that is combustible, and is a common byproduct of incomplete wood combustion. Chimney fires destroy many homes each year.
Store flammables (gasoline, kerosene, oily rags, paint thinner, etc.) in approved flame-resistant containers and away from living areas. Garage areas should have one-hour fire-wall code-approved construction (typically ⅝-inch sheetrock wall covering, or better).
Clear ground of pine needles, dead leaves, etc. Rake them once in the spring and let them fall in the fall. Remove dead vegetation and debris.
Thin out thick stands of shrubs and trees to create a separation.
Remove "ladder fuels" like lower tree branches and shrubs underneath trees to keep wildfire from climbing and spreading. Prune all dead limbs from trees.
Plant "green zones" of moist, fire-resistant plants that will act as a barrier, and not fuel for fires.
Swimming pools, ornamental ponds, etc., provide extra water reserves for fighting fires, and may be tapped by either fire trucks' onboard pumping systems or lighter-duty homeowner firefighting pump systems.
Consider installing fireproof window shutters that will help prevent the heat of an approaching a firestorm from shattering your windows or transmitting enough radiant heat to ignite items inside the home.
Your house number should be clearly visible from the street for identification by emergency vehicles.
Additionally, in rural areas it may be a smart idea to purchase a high-volume gasoline-powered home fire-fighting pump. Gel systems have the capability to get the most out of limited water supplies, and the sticky gel is a fire resistant gooey coating that provides much longer lasting protection than a simple water spray, when applied to walls, decking, and roofing.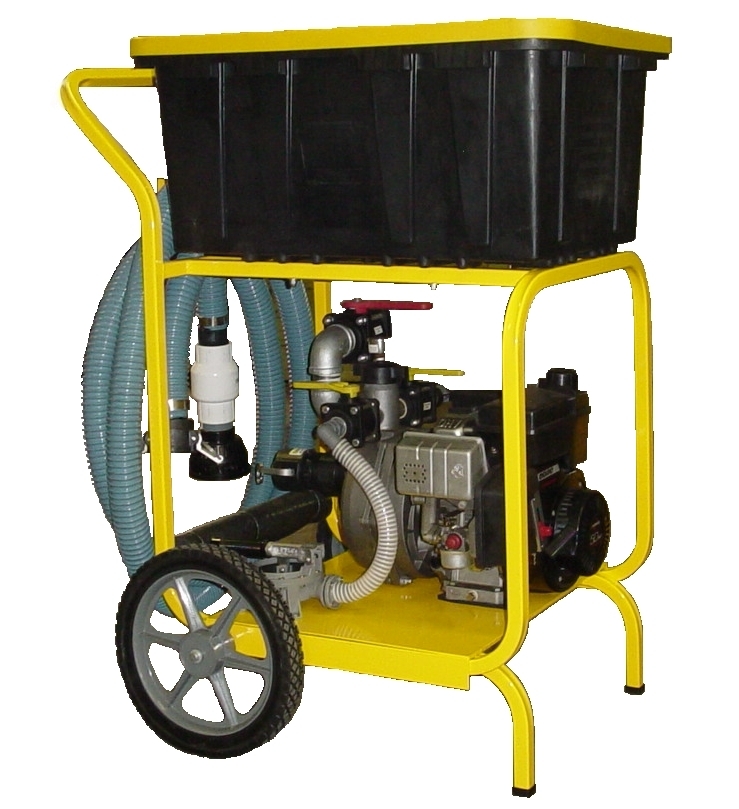 Portable firefighting high-volume self-contained water pump for rural homes. (Source: High Desert Fire Equipment, Sparks, NV)