Until recently the closest I've come to Mount Rushmore was watching Cary Grant and Eva Marie Saint hang on for dear life in North By Northwest. In my mind it was something abstract -- a tourist destination that could be seen in a movie or photograph, but not really a place that was high on my list for visiting. Only now after standing in front of it can I say that seeing this monument in real life is pretty mind-blowing. In fact, I'd go so far as to say that Mt. Rushmore is a jaw-dropping, awe-inspiring experience that you really have to see in person to understand.
I had this great experience as a part of a recent trip to Montana, which they call Big Sky Country. Since Rapid City, S.D., is just nine hours away from where I was staying, it seemed like a fun road trip. For sure it was a long drive, but well worth the time and tedium it took to get there.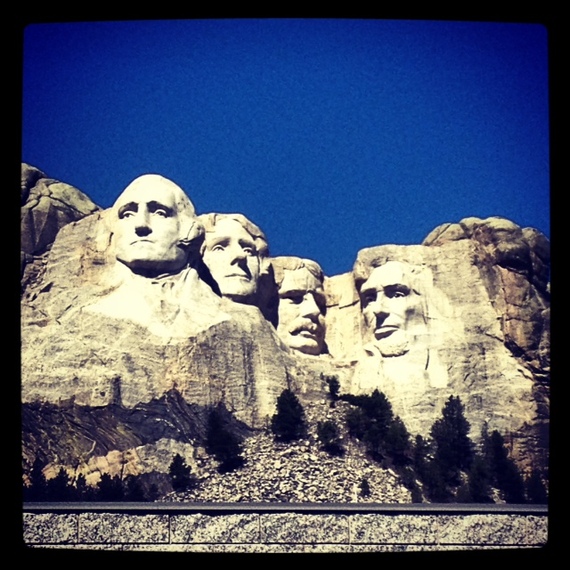 Fine Dining in Downtown Rapid City
Since we arrived in the early evening, a meal was in order. As a vegetarian, I set the bar pretty low when driving through many parts of the country. Given the rural path we traversed on this particular trip, dinner many nights was whatever could be scavenged from gas stations. In fact, my last meal that day had been a particularly light lunch in a biker bar where the specialty was "Rocky Mountain Oysters," which are batter-fried bull testicles!
I just had some batter-fried vegetables and called it a day.
Much to my pleasant surprise when we drove through Rapid City, there were many great-looking restaurant options -- for both vegetarians and meat-eaters.
Downtown Rapid City is really like Storybook, USA -- a town that could easily serve as a backdrop in a film showcasing the lives and stories of our greatest generation. The homes are charming; the sidewalks are clean; the businesses are bright and welcoming, and the people are very friendly.
After a bit of exploration, we decided on Tally's, which looked like a 1940s café (right up my alley). I assumed it would be a slightly upscale diner, which is always great with me, but much to our surprise, the ambient and immaculate establishment had a robust menu with many vegetarian options including a "Chef's Special" entree. My dining companion had a hefty serving of spaghetti Bolognese, and I had the special (a grilled vegetable tower), which was delicious, hearty and beautifully presented.
Our server was lovely and attentive, and encouraged us to have dessert, which I'm really glad we did. It was plum bread pudding -- and I have to tell you that I would drive another nine hours someday to have a second helping. A combination of brown sugar, candied plums, a cinnamon croissant and white chocolate, it reminded me of a modified version of a delicious and substantial German desert called "Zwetschgenknödel," which is one of my ,om's specialties.
After our meal, Benjamin Klinkel, the chef and owner, came out to chat with us. I learned that the café had been around since the 1930s, and retains the original pie case (where diners can select their favorite dessert).
The restaurant also has a solid commitment to providing comfort and good home-cooking. It came as no surprise to me that Klinkel is a graduate of Le Cordon Bleu culinary school, and traveled and worked extensively in Europe before settling in Rapid City. He calls Tally's a "fine diner." and I couldn't agree more.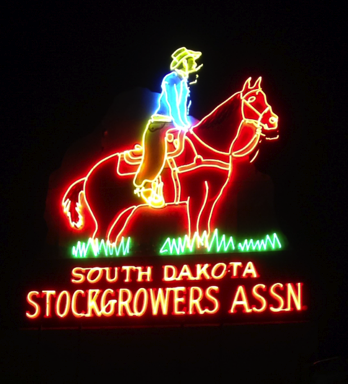 After a restful night at the local Days Inn (a clean, inexpensive spot to stay), we began our short drive to Mt. Rushmore. As a pretty patriotic guy, I knew I'd appreciate seeing this majestic monument, but as we began to see it on the horizon I had no idea my jaw would drop.
There against the blue sky stood the faces of George Washington, Thomas Jefferson, Theodore Roosevelt and Abraham Lincoln. Of course, like most Americans, I'd seen the image many times before. As I hung my head out of the car window to snap the first of hundreds of photos I took that day, I felt a sense of sheer awe.
Carved in granite and nestled above the beautiful evergreens of the Black Hills, Mt. Rushmore is a must-see for anyone who is able to make the trip. I was blown away not just by the monument, but by the setting as well. On the walk to see the faces up close, there are beautiful manicured trails, walking paths and places to sit and enjoy the whole shebang.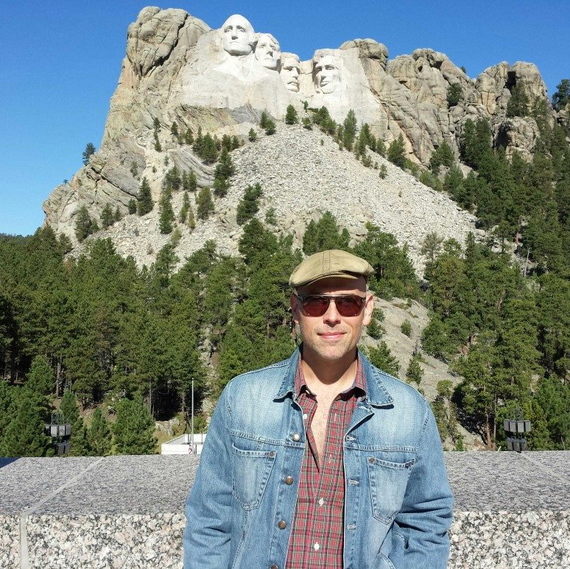 It's funny because as someone who's attended his share of guided meditations, yoga classes and spiritual centers, I've often been challenged to find that actual place in my mind where I would go to feel centered and at peace. When I stopped to absorb the beauty of Mt. Rushmore and the Black Hills, I felt I'd finally found it. The only other setting that's conjured up similar feelings in me was the Redwood Forest at the Botanical Gardens in Berkeley, Calif.
In fact for a tourist attraction, Mt. Rushmore is remarkably Zen. It's almost as if everyone there is experiencing a sense of wonder at the same time. This shared feeling is contagious and very calming. Of course, it probably helped that we went in the fall after traditional summer vacation season, so our fellow tourists were mostly over the age of 40.
There was even a wonderful sense of stewardship -- like the idea of tossing so much as a gum wrapper in anything but a designated trash receptacle would be inconceivable. This common bond was an unexpected and deeply memorable part of my trip, and I'll not soon forget it.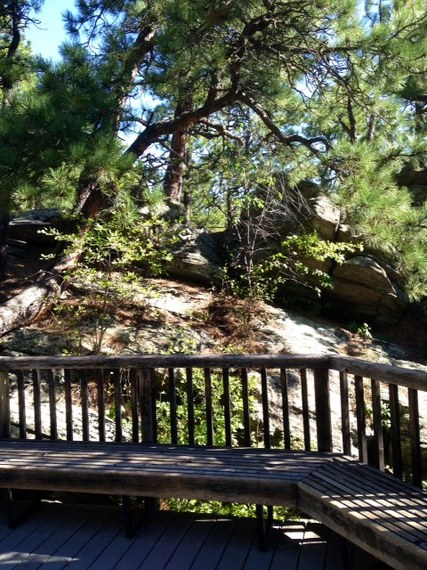 The History and The Legacy
I'm admittedly not one for group tours or even guided talks in tourist attractions, but I actually greatly enjoyed hearing a lecture on the creation of Mt. Rushmore. It took 14 years and a $1 million to complete this great symbol of freedom and democracy. I found myself hanging on every word as the guide spoke. The entire memorial covers 1,278 acres and the bust of each president is 60-feet in diameter. It was sculpted by Gutzon Borglum, and his son Lincoln, who worked with more than 400 men and women to execute the carving.
We saw actual seats the workers perched themselves upon when carving, photos of the process, and much more. It was a fascinating story of a vision coming into fruition, which is a theme I always love in a story.
It's easy to understand how Mt. Rushmore continues to attract over three million people annually. I'd recommend it to just about anyone. As it turns out, the U.S. Mint is releasing a Mt. Rushmore quarter on November 6 -- I'll smile when I see the first one in my hands.
My only regret about our trip to Mt. Rushmore is that we weren't able to stay longer. Downtown Rapid City is filled with antiques shops I'd like to explore, monuments I'd like to see, and more good people I'd like to meet.
Another thing I didn't know is the Rapid City area is home to several more national landmarks, including Badlands National Park, Devils Tower National Monument and Crazy Horse Memorial.
I did get in a way too brief visit to Deadwood, S.D., but didn't have enough time to explore. Next time, I'm just going to need a few more days.
I see another trip to Rapid City for me in the not so distant future. I can only hope that Tally's is still serving the plum pudding.