Candy apples are a quintessential fall treat. Make them for your Halloween party - everyone will be mega impressed!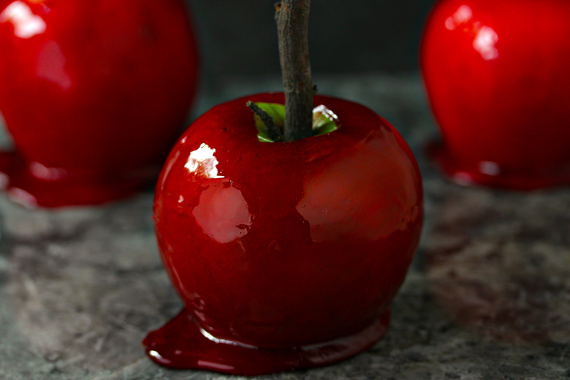 Today I'm stepping out of my "chocolate fanatic" box to share some Candy Apples. If you're going to take a break from chocolate, I think candy is the perfect way to do that. Step away from one sugary treat right towards another sugary treat. Seems about right for a gal like me.
This week Food Fanatic is having a #boobash. Can I just say that's the cutest hashtag ever. If you're going to celebrate Halloween in a large way you must have a cute hashtag. Our theme week is called Boo Bash with Food Fanatic. I heart that name, and am so excited to be part of it.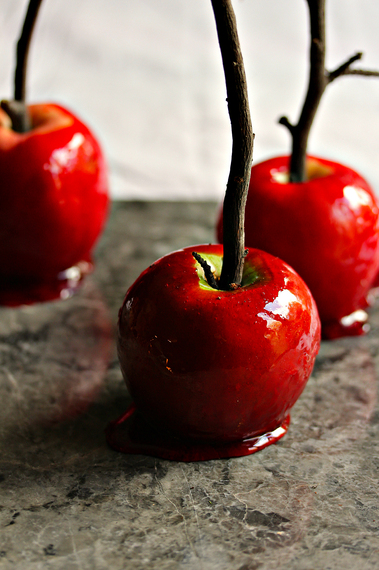 I wanted to make my Mom's Candy Apples for you. I've been making them since I was a kid and just love them. However I seem to have misplaced my file folder with those recipes. We're redoing a couple of rooms in the house so my office has become a bit out of a dumping ground.
Honestly I can't find anything right now. I open the door to my office to grab props or paperwork, then I usually get a look of horror on my face before backing away from the door slowly. No sudden movements. We don't want to anger the door or do anything to set it off.
I need to get that room functional again. Having a food blog means lots of props. Just my Halloween props alone are overwhelming. I got a bit carried away hosting a Halloween/Walking Dead event recently. I must have ordered every single Halloween item on Amazon and Pick Your Plum.
Then I forget I have half the props and take my Candy Apple photos with nothing in them but the Candy Apples. I know right, you think I'd pull out some of the wicked cool props I bought. I could have draped cobwebs or hung up Halloween banners. I could have covered them in Halloween sprinkles.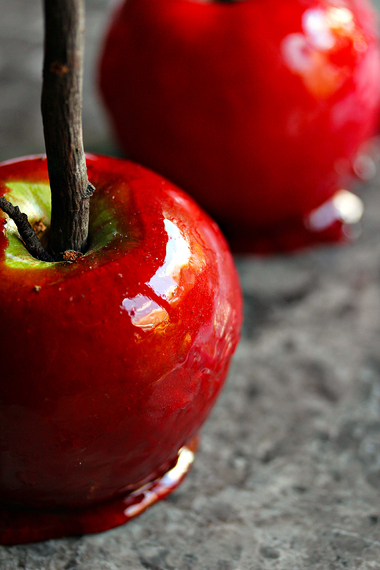 Instead we just cut branches from our apple trees and used those. We are lucky enough to have two gorgeous apple trees in our back yard. So we trimmed some branches and dried them out. If you make these please do not leave any leaves on the branches. Not a good idea for normal people.
Food bloggers are not normal people. We're really not. We do things like leave messy leaves on branches so our photos pop. Honestly some of the things we do for the perfect shot are quite hilarious. I should, and could, write a whole post about how we jazz up food photos.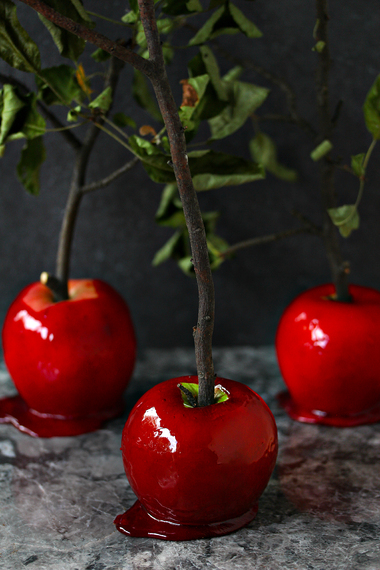 I hated the reflections in my photos. You could see my whole backyard, and my daughter's room in some of the candy apples. Honestly if you look closely you can see the camera. So my hubs helped me take more photos and we literally put a huge white tent made from a sheet over top of our kitchen table.
He stood on the table and I hid under the tent, set up and planned the shot, then stepped out from under the tent to shoot each photo. Now that's dedication to your craft. It's always wildly ridiculous and you're neighbours will think you're nuts. People walking down your street will stop to stare.
So if you make these be sure to use clean, dry, leaf free sticks. Close your blinds, don't put up a tent on over your kitchen table and you should be all good. Trust me on this stuff. Otherwise you'll have the police show up at your door thinking someone is committing a crime and trying to cover it up.
Kim covers everything from desserts to grilling on her two blogs,
and
. At Food Fanatic, however, she's dedicated to all things
, and we're SO glad!
Popular in the Community