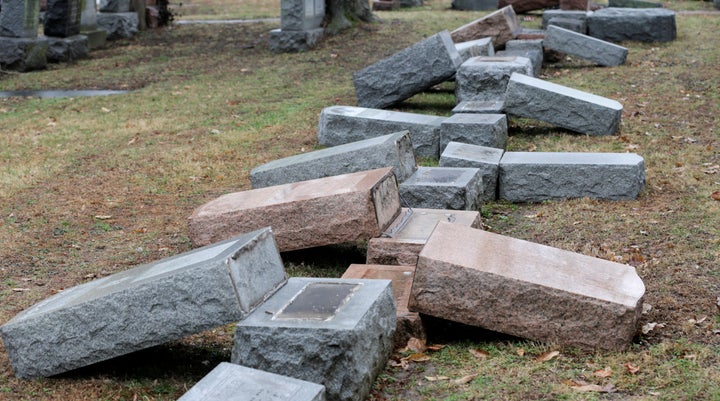 For the second time in a week, a Jewish cemetery has been violated by hate in America.
In Jewish tradition, we care for our loved ones when they die, carefully preparing their bodies, burying them with dignity, and ritually memorializing them through time. This is called "Chesed Shel Emet," and act of true love, understood as such because the actions we take have no hope of being repaid. One day, others will care for us as we care for those we have lost.
(Just imagine the good we could do for and with each other if the latent flames of American hatred weren't being enabled ― if not stoked ― by the current administration. There are no bystanders to hatred. To stand by an attack on my sister or brother is to be complicit in the act of hate.)
Judaism has deep wisdom to offer the world, hard-earned wisdom every Jewish generation commits to learning from their ancestors' experiences. This is, of course, not exclusively Jewish. Faith traditions and the beautiful institutions of American historical consciousness are all modeled on that very idea: learn from the past to avoid the big mistakes of previous generations. (Just imagine the lessons our descendants will learn from today's growing American chaos.)
And, friends, if you are deeply concerned for your own tribal American sub-community, and not (yet) moved to action by attacks on others (ie, Muslims, immigrants, LGBTQ people, journalists, disabled Americans, women) remember this:
Jews have learned the costs of silence, the price of "just going along." We have seen this before, and we will not abide. Not now, not here. There is no room for hate, and Jews have learned throughout our ravaged history that if society allows verbal and physical attacks on the dead, on neighbors, it is only a matter of time before that hate comes with its scaly hands on your door.
Perhaps, in these dark American days, peppered by growing hatred and mistrust, festering uber-nationalism in the White House senior staff, most purely embodied in our crude and mean-spirited president's conduct, we can do something novel: let's return to a truer American greatness than the cruel isolationism being promulgated today.
Love each other harder and faster than the hate can spread.
Show up as kind Americans.
Let our better angels out.
Popular in the Community