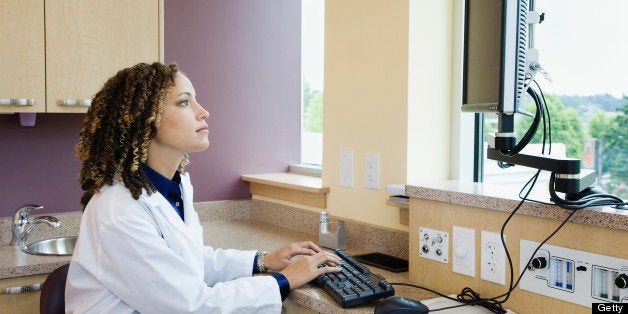 * Number of hospitals going digital triples since 2010
* U.S. funding for health IT driving the switch
July 8 (Reuters) - U.S. hospitals are making major strides in switching to electronic health records from paper, driven by an infusion of federal funding for the nationwide effort, according to a report by the Robert Wood Johnson Foundation.
The number of hospitals with a basic electronic health records system in place jumped to 44 percent in 2012, up 17 percentage points from 2011. Hospitals that have gone digital have tripled since 2010, when healthcare providers began receiving federal funds to finance the change, the report found.
The U.S. government is pushing for widespread use of electronic health records as a means of improving the quality and reducing the costs of healthcare. Standardized record-keeping is expected to improve medical decision-making and reduce errors while avoiding duplication of tests and treatments.
The hospitals most likely to have at least a basic electronic records system are large, nonprofit teaching facilities in urban areas, the study found.
Doctors' offices have also made significant progress, with about 38 percent having basic electronic record-keeping in 2012, according to the study, which was coauthored by the Harvard School of Public Health and Mathematica Policy Research.
The report also found that healthcare providers are increasingly connecting their electronic records with other providers to share patient information. Twenty-seven percent of hospitals are now participating in such data-sharing initiatives, up from 14 percent in 2010, the report said.
Test results and patient summary care records were the most common type of data exchanged.

Popular in the Community