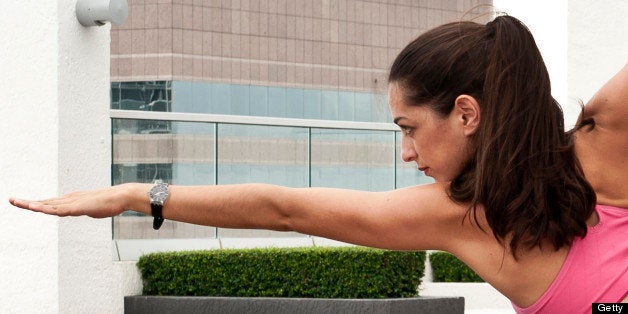 NEW YORK (Reuters) - Hot yoga devotee Karla Walsh feels exhilarated after an hour of twisting her soggy limbs into pretzel shapes, but the Iowa-based writer wonders if all that swelter really ramps up her workout.
Bikram and other types of hot yoga, where temperatures can soar to 105 Fahrenheit (40.5 Celsius) or higher, are increasingly popular. Fitness experts say the hot-house workout if done properly is not harmful and may seem more challenging, but add that followers aren't working any harder than in other yoga classes.
"The benefits are largely perceptual," said Dr. Cedric Bryant, the chief science officer of the American Council on Exercise (ACE). "People think the degree of sweat is the quality of the workout, but that's not reality. It doesn't correlate to burning more calories."
In a small study sponsored by ACE at the University of Wisconsin-La Crosse, researchers who monitored two dozen healthy adults during regular and hot yoga classes found no difference in the increase in core temperature or heart rate between the two 60-minute sessions.
"An increase in core temperature would suggest the person is storing heat, and depending on how high, would be at risk for heat injury," Bryant explained. "We didn't find that."
He added that people enjoy hot yoga because it allows them to feel more flexible.
"But as far as physical benefits," which he said include muscular strength, endurance, flexibility and balance, "you can get those from a standard yoga class."
For the study, the hot yoga was conducted in an average temperature of 92 degrees Fahrenheit (33 Celsius). Bryant said in classes, including the popular Bikram style, where the temperature rises to 105 Fahrenheit (40.5 Celsius) or higher, further study is needed.
"Many folks want to know what happens in that really extreme class," he said. "Our study says you don't have to be at those extreme temperatures to get all those benefits."
New York-based yoga instructor Taj Harris likens a hot yoga class to a physical therapy session with heat packs or a massage with hot stones.
"The heat allows the body to be more supple," said Harris, who teaches 60-, 75- and 90-minute classes at Crunch fitness centers. "It increases joint lubrication as well as flexibility in muscles."
Harris said the heat, which can range from 92 (33 Celsius) to 100 (38 Celsius) degrees Fahrenheit in her classes, eliminates the need for the extended warm-up of a traditional class.
"People like to sweat, they enjoy the way their body feels after a nice heated stretch," she said. "I have had the pleasure of watching some students work through tightness, strains and pains with a regular hot yoga practice."
Harris encourages her yogis to drink water during class, bring plenty of towels to wipe away their excess sweat, and tells them that if they need a respite, it's always cooler on the floor.
Bryant said when doing any activity in a hot environment it's crucial to maintain hydration and to watch out for early danger signs.
"Dizziness, headache, lightheadedness, mild nausea and muscle cramps, are indicators that you're not tolerating that heat," he explained. "You need to remove yourself from that environment and get into air conditioning."
Walsh said at first she didn't get the whole hot trend, but now she is a fan. She credits it with helping her acclimate to the steamy Midwestern summer.
"It doesn't feel quite as daunting walking to work," she said.
(Editing by Patricia Reaney, Bernard Orr)

Support HuffPost
A No-B.S. Guide To Life
Related
Before You Go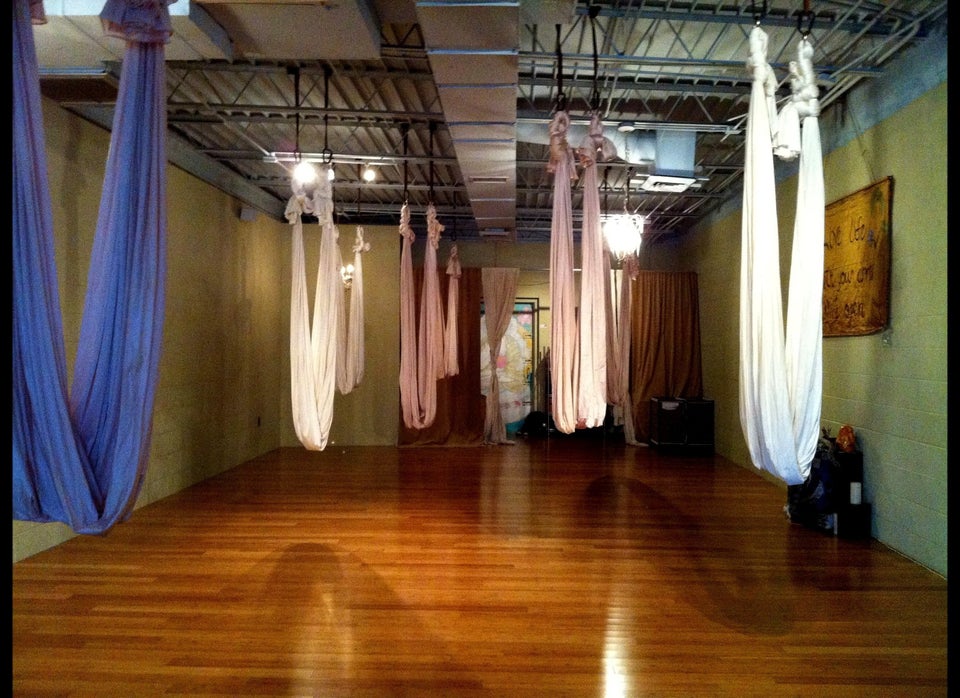 Unconventional Types Of Yoga
Popular in the Community