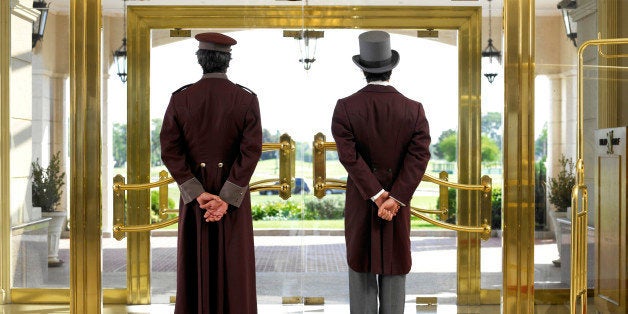 It's the start of summer travel season and for many, staying at a hotel presents multiple opportunities for tipping confusion. Even veteran travelers are sometimes unsure. Being uncertain about tipping etiquette may lead to under or over tipping, affecting those who rely on gratuity as part of their income. Take note that tipping is subjective, and guidelines vary; the bottom line is to tip with respect to the server. Here are a few friendly suggestions:

The doorman. It's not necessary to tip a doorman for holding open a door, however if they perform a special service such as helping with your shopping bags from the taxi to the front desk, or offering you an umbrella from the front door to the car, $1, to $3 is appropriate. The amount of your tip will depend on the level of assistance you receive.

The valet. When a valet retrieves your car, it is customary to tip them anywhere from $2 to $5. A tip is not necessary if the valet greets you at the curb at check in, or takes your keys and welcomes you back to the hotel after a day of sight-seeing. On the other hand, if the valet assists with heavy lifting, or parks your car at the curb while you run upstairs to make a quick change of clothing before heading out again, a tip of $2 to $5 is a thoughtful gesture. To request a special service when handing the valet your keys, a tip is optional, but a nice gesture.

The bellman. A tip of $1-$2 per bag (more for especially heavy or cumbersome bags) is customary. Should the bellman provide extra services, such as delivering an important document, or retrieving an additional luggage valet, tip $2 to $3.

The front desk staff. No tip is necessary for checking in to the hotel. However, if the front desk acts as the concierge, or goes above and beyond, tip as you would the concierge. Otherwise, a friendly smile and an acknowledgement of a job well done goes a long way in building goodwill. For exemplary service, consider writing a letter to the management.

The concierge. For directions, or simple questions about local sights or nearby restaurants, no tip is required. For arranging a dinner reservation, tip $5. For securing a difficult reservation at an exclusive restaurant or scoring tickets to a sold-out concert or theater performance, a tip can range from $10 -$50, depending on the effort and dollar value of the service.

The housekeepers. These staff members do more to ensure your comfort than virtually any other hotel employee, so be sure not to forget them. Tip an average of $3 to $5 daily, or $1 per person, per day, if there are more than 5 guests per room. Leave a note with your tip, or place it in an envelope with the words "Housekeeping," so the housekeeper understands that the tip is for them and not money you unintentionally left out on the dresser. Tip daily to ensure each housekeeper is compensated as shifts may change from day to day.

The room service staff. Room service gratuity is often included in the cost of the hotel meal, generally ranging around 15 percent. If the server is polite and offers to get you ice and set up a meal table, or retrieve special condiments after delivery, an additional tip is welcome, but not necessary. Research in advance, or check your bill to see if gratuity has been added. If not, tip 15 to 20 percent of food bill.

The hotel spa providers (masseuse, esthetician, manicurist). Check to see if the spa automatically includes gratuity in the final bill. Tip hotel spa attendants as you would at a free-standing spa, 15 to 20 percent of the bill.

The pool attendant. For additional towels or an extra float, tip $1 per service.

The hotel restaurant wait staff. As with any restaurant, a gratuity of 15 to 20 percent of the bill is standard for wait staff. Check the bill to see if gratuity has already been added.

At a buffet, where you serve yourself, it's fitting to tip $2 to $5 to the server attending your table throughout the night.

The hotel bartender. Tip 15 to 20 percent of the bar tab, or $1 per alcoholic drink.

The hotel shuttle driver. Tip $1 to $2 per person each time you use the service, and an additional $1 per bag for heavy luggage.

Finally, it's important to remember that tipping is linked to performance and a gratuity should be graciously earned. If you encounter poor service, it's your prerogative to lower the amount of your tip, or not tip at all only under extreme circumstances, making a point to express your concerns to the manager. In virtually all situations, gratuities should be paid to the service provider immediately after the service is rendered. Stock up on dollar bills and brush up on tipping etiquette before your next hotel stay.