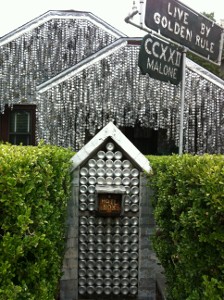 The eclectic and quirky Houston art scene took me by surprise. Really, I expected Houston, the country's 4th largest city, to lack in creativity and to instead offer an abundance of heat-packing cowboys carrying around ice cold 24-ounce Tall Boys. The Tall Boys are here, in ice chests in every other gas station convenience mart, but I've yet to meet a real cowboy. The art scene, however, is fabulous. Houston is packed with world-class art museums (many of them free to the public), avant-garde galleries, and of course, the funky and outrageous Houston art car parade, the oldest and largest art car parade in the country. The art car movement is celebrated by Houston's Art Car Museum, also known as "Garage Mahal."
Houstonians have taken their love of art to an entirely new level with private home yard art. There is of course the infamous Beer Can House, a house decorated with an estimated 50,000 beer cans. John Milkovisch, a retired upholsterer for the Southern Pacific Railroad, created the house over a period of 18 years beginning in 1969. It's so over-the-top crazy cool that it's a must-see, if simply to reflect on the fact that any one homeowner can possibly drink enough beer to turn an entire house and yard into beer can art.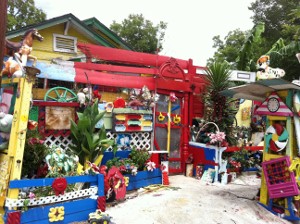 Heading southeast of downtown Houston to 2305 Francis Street in the Third Ward, you'll stumble upon the eccentric Flower Man House. The house pops out with an explosion of color in the middle of an otherwise bland neighborhood with a seedy feel. Cleveland Turner, aka the Flower Man, has been hard at work decorating his house for over 10 years. After seventeen years of living on the streets, Turner was hospitalized for alcohol poisoning. While being treated, he had a vision of flowers and found objects. He decided to turn his life around by moving into a house and staying sober by focusing on decorating his home and yard with silk flowers and other people's junk. From a distance, it is a welcome kaleidoscope of colors and shapes. Yet if Turner's story wasn't so darned inspirational, I might be tempted to question the moldy carpet glued to the sidewalk or the clear plastic bag of rotting donuts sitting on the front lawn.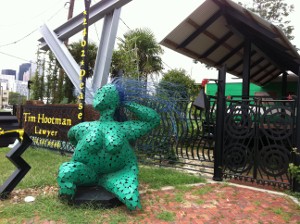 Driving away from the Flower Man House, I did an abrupt U-Turn when I spotted the lawn of the office of attorney Tim Hootman. Clients are greeted by a green metal sculpture of a well-endowed woman with bright blue hair. Hootman's offices are in a brightly colored railroad boxcar, Pullman and caboose on the property. Now this is a lawyer I'd like to hang out with!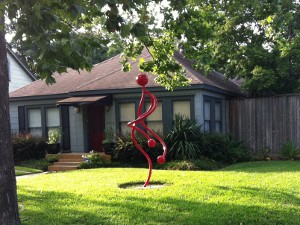 While walking my dog Yoda, I've encountered an abundance of yard art throughout the West University and Rice Village areas of Houston. It's this yard art that I've found the most challenging to appreciate. On the one hand, I applaud individual creative expression. I've always lived in eclectic neighborhoods with a bohemian, artsy feel and can't ever imagine living in a gated community that stifles with restrictive HOA rules.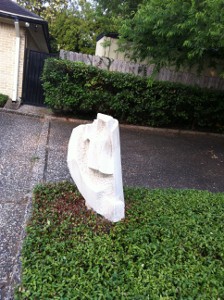 However these homes in South Central Houston are hardly bohemian. Many are 8,000-square-foot giants and most offer a suburban conformist feel. Yet the random yard art in the front lawns of some of these homes is, well, weirdly unusual. I've seen metal sculptures, a jungle-gym like red knobby sculpture, metal horse heads, numerous cement blobs and a mass of metal mobiles. None of these fit with the sterile architecture of the neighborhood and it feels like people are trying too hard to be noticed. And if that's indeed what they want, their yard art works like a charm.