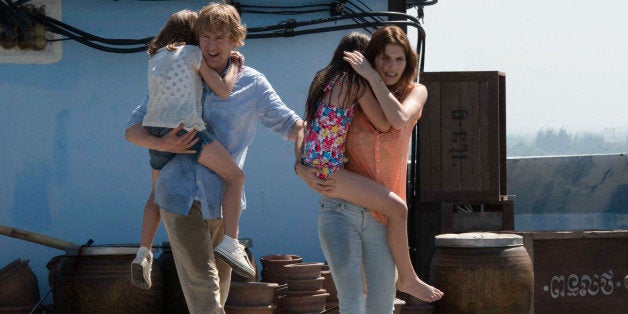 There was just something in the tone of my mom's voice on the answering machine that August afternoon in 2000. I could tell it was bad. Really bad. I knew the moment I called back my life would change forever. And I was right. "Johnny, you need to call me right away. You dad's been in an accident."
A single-engine Beechcraft Bonanza that my dad liked to pilot himself had gone down in Fargo, North Dakota. "We don't know all the details, but you need to get there immediately. He might not make it through the night."
My brother Drew and I had always been close. But at that time -- as we were moving out of college and into adulthood -- we'd begun to grow apart. Calling less and less regularly. Getting busy with our very different lives. I was a struggling writer/director, broke and adrift in Los Angeles. Drew was an investment banker in Manhattan, living in a penthouse and making real money, but not sure it was the life he really wanted.
Within 12 hours, Drew and I were both at my dad's bedside. Together, we took the night vigil. There's something about spending the night in the ICU that really brings the important things into focus. Drew and I had always talked about working together, but we weren't. Neither of us had the lives we wanted. I remember thinking to myself, selfishly perhaps, "If dad dies now, he will have only seen me be a loser."
Despite three fractures to his skull, a brain injury, and a broken heel, my dad fought his way back to health. And in the process, everyone in my family was changed forever. We had all grown much, much closer. There was a sense of gratitude and a respect for the fragility of life we hadn't quite grasped before.
I quit smoking and drinking and got focused. Drew quit a great job and moved to Los Angeles to join me chasing what seemed to everyone else like a ridiculous dream. We wanted to make movies. And one day, we would make a movie about that moment in the ICU. The moment when life falls away, and what's really important comes screaming to the foreground.
Five years after my dad's plane crash, as Drew and I were finishing our second super-low budget movie together, my dad told me that he and a Jesuit priest friend of his were going to take a trip to Southeast Asia. Drew was out of town at a friend's wedding and I had a pocket with little to do, so I asked my dad if I could join them.
As we flew to Thailand, we were informed that there had been a coup. The generals had taken over the country and overthrown the Prime Minister. There had been no advance warning. Walking the streets of Thailand under a new regime, we felt a tension in the air. Uncertainty played on the locals' faces. Heavily armed guards were posted everywhere.
I couldn't help but wonder what the trip would have been like if that coup hadn't come off so peacefully. And then I wondered how complicated it could get if this trip were like our previous trip to Thailand, when my two little sisters -- aged seven and nine -- had joined us.
I spent that whole trip thinking about where I'd hide; what I'd do if I were a father in a violent coup, trying to protect my little girls. After I returned safely to Los Angeles, Drew immediately suggested this was our opportunity to show that moment -- when life falls apart and the importance of things like family and gratitude come clearly to the foreground. And we started writing No Escape.
Our story centers on a father -- played by Owen Wilson -- who feels like he's let his family down. He's moving them by necessity to the third world for a job. His wife, played by Lake Bell, wonders if she could have had a better life than this. But when the bottom falls out, they suddenly come to realize that this amazing family they've been blessed with all along is all that matters. In experiencing the fragility of their own lives, they come to treasure the moments they have together -- as a family -- in ways they couldn't before.
In the eight years it took us to get this movie to the screen, our dad has visited Drew and me on four movie sets on three continents. Drew and I live about a mile apart from each other, work together, and spend probably half our waking hours talking. And I am forever grateful for everything it took to get us all here -- even that plane crash in Fargo, North Dakota.
REAL LIFE. REAL NEWS. REAL VOICES.
Help us tell more of the stories that matter from voices that too often remain unheard.