Mei-Ann Chen has been music director of the Memphis Symphony since 2010 and of the Chicago Sinfonietta since 2011. Born in Taiwan, she has been in the United States since 1989. In 2002, she was unanimously selected as music director of the Portland (Ore.) Youth Philharmonic. The first woman to win the Malko Competition for young conductors in Copenhagen (in 2005), Chen has served as assistant conductor of the Atlanta Symphony and Baltimore Symphony and she is a much-sought-after guest conductor. Last year, the League of American Orchestras gave her its prestigious Helen M. Thompson Award, which is given to an outstanding early-career music director. She was the first student in New England Conservatory's history to receive master's degrees, simultaneously, in both violin and conducting. She also earned a Doctor of Musical Arts degree in conducting from the University of Michigan.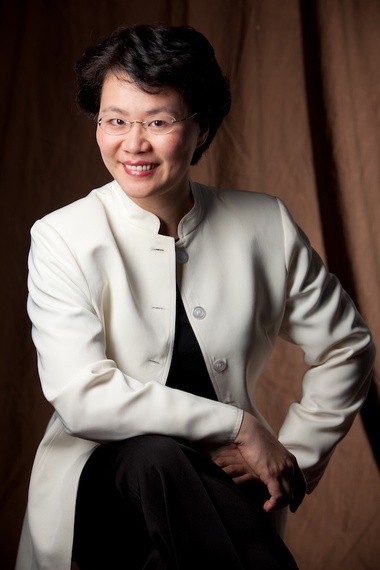 The League of American Orchestras says that of the 103 major symphonies in the U.S., only 12 have female conductors. How did you become one on them?
First, there are more and more female conductors coming up. You see a big increase in female conductors at music schools. So, it's just a matter of time before the conducting world catches up. If you look at orchestras across America, there's no longer a gender issue, except maybe for certain instruments. The brass is still dominated by male musicians. The conducting world is just moving a little slower than the soloist world.
When you began, there was a more pronounced gender imbalance wasn't there?
Yes. I would show up at auditions and be one of very few females. What's amazing is that there have been women like Marin Alsop, who has been my mentor. She's the music director of the Baltimore Symphony. Many people say she broke the glass ceiling for women conductors in this country. She has really helped many of us. She founded a conducting fellowship, Taki Concordia, just to help women conductors gain the exposure that is so rare for us.
Young conductors have a very hard time getting in the door of the professional musical network. If you are inexperienced, you are blocked until you have a way in.
For me it took me all the way to Scandinavia. After Sept. 11, 2001, it was difficult to obtain a Green Card [for permanent resident status] unless you were a medical professional. My lawyer told me the immigration people don't know the difference between the conductor driving the train and the one leading the orchestra so they don't know why they'd give me a green card.
She said I had two choices: Marry an American or go win an international competition. And that problem ended up opening the doors to a wonderful journey for me that I never thought possible.
Was this when you won the Malko Competition for young conductors?
Yes, in Copenhagen, Denmark. But I owe my career to America because America gave me the chance to fulfill my dream. I came to this country at 16. The American Youth Orchestra had discovered me in Taiwan. So, I thought I owed it to myself to walk through this scary door of becoming a conductor and just maybe I could make a bigger impact.
It was a journey, but it wasn't easy because I couldn't get on orchestras' radar. I didn't have a manager. There weren't a lot of people in the industry who knew me.
So, I went to the League of American Orchestras' conducting fellowship program. They recognize the problems young talented conductors have getting noticed and the major orchestras have in knowing the talent pool.
In December 2006, the League did a preliminary round of auditions so 30 young conductors could be seen by the representatives of hosting orchestras. I was scouted by the Atlanta Symphony in the final round. The music director there was Robert Spano. Between that orchestra and me it was love at first sight.

Did the musicians support you despite your youth and inexperience?
The musicians did something unheard of. I didn't have a manager but they got on their phones and called people they knew, saying, "I know you don't know this name but if you're looking for a guest conductor or a musical director candidate, you should certainly consider Mei-Ann Chen."
Did that bring results?

Oh my gosh, by the end of my year as an assistant conductor I had received invitations from 16 orchestras. The Baltimore Symphony saw me because of Marin Alsop's fellowship for women conductors. They said they were willing to work around my 16 weeks of guest conducting, so I should come and conduct a lot of their concerts for at least one year.
Four months into my assistantship in Atlanta, the Memphis Symphony called and said their music director was retiring and that their musicians recommended me.
Even though the system [for developing conductors] doesn't work well, when there is talent and will, I was able to have a thriving career and overcome all the challenges. That's why I'm so grateful to be living my dream. It really was almost impossible to imagine 10 years ago.
Were there times you considered giving up on that dream?
Absolutely. Before I got my Green Card, in order to stay in this country I had to continue getting degrees. So I got double master's degrees: one for my parents on violin and one for myself in conducting. Even so, I couldn't find anyone who would give me an audition. But I had to stay here so I had to go on to doctoral studies.
After three years I became a doctoral candidate and started applying for jobs; professional, educational, community orchestras, anything. I almost gave up after 18 years. I had wanted to be a conductor since when I played in an orchestra as a shy 10-year-old violinist. I almost gave up when I realized the number of rejection letters were more than the number of notes I had ever conducted. That was hard. I wondered if my goal was going to be possible.
I have many angels in my life. My family and friends all encouraged me to hold on to my dreams. When the Portland Youth Philharmonic job came along, that encouraged me to hold on to my dream to make an impact on the world.
Why is making an impact so important to you?
I grew up in a house of educators and I saw how my parents influenced on so many people's lives. That's what I wanted, and I was happy in Portland, but I still had the Green Card issue. So when I became the first woman in the 40-year history of the Malko competition to win the grand prize I was amazed. I was competing with established European conductors. I didn't even know it was possible for me to get that far.
I became the first Taiwanese to win the first prize at this competition. Most people in Taiwan who knew me didn't even know about my musical development as I was going to pursue earth sciences when I was young.
But when I won, I knew without hesitation what my career goal was. I can help others because I have been through every door and I know what it takes to struggle through those challenges. My goal is to make an impact by helping as many others as possible.
Do you feel especially motivated to help young women?
I have helped both men and women. To really change the field of conducting, you can't just focus on women. If I'm able to help some of the young male conductors, they will help young women when they have their chance to shine in the industry.
Of course, working with women conductors is important. When I was working with Marin Alsop, she said there are specific things that are challenges for women conductors. One of the things she talked about is what to wear when a woman is conducting. With men it's so much simpler. With women if go too masculine you're criticized as trying to be a man. If you go too feminine, it can be a problem, too.
Wasn't there was a great deal if controversy recently when a Norwegian newspaper quoted Vasily Petrenko, conductor of the Oslo Philharmonic, saying, "Orchestras react better when they have a man in front of them" because "a cute girl on the podium means that musicians think about other things?"
Yes! This is the 21st century and this is coming from a fairly young Russian conductor. So there's still a lot of stereotyping out there. Our job is to do what we can to make the world see that conducting is about the talent, not all these stereotypes.
Shortly into my tenure with the Memphis Symphony, we had a cancellation for a guest conductor in my second season. We plan our seasons one or two years ahead. The easy thing was to just fill it with another conductor. But I turned it into a national conducting competition with a ground-breaking rule: no age limit. We got 235 applicants from 30 countries applying for the competition.
Did that help young women conductors gain attention?

We did have women conductors, but they didn't end up among the final three. The winner, Ken Lam, is now the music director candidate of the Charleston [S.C.] Symphony. The second-prize winner is the conductor of the Young Musicians Foundation Debut Orchestra in Los Angeles. This has been the launching pad for many careers, including Michael Tilson Thomas. The third-prize winner has been snatched up by the Kansas City Symphony to be the new assistant conductor.
How do you deal with critical reviews of your conducting or your orchestra's performance?
I have an easy solution: I don't read them! My orchestras have done things that were controversial. In Chicago we just opened our season with hip-hop dancers, mixing with Tchaikovsky's Swan Lake and other music. There was a lot of discussion online with people saying it was disrespectful. My philosophy on it is that at least we got people talking. It's better than a lukewarm reaction.
There must have been occasions when you were the controversy, when some members of an orchestra did not want a young, female conductor. How do you handle that?
Things will always happen to young conductors. My solution has always been to focus on the music. I have had to hold myself back sometimes. There was an incident at a summer festival. The woodwinds wanted to go over the piece again. In the back was a man from a major symphony orchestra who said loudly, "We are professionals. We don't need to be rehearsed." Everyone heard him. I held myself back, put my hand on the music and said calmly, "Your colleagues in the woodwinds requested one more time."
After the rehearsal, the personnel manager and many members of this orchestra--these were from orchestras across the country--told me, "We apologize for our rude colleague. We don't behave this way and we don't agree with him." I could have made it ugly and asked if he would have behaved that way with a male conductor or an experienced conductor. But I handled it in such a way that people felt sorry for him for behaving so rudely. He chose to behave that way, but I don't have to.
But there are other stories I can tell, too. I made my Concertgebouw debut [in Amsterdam] in 2012. I was only the third woman conductor to stand on the podium. My concert was sold out because people were still curious about women conductors. On Saturday night, the night after my debut, I got on the public tram with my manager and I was so excited talking about it that I left my conducting bag behind. It had my baton, my music, my metronome, everything. But when I realized it, it was too late. The train had left.
On Sunday, all the music stores were closed. I called the orchestra manager and said I know the Tchaikovsky Fifth Symphony by heart. I don't need a score. But for the violin concerto, in case something happens to the soloist, I wanted a score. I was getting ready in my dressing room and there was a knock on the door. The principal clarinetist handed me a baton just like mine. I almost cried. He said, "On behalf of the orchestra, we would like to give you this baton as a souvenir so whenever you conduct you will always have fond memories of Amsterdam." I don't know if they would do that to an experienced conductor either.
I try to work with people in a way that enables me to be at my best. That makes you feel life is hopeful. I always want to be someone who can help other conductors find their dream. It's bigger than just me. I can do all I can but it is only so much. But if I can help others coming up, they can make an even bigger impact than I can alone.
Calling all HuffPost superfans!
Sign up for membership to become a founding member and help shape HuffPost's next chapter