We are in the midst of men's and women's fashion weeks here in NYC. As a longtime New Yorker who never quite habituated to the fashionistas filling the sidewalks, and a clinical psychologist who works with women and men with body image concerns and eating problems, I cannot help but wonder (in the apropos words of Carrie Bradshaw): If Barbie can get a new body, can't New York do its part to move fashion forward?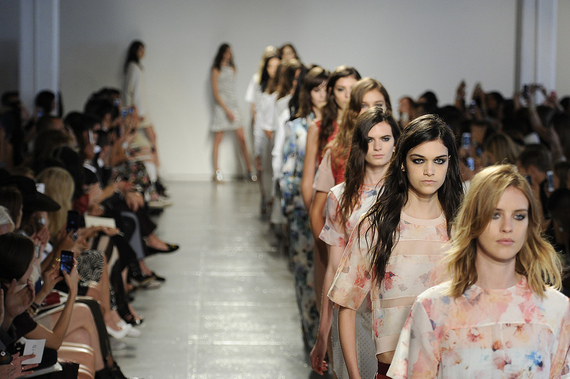 Photo Credit: Creative Commons by theresaunfried
NYC may be the fashion capital of the world, but it's Italy, Spain, Israel, and most recently France, who seem to be the trendsetters in modeling a healthier runway. In the last decade, these countries have all enacted bans on overly thin models walking the catwalk. France has gone so far as to criminalize the act of designers or agents employing underweight models, requiring a doctor's note indicating that a model's health is "compatible with the practice" of their job, and requiring that digitally edited images be explicitly labeled.
It's time for the US to join the ranks of these nations, and New York, a state that is home to the epicenter of this country's fashion industry, is well poised to lead the way. In 2013, New York passed legislation to add protections for child models. The Child Performers Protection Act, a similar bill, was introduced nationally in Congress in July 2015. Unlike initiatives in other parts of the world, these pieces of legislation do not seem to take on the issue of starvation and its related problems, nor do they apply to models at or above 18 years old.
But the field of fashion does bear some responsibility for promoting the notion that super-thin is ideal - that it's really possible and important for anyone and everyone to achieve - and that it's the way to look good and feel good in your clothing, and in your own skin. (In reality, there are many ways to work on feeling good about yourself at any size.)
When a homogenous group of models (all tall, all very thin, and still predominantly white) strut down the runway, their bodies can't help but embody a message about what beautiful is (and isn't) to the general public. And hear the message we do.
Research suggests that when this siren narrowly defining the body-ideal sounds, it serves to lower self-esteem, worsen mood, and increase body dissatisfaction and eating disorder symptoms in those most at risk. The message is not just a little bit biased. It's highly inconsistent with the bodies most of us have, or could achieve or sustain without a troubling amount of hypervigilance over food, weight, and exercise. For some, the message's impact on wellbeing is subtle and fleeting; for others, its impression is more enduring.
It is also quite possible that the low weight ranges maintained by many models is inconsistent with their overall wellbeing. Underweight status, defined as body mass index (BMI: a weight for height measurement calculated as kg/m2) of less than 18.5 for most people, ought not to be coveted. The Center for Disease Control's guideline for the threshold at which an individual is first considered to be underweight sits where it does because research has shown that people who remain below this threshold do not live as long as those at relatively higher weights (with one recent study finding underweight adults to have a 1.8 times greater risk of dying than those with a BMI in the 'normal' range - 18.5-24.9). In addition to mortality risk, being underweight carries with it a range of negative physical and psychological. These include, but are not limited to, a loss of reproductive functioning, poor bone health, low mood, high anxiety, and obsessionality with all things eating- and food-related.
No matter how chic the styles that hit the runways this Fashion Week in NYC, we are terribly off-trend when it comes to caring for the wellbeing of the models, and the psyche of the American consumer.
For information on eating disorder treatment and research, contact the Center for Eating Disorders at 646-774-8066 (New York State Psychiatric Institute/Columbia University Medical Center) or 888-694-5700 (New York-Presbyterian Hospital/ Westchester Division), or the National Eating Disorders Association at 1-800-273-8255.
Dr. Glasofer is a clinical psychologist and assistant professor of clinical psychology in psychiatry at Columbia University College of Physicians and Surgeons. The opinions expressed here are entirely her own.