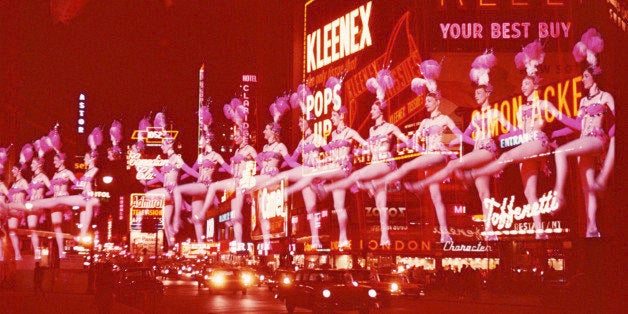 I'm in mourning for the end of The Fabulous Palm Springs Follies. NPR's Morning Edition reported this week that the old-fashioned musical revue, whose poster boasts, "The world record for the oldest chorus line!" will close this month after a 23-year run. That's almost as many years as I drank. I saw the show eight years ago when I was in Palm Springs, CA on a 60-day "extended vacation," a.k.a. rehab. It occurs to me now that I was in mourning when I sat in the audience -- mourning for my life as a drinker.
I was 38 at the time, not the target age of the Las Vegas-style extravaganza made up of sexa-, septua- and octo- generian chorus boys and girls, but I've always been an old soul who preferred the entertainment and music of my parents' generation -- Broadway show tunes and American Popular Standards sung by Peggy Lee, Frank Sinatra and Doris Day. That showbiz glamour filtered through the lens of old Hollywood movies is what I tried to capture when I drank. The movies I preferred were the ones of Joan Crawford, Barbara Stanwyck and Bette Davis, but in late career. The aging broads and the women they played were more interesting than their younger selves because they came with years of baggage.
My drinking did have a glitzy opening. I was 14 and warm and fuzzy from the two champagne cocktails I'd had at the Russian Tea Room in New York when I saw Joey Heatherton open her fur coat and do a high kick on the street. That moment symbolized the kind of euphoria I chased when I drank. 23 years later, my drinking career ended with the loss of a job, and the near loss of my life. So when the gig was up and the footlights went dark, Palm Springs was the natural place for me to get sober.
Palm Springs is a strange cocktail of Hollywood legend, retirees, gays, gay retirees, booze and drugs, and a veritable shopping mall of rehabs with Betty Ford as the anchor store. I didn't rehabilitate at Betty Ford, but chose a small all-male facility. I thought if I'm going to rehab, I might as well get laid. I didn't, but when the rehab's short bus shuttled me to sober meetings driving along Ginger Rogers Road, Frank Sinatra Drive and Dinah Shore Parkway, I felt safe knowing that Dinah and Ginger were right under my ass. I needed to feel safe, because despite where booze had taken me, I still wanted to get back to the high kick it once was.
My rehab case manager who called me Miss Lawson -- as in the aging diva Helen Lawson from the Valley of the Dolls -- turned me on to The Fabulous Palm Springs Follies. When I passed the marquis and saw "Special Guest Star Gogi Grant," I was sold, since I grew up listening to my mother's old Gogi Grant records. I couldn't believe she was alive, much less still performing.
"I know what we're doing when you come for your family visit," I told my partner Michael back where we lived in New York. "We're seeing The Fabulous Palm Springs Follies and Gogi Grant is the guest star!"
"Sounds wonderful," he replied with true enthusiasm. Then a beat: "Remind me. Who is Gogi Grant?" I educated him. She was once the most important voice dubber in Hollywood and a successful singer under her own name. Her last major hit was "The Wayward Wind" -- in 1956.
When Michael and I stepped into the theatre filled with an audience dependent on canes, walkers, scooters and wheelchairs, we must have lowered the median age to 71. Even though I wasn't yet forty, with over two decades of drinking under my dance belt, I carried enough baggage to age Peter Pan. Sitting in the dark, sober as a Dancing with the Stars judge (maybe that's the wrong analogy) and watching an 82-year-old Gogi Grant sing "The Wayward Wind" followed by all those aged show girls and boys in feathers and sequins and sky-high headdresses having the time of their lives and literally still kicking, I was in heaven. I hadn't had the time of my life not drunk since... well almost since Gogi's last hit song.
It was the first time that I didn't think about having -- or not having -- a drink. I lost myself in the joy of that matinee performance and the exuberance of the performers who were happy to be alive despite -- or because of -- the years of baggage behind them. During those two and half hours I shed all the fear and anxiety that getting sober had wrought. The show did what booze used to do for me and no longer could: It made me euphoric. Even if The Fabulous Palm Springs Follies can't go on kicking, I will forever view that chorus line of still-sexy legs high kicking above the footlights as a farewell to booze and a salute to my sobriety.
Jamie Brickhouse is the author of Dangerous When Wet, a darkly comic memoir about booze, sex and his mother Mama Jean to be published by St. Martin's Press in spring 2015.
Related
Popular in the Community