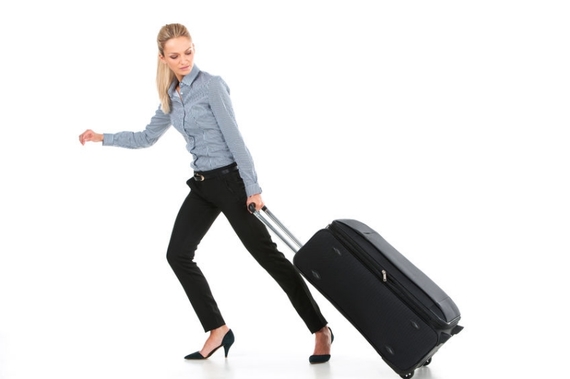 A spare this, an extra that and seven pairs of shoes for a weekend trip later, your luggage can barely zip up. And yet, you still have nothing to wear -- suede heels are out of the question in the rain and sneakers aren't exactly appropriate for dinner (or a good match with that cocktail dress). Ladies have to be prepared for anything when traveling, and usually that entails dragging all of our beauty and style essentials around. So if your bags leave your body feeling tired and sore, it's time to reconsider how you carry them. Heavy luggage doesn't have to mean tough travels and achy arrivals anymore with these tips from Travelle.
Know How Much You Should Carry
It's important to know your limits when it comes to the actual weight of your luggage. A good rule of thumb to go by is keeping the total amount of luggage weight (carry-on + check in suitcases + personal bag) under 15% of your bodyweight. While your inner ladyboss will be proud of you for successfully lugging an insane amount of clothes and tech around, carrying more than you're capable is damaging to your spine and posture.
If a two wheeler is your go-to travel piece, you may want to think again. Dragging that heavy luggage behind you is a big strain on the shoulder. A four wheel carry-on or suitcase, on the other hand, can easily be rolled at your side. Keeping baggage close to the body eliminates unnecessary spinal and muscle stress so you'll be more likely to arrive at your destination ache free!
We know you want to throw everything from supplements to your favorite lbd (just in case!) in your bag. But as hard as it is to narrow down your travel necessities days in advance, try to pack as lightly as possible. Pack according to the plans you actually have, not the ones you think might arise. So if you know hiking is not on the agenda, leave the boots at home. And while you're at it, balance out your bags by packing heavier items at the bottom or keeping the weight evenly distributed throughout your luggage.
Prepare For The Long Haul
Treat the time before your journey like a warmup session before cycling class. Stretch your body. Loosen up those limbs. Get yourself ready to carry that luggage from home to airport to hotel and back again. You'll also want to keep your core strong- engaging your abs while carrying heavy bags will help protect your spine while promoting healthy posture.
Carry and Lift Like A Pro
You've heard it before, but we'll tell you again: lift with your legs! Whether you're picking up your luggage from baggage claim carousal or throwing it into the trunk of a car, any serious, heavy lifting should be done through your legs and never through your back. Trade in your personal bag for a stylish backpack (and yes, you have to wear it on both shoulders) to distribute the weight evenly. But if you rather stick with a shoulder or cross body bag, frequently alternate which shoulder you carry it on to avoid hurting one side of your body.
If you don't have to rush, don't. Rolling around your belongings in a few pieces of luggage is a strenuous task. Stop to take a break from the pulling and lugging and lifting, especially when you feel it starting to take a toll on your body.
See more at: http://www.travelle.co