We are living in a modern era – the era of the content consumer. There is more demand than ever for engaging content that adds value, teaches, and entertains. The average Millennial spends 17.5 hours a day consuming different types of content. Media is intertwined in our lives now, whether we like it or now—whether its watching a video on your laptop while you record a video snapchat, or listening to music as you upload to Instagram. The common theme is that we are all nearly always plugged in.
Articles, blog, videos, and much more are uploaded daily to the internet. Most fade away into obscurity, but the top 0.01% reaches the masses and can be viewed by tens of millions. Only a few know the secrets of viral content. Ladies and gentlemen, let me to introduce Oliver Isaacs, tech entrepreneur,investor, and Forbes 30 under 30 nominee.
It took a meeting over coffee in my London office to quickly realize how brilliantly smart and determined Oliver is. His talent for solving problems and spotting opportunities few would see is truly unique. His first venture washttp://www.Amirite.com . Amirite.com was one of the first original sites where the internet meme was born, internet slang became common-place and the early influencers created. The site has reached over 1 billion unique visitors since its lifetime. A remarkable achievement for someone so young.
Oliver graduated from the highly prestigious London School of Economics, and with most of his friends now working in finance he insightfully statesthats: "It's the 21st Century and it no longer makes sense to work for someone else if you have an entrepreneurial streak inside you. If you have the hunger and passion to set up a startup or business, go for it and take the risk.
Life is too short to be counting down the hours in an office waiting for the clock to strike 5pm or later. A job should never be a job- it should be a passion or something that you enjoy. I personally think, founding a tech startup is now the way to go. The internet has opened a whole world of opportunity for millions whether it's through E-Commerce, Social or numerous other avenues; everything is now on the internet. We're still really in the early stages of the internet, and it's only going to become an even more powerful tool."
It took Oliver several years of test-running a number of websites before he realised the power of leveraging social media platforms. Indeed, his close business relationship with E-commerce sites like Amazon has attracted a number of partnerships and brand deals for some of the biggest influencers and celebrities around. In addition to that, he runs a multi-network on Facebook and Instagram reaching about 15 million users every month. Oliver has not only worked with but also helped grow some of the biggest social media influencers in the world. Take Julius Deinfor example; his video views have grown to over 1 billion viewership within a year.
Oliver's personal following on Instagram (http://www.Instagram.com/oliverzok) has reached an impressive one hundred thousand followers, and he has been featured, giving business advice and motivational thoughts in the Instagram and Snapchat Stories of high profile people such as Tony Robbins, Mark Cuban, and Tim Ferriss.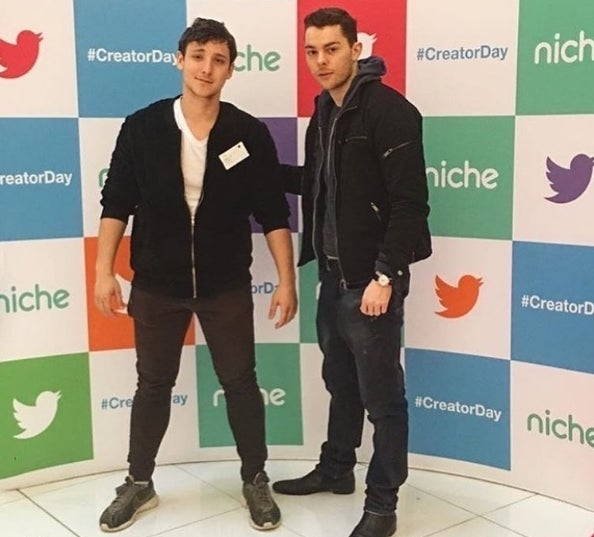 This question was asked to Oliver, how do you make content go viral? The secret?
"Firstly, there isn't one specific secret. Getting something viral is an art not a science.
People only hear of the success stories, but one shouldn't forget there are millions of people hustling and working their way to the top –there are billions of videos, articles, pictures and links that don't get clicked on. If you're not determined and prepared to fail before you succeed, you're already at a disadvantage.
To make something viral, it needs to be different – something that stands out. Obviously if you have managed to grow a huge following, it will be easier to reach and engage your audience, compared to someone just starting out. If the Rock or the Unilad network or 9gag releases or shares a video, it's bound to reach millions and be picked up by news outlets. Not everyone has this luxury though.
Oliver clearly has wisdom beyond his years – it's not surprising he has been engaged to consult some of the top Fortune 500 companies around.
Based on experience, you don't need a huge budget to ensure something goes viral. Any type of content can go viral if it can evoke emotions or strong reactions– whether laughter, sadness, or shock. Comedy content, such as short compilations of different pranks, and magic do well on Facebook. Music videos from unknown talent can do well on Youtube, and a swimsuit model posing in the Galapagos Islands surrounded by Penguins does well on Instagram. One shouldn't forget unexpected news snippets. Robert Kelly's BBC interview went viral after his children waltzed into the room and his wife frantically herded them out.No-one planned or staged this video. That's why it did so well".
Here's Oliver's list of 10 tips to ensure content goes viral:
If you want something to go viral, it must possess a few traits:
1. Evokes strong responses i.e. offering surprising content
2. Engagepositive emotions - only the inspiring stories and contents that make peoplehappy gets shared the most
3. Creates a strong empathy/connection between the content and the content reader
4. Have a newsworthy alignment–make sure the content or video appeals to the media an in return, they will help you attract traffic across multiple platforms.
6. Is a generally used media format
7. Get visual –Tweets, Facebook posts with pictures, and blog posts will probably be shared.
9. Focuses on topical issues or news. Anything topical will be more engaged and memorable
10. Appeals to universal niches like pets, celebrities, travel, food, etc.
Oliver revealed that he first understood the power of online business when he started his E-Commerce business while at University, achieving7 figures revenue in his first year. He is a decorated E-Commerce expert and was one of the firstpioneers to use Amazon FBA using dropshipping and retail arbitrage technologies. Right up 'til today, he continues to run his E-commerce business and says "Selling has always been and will always be in my DNA. Connecting the Social world with the E-commerce world is my next challenge".
'If you want yourself, your company or your products visible, there is now no question you need to leverage the power of social networks – whether its Facebook, Instagram, Youtube, Snapchat, Twitter or Amazon. These robust networks and audience have given a voice to millions of companies, their products and services. Ordinary people can now create videos in their bedroom, and if successful in doing so we now call them influencers. The influencers of today will be the pop stars of tomorrow'.
As a tech consultant, I ask Oliver what he thinks are the primary qualities needed for someone to run a successful online business. He replied; "Hardwork, and determination are key- I think these two are the most important traits one can have. You can have the genius of Elon Musk, but if you're not prepared to put the long hours in, you're not going to reach your full potential. Staying optimistic whenthe going gets tough is another skill needed. It's important to train your mind to stay optimistic as much as possible. Unexpected problems are bound to happen but you should pause and look at the bigger picture and ask yourself: Is this problem going to matter in 5 years time? Having a strong and reliable network is also vital – I think it's important to leverage your personal network while always staying humble and asking people for advice.
Finally, thinking differently from the mainstream is key. These days there is so much competition around, irrespective of what field you're in- so it's important to always think outside the box and sometimes take a contrarian position. Oh and one more thing: luck is always important. Being at the right place at the right time also helps!"
Related
Popular in the Community