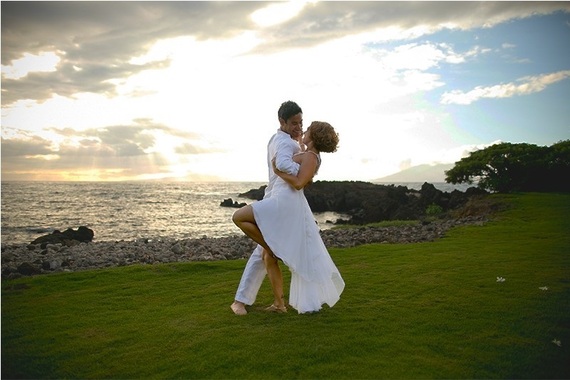 Krista and Kelvin's Wedding, Photo by Aihara Visuals, Dance Choreographed by Your Night Choreo
As a seamstress and wedding dress designer, I understand the struggles that brides face trying to find the perfect dress that combines both form and function. I recently met with professional choreographers from Your Night Choreo, and fashion directors, consultants, and experts at the famous couture wedding dress salon, Panache Bridal, in order to help fashion you with this guide to make sure you not only look great at your wedding, but can also walk, sit, breathe and dance the night away.
Before you say "I do" to the perfect dress, consider the following six tips to help you avoid a wardrobe malfunction at your wedding!
There are many choices when it comes to picking materials. Let's begin with the bones. Boning cinches and shapes your garment around your body, providing you with the desired shape. However in addition to making your body look picturesque, boning can restrict movement and your ability to breathe!
Boning comes in many different materials ranging from plastic, to wood, metal, whale bone, ivory, reeds, nylon and wire. My favorite type of boning, and what I have been taught to use by my mentors and teachers, is spiral wire boning, made of galvanized spring steel wire. It bends forward, backwards and side to side, whereas other types of boning are meant to hold posture, making them stiff and restrictive, only bending in one direction if they bend at all.
If your dream dress is made with a more restrictive kind of boning, you can ask your seamstress if that can be swapped out. I often make that adjustment for my brides.
Some undergarments, specifically bridal slips aka petticoats and crinolines, are made with a layer of unbreathable tent-like polyester material which will cause you to sweat bullets before you even start dancing! This is great if you are getting married out doors in sub-zero temperature. However, if you aren't trying to trap in the heat, and your dream dress has this unbreathable under layer, your seamstress may be able to be remove and replace it.
Briannah Jayde, fashion director at Panache Bridal of Beverly Hills, recommends that under garments are installed into the dress to make your dress easier to put on and take off.
Make sure your dress fits you like a glove. Especially if it is strapless!
The experts at Panache suggest that your dress needs to fit properly around your natural waist and hips so it does not slide up or fall down.
For that extra layer of security, I sew a bridal bra, or bustier and elastic waist bands into the dress to make sure it does not move from where it should be!
Most brides gain or lose weight right before the wedding, so make sure your last fitting is done as close to your wedding as possible. I suggest within 2-3 weeks.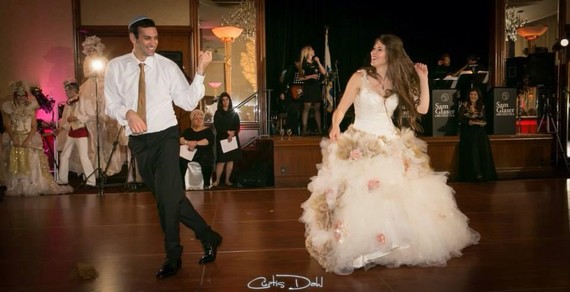 Evey and Fred's Wedding, Dress by Evey, Photo by Curtis Dahl, Dance Choreographed by Your Night Choreo
Not all silhouettes are equal in terms of function and flexibility.
A-line dresses, and ball gowns provide you with the circumference and space to move, whereas mermaid, trumpet and tight fitted gowns are more restrictive.
Krista and Kelvin Ramirez, wedding choreographers, and teachers at Your Night Choreo explain that "whether your dress is form fitting, ballroom, or flowing it is important to let your choreographers know what kind of dress you are planning to wear so that they can create a dance that will compliment your dress, not hinder it."
For example, if you have a mermaid dress, you will have to practice taking smaller steps because that silhouette will limit your leg movements, whereas if you are planning to wear a big full dress, you will have to practice dancing farther away from your partner since there will be tons of material between the two of you!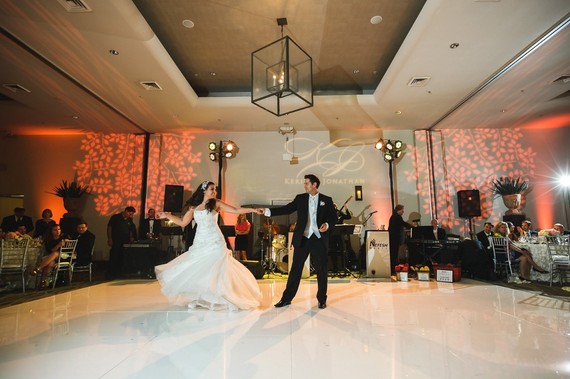 Kerin and Jonathan's Wedding, Michael Anthony Photography, Dance Choreographed by Your Night Choreo

If your dress has a train, make sure it has well fitted bustles that are strong and well secured, and that you, (or whoever will help you bustle your train), know how to use them! One false move and you could be holding up your dress with safety pins or needing to cut the train off with a pair of scissors!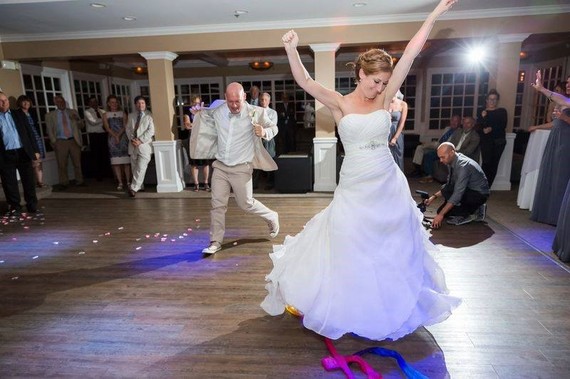 Shara and Nic's Wedding, Nicole Goddard Photography, Dance Choreographed by Your Night Choreo

Krista and Kelvin encourage their clients to bring in the shoes they will be wearing on their wedding. This gives everyone a chance to break the shoes in and get used to knowing exactly how the shoes will feel while dancing in them! "We have had many brides change shoes once they realized 6-inch heels were too much for a night on the dance floor!"
Practice dancing in your wedding clothes. Whether on the floor of the bridal shop, at your fitting with your seamstress, or in the dance studio with the choreographer, make sure you can bust a move without busting out of your dress! Literally, dance. Put your arms up, twist, jump twirl around. If there is anything that needs correcting, either with the fit of the dress or modifying dance moves, now is the time!
If you already have your dress, and you just realized you can't dance in it... don't stress! Wear it for the pictures, walk down the aisle in it, you will look AMAZING. And consider a second, more dance-able, lighter, party dress for the reception.
For more information on how to look and feel amazing in your wedding dress, go to www.EveyClothing.com
Support HuffPost
A No-B.S. Guide To Life
Related
Popular in the Community