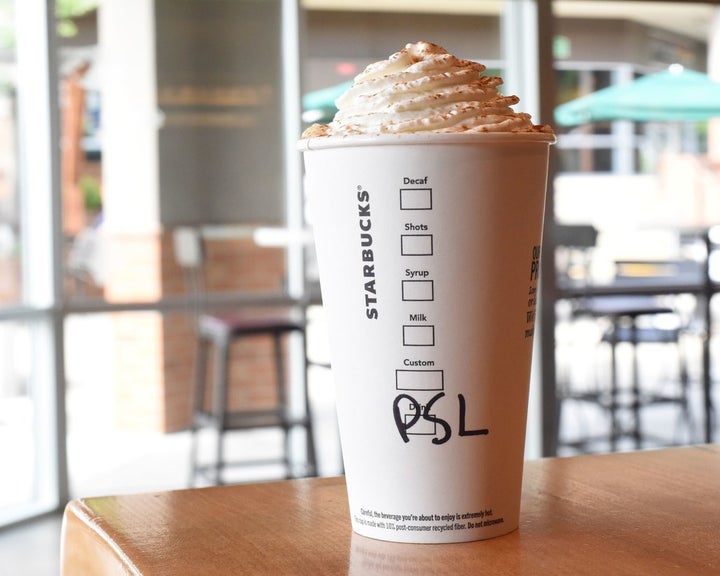 There's nothing like that moment when the barista at Starbucks calls out something close to your name (Alice?! Alice?!), and you take your skinny vanilla latte over to the milk station and think to yourself: something's missing. There's cinnamon, 14 types of not-sugar, that other spice that's never labeled, and all those lids. But you know what would really make this vanilla latte SHINE and GLOW and WARM YOU UP? Jameson.That's what.
Because it's Halloween and this is just the occasion when we need a little something in our cardboard cup as we haul mini-Frankensteins all over town in freezing winds. Other great occasions? The movies. Long train rides. Waiting in lines for things. Parent-teacher conferences. Up to you!!
So we asked Matt Ragan, beverage director of Dallas's Victor Tangos, to help us doctor up our favorite Starbucks orders with hard alcohol — if you're under 21, stop reading! But now you're probably reading it just to spite me. Well, everyone drink responsibly.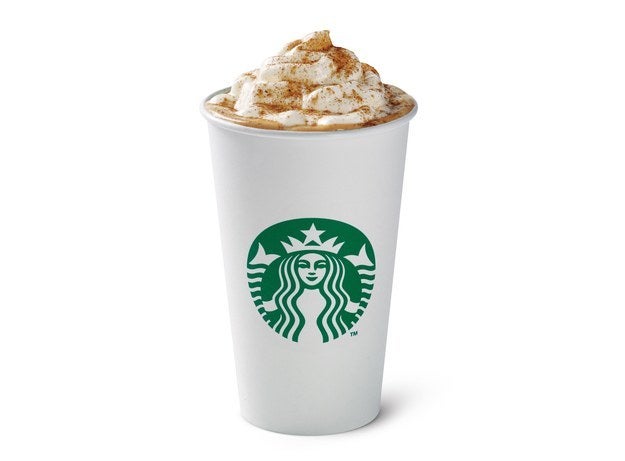 Drink: Pumpkin Spice Latte
Pair with: 1 oz Bourbon, dash of Angostura bitters, ¼ oz Allspice Dram I'm pretty sure not spiking every PSL with Bourbon or aged rum is somehow against the Patriot Act.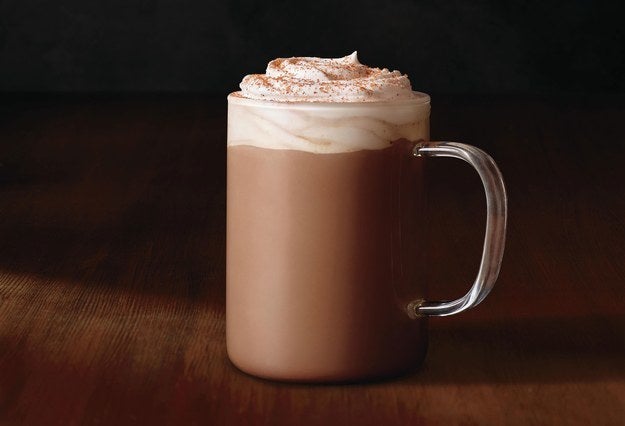 Drink: Chile mocha
Pair with: ¾ oz Patron Café, ¾ oz Ancho Reyes Hotter than Ina Garten's texts to Jeffrey. A little spicy, loads of baking spices and covered in chocolate.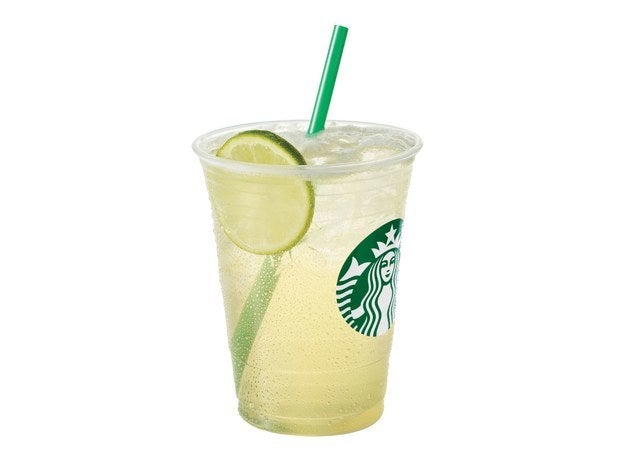 Drink: Cool Lime Refresher
Pair with: 1 oz Hendrick's Gin, ¾ oz Aperol + Hard Ginger Ale This screams for the cucumber notes of Hendrick's Gin, a little Aperol for the citrus/grapefruit notes, and top it all off with some hard ginger ale. These flavors are so good together, only dolphin haters wouldn't like it.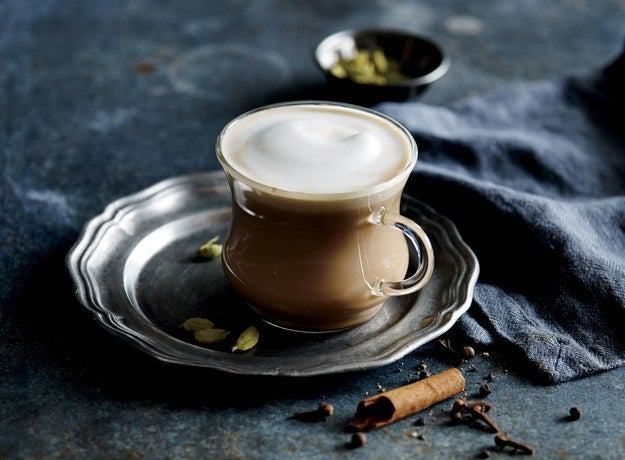 Drink: Oprah Chai Tea Latte
Pair with: ¾ oz rum (Mount Gay Black Barrel Rum), ¾ oz Averna This delicious little spiked diddy tastes like getting a free car just for showing up, wrapped in a warm hug, nestled next to a healthy serving of inspiring quotes, and topped with a heaping mound of feminist empowerment.
Drink: Skinny Vanilla Latte
Pair with: Shot of Jameson, shot of Bailey's Can I state the obvious? If I can, then pair this with a double-shot of air and two back-to-back SoulCycle sessions. But if it's a cheat day, go big with a shot of Jameson and Bailey's.
Drink: Caramel Macchiato
Pair with: 1 ½ oz Apple Brandy It's a scientific fact that caramel and apple gives you caramel-covered apples. This is like a carnival in your mouth, without the creepy clowns.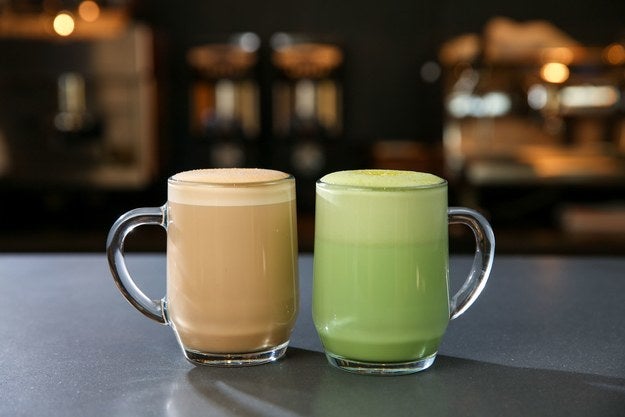 Drink: Smoked Butterscotch Steamer [Editor's note: This is a real drink]
Pair with: Shot of scotch (Glenfiddich 15 year Sherry Cask), dash of Sherry (Pedro Ximenez Sherry) Spike this tragically-named bevy with a shot of Glenfiddich and sherry. Then hop on your broomstick and get back to Hogwarts.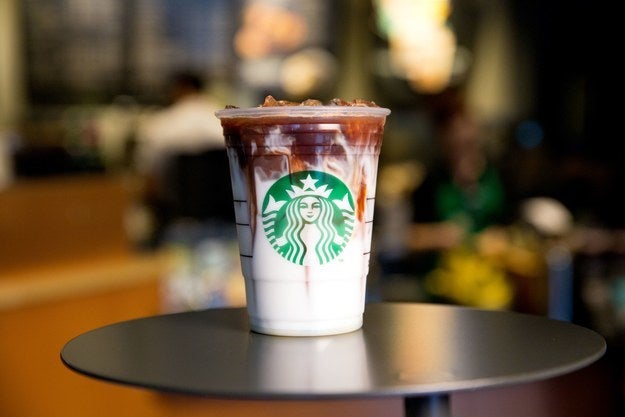 Drink: Coconut Milk Mocha Macchiato
Pair with: Shot of pineapple-flavored rum (Plantation Stiggins Fancy Aged Pineapple Rum) OMG. FML. Like these two are like SO good together. This combo is sure to appease the inner hash-tagging Valley Girl in all of us. #totesamazeballs
Drink: Double Espresso
Pair with: ¾ oz coffee liqueur, ½ Crème de Cacao, dash of bitters (Bittermen's Tiki Bitters) + 1 sugar cube Nothing more classic than coffee, chocolate, and baking spice.
Or, if your Starbucks has Starbucks Evenings, you could just order the Espresso Cloud™ IPA—a coffee + beer creation.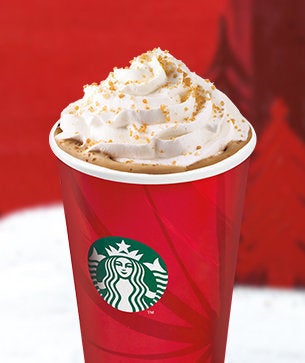 Starbucks Holiday Drinks In Order Of Hype